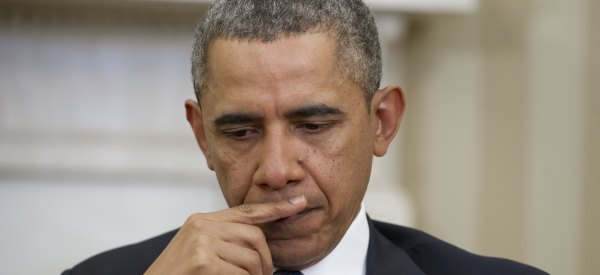 TOP STORIES
To get The Morning Email, HuffPost's daily roundup of the news, in your inbox, sign up here.
JUDGE HALTS OBAMA'S IMMIGRATION POLICY "A federal judge issued a preliminary injunction on Monday that will temporarily prevent the Obama administration from moving forward with its executive actions on immigration while a lawsuit against the president works its way through the courts. The order, by Judge Andrew Hanen of the U.S. District Court in Brownsville, Texas, was an early stumble for the administration in what will likely be a long legal battle over whether President Barack Obama overstepped his constitutional authority with the wide-reaching executive actions on immigration he announced last November." [HuffPost]

UKRAINIAN CEASE-FIRE JEOPARDIZED The deadline for Ukraine and Russian-backed separatists to pull back heavy weaponry from the front has passed, and neither side has retreated. [USA Today]
LIBYA: ISIS' NEW HOME BASE "The beheading of 21 Egyptian Christians by Islamic State followers has finally drawn the global spotlight to the group's rising clout in Libya, which not long ago was touted as a successful example of Western intervention. The killings prompted Egyptian airstrikes on Islamic State strongholds in Libya and spurred calls for more active international involvement in what is fast becoming a failed state on Europe's doorstep."[WSJ]
NSA'S WORLDWIDE SPYING PROGRAM "The U.S. National Security Agency has figured out how to hide spying software deep within hard drives made by Western Digital, Seagate, Toshiba and other top manufacturers, giving the agency the means to eavesdrop on the majority of the world's computers, according to cyber researchers and former operatives." [Reuters]
DRONE RULES DEBUT TO MIXED REACTIONS Opponents argue the president's proposed rules would limit business opportunities such as package delivery. [WSJ]
OVER 30,000 MOURN VICTIMS OF COPENHAGEN TERRORIST ATTACKS Authorities believe Omar Abdel Hamid el-Hussein acted alone when he killed two in separate shooting attacks in Denmark Saturday. Hussein was in turn killed by police fire. [WaPo]
PASCO KILLING STIRS RACIAL TENSIONS "But here in Pasco, a city of 68,000 that is 56 percent Hispanic, the public killing [of Antonio Zambrano-Montes] has pierced the immigrant enclave, spurring protests that have attracted hundreds and highlighting a division between the city's increasingly Latino populace and its power structure -- the police, the city government -- which remains largely white. While many Hispanics have found work and stable, if not particularly affluent, lives here, the killing has drawn attention to their lack of clout." [NYT]
TRAIL TO THE CHIEF: HOLLYWOOD FOR UGLY PEOPLE We matched your favorite fictional presidents to 2016 candidates, and of course Bill Pullman from "Independence Day" is Joe Biden. [HuffPost]
WHAT'S BREWING
SNL'S 40TH ANNIVERSARY SPECIAL A RATINGS JUGGERNAUT At least 23.1 million people tuned in for the homage to the comedy show. [HuffPost]
MEET THE FINAL 100 PEOPLE COMPETING FOR A LIFE ON MARS Dutch nonprofit Mars One has narrowed the field to 100 applicants for a one-way trip to Mars. Ultimately, 24 will be chosen to train, and, organizers claim, four will go on the official mission. [WaPo]
FOREIGN AFFAIRS: 'THE TROUBLE WITH RACE' The Council on Foreign Relations gives the ongoing racial tensions in America some historical and global context. [Foreign Affairs]
PRINTING A NEW HAND FOR THE KID NEXT DOOR The proliferation of 3D printers has made child prosthetics a reality formerly financially out of reach for thousands of children across America. [NYT]
LADY GAGA IS ENGAGED! To her boyfriend of four years, Taylor Kinney. [HuffPost]
SORRY, CUMBERBATCH LOVERS The superstar tied the knot over the weekend with his pregnant fiancee, Sophie Hunter. [HuffPost]
THAT TIME BILL MURRAY PLAYED BASEBALL "If you didn't know better, you wouldn't believe it all happened in the space of about five weeks in the summer of 1978. But it did happen. In those five weeks, Bill Murray played professional baseball and established himself as a bona fide movie star and the Grays Harbor Loggers -- representing the twin cities of Aberdeen and Hoquiam, Washington -- posted the best winning percentage in America and won the Harbor's only professional sports championship in living memory." [Fox Sports]
EAT MORE AVOCADO Seriously, it's good for you. [HuffPost]
ON THE BLOG
GARY HART: THE MONEY PRIMARY "The first presidential primary is underway, not simply because the political press cannot wait but because he or she who signs up the most megabucks wins that primary and is well on the way to a nomination. Step right up and participate--that is if you can write a very large check." [HuffPost]
BEFORE YOU GO
~ David Carr's final words on the future of journalism.
~ The art of the tuxedo.
~ Behind UPS' Orion, the efficiency system ten years in the making.
~ Naomi Campbell shut down New York Fashion Week with this Zac Posen stunner.
~ Looking into that cloud on Mars.
~ Conan O'Brien filmed his show in Cuba over the weekend.
~ Will Apple buy Tesla?
~ Playing "Truth or Drink" as a couple can be BRUTAL.
~ Who said it -- Kanye West or your creative director?
~ Everybody loves this unretouched photo of supermodel Cindy Crawford.
~ Slow-mo dunks.
~ Drink like a President.
Send tips/quips/quotes/stories/photos/events/scoops to Lauren Weber at lauren.weber@huffingtonpost.com. Follow us on Twitter @LaurenWeberHP. And like what you're reading? Sign up here to get The Morning Email delivered to you.