Little Caesars is known for its $5 pizza, Cinnamon Crazy Bread and otherwise average menu, but it's about to make a big name for itself with its new Bacon-Wrapped Crust Deep! Deep! Dish Pizza.
Smothered in cheese, topped with pepperoni and coated in 3 1/2 feet of bacon, this dish is every kid's dream and every parent's worst nightmare.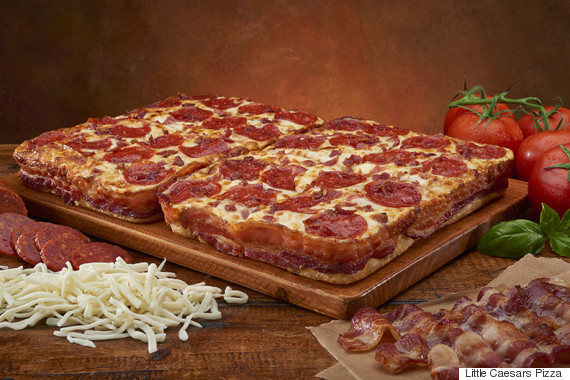 The creation, which also comes with caramelized cheese edges and bacon baked into the pie, looks like it would contain more calories than most are supposed to consume in one week.
It goes on sale Monday, February 23 for $12, and will be available for a limited time until late April. We're not quite sure what will happen when we try it, but as one Little Caesars executive said, "In Bacon We Crust!"
(h/t Grubstreet)
Want to read more from HuffPost Taste? Follow us on Twitter, Facebook, Pinterest and Tumblr.
BEFORE YOU GO
PHOTO GALLERY
Wrap Everything In Bacon