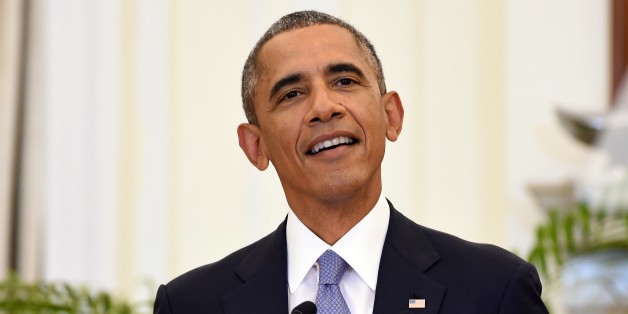 The economy is boosting President Obama, but his rating on terrorism remains low. Hillary Clinton has an early lead in three battleground states, but the models say the race will get close. And in the event of a DHS shutdown, Americans would cast more blame on Republicans. This is HuffPollster for Wednesday, February 18, 2015.
GALLUP: OBAMA UP ON ECONOMY, LESS ON FOREIGN POLICY - Jeffrey Jones: "Although still relatively low in an absolute sense, Americans' approval ratings of President Barack Obama's handling of the economy and foreign affairs are up significantly from last fall, to 43% and 36%, respectively. His ratings on these issues slumped last year, including a personal low of 31% for his handling of foreign affairs in November....The increase [in Obama's overall job rating] has been aided by more positive economic news, including lower gas prices, which have boosted Americans' perceptions of the U.S. economy's health to the best they have been since the 2007-2009 recession. The more positive economic news may also explain why his economic approval rating has increased more (up 10 percentage points) than his foreign affairs approval rating (up five points) since November....Obama's economic approval ratings have not been above 50% since the honeymoon phase of his presidency in early 2009." [Gallup]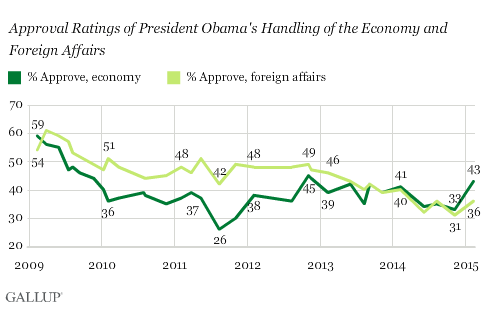 Similar findings from Economist/YouGov - Kathy Frankovic: "Things may be looking better for the President when it comes to domestic issues, but there are concerns about foreign policy and terrorism, which once was a bright spot for the Administration. In the latest Economist/YouGov Poll, Americans are as likely to approve as they are to disapprove of the way the President is handling the economy – something that has not been the case for a very long time....But these improvement on domestic issues may be overshadowed by the international problems the country now faces – and the President is not seen as doing a great job managing them. That is particularly true when it comes to the public's assessment of his handling of terrorism." [YouGov]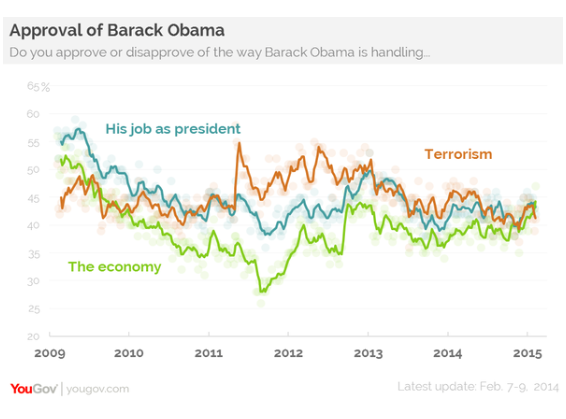 Better news on Obamacare? - More Frankovic: "There is also some good news for the President this week on health care. For the first time in Economist/YouGov polls, half the public say they would prefer to keep or expand the Affordable Care act. Still, 40% would repeal it."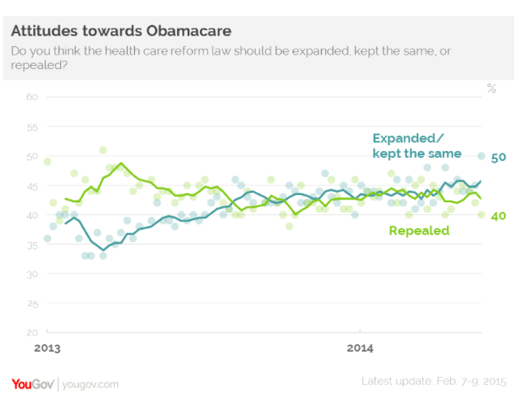 CLINTON HAS EARLY POLL LEADS IN CO, IA, VA - Quinnipiac University: "Former Secretary of State Hillary Clinton runs best overall against leading Republican White House contenders in three critical swing states, Colorado, Iowa and Virginia, but U.S. Sen. Rand Paul of Kentucky is in a virtual tie with her in Colorado and Virginia, according to a Quinnipiac University Swing State Poll released today. Former Florida Gov. Jeb Bush ties her in Virginia, the largest of the three, and Wisconsin Gov. Scott Walker is in a virtual tie in Colorado...In this early look at possible 2016 presidential matchups, New Jersey Gov. Christopher Christie is the poorest performing Republican, trailing Clinton by margins of 5 to 10 percentage points, while each of the other Republicans is in the running in at least one state." [Quinnipiac]
...But the political science models say 2016 will be close - Alex Roarty: "[O]utside of the capital, from Georgia to New York to California, there's another set of political professionals watching this race: academics and model-makers. And based on the data they track, Democrats have little reason to be so bullish about Clinton's chances. 'Viewing [Clinton] as a prohibitive favorite at this point is misplaced, definitely,' says Alan Abramowitz. Abramowitz isn't a Republican pollster or a professional Clinton-hater. He's a political science professor at Emory University in Atlanta. And he and his ilk—the wonky academics who research in anonymity while pundits predict races on TV—offer the most compelling case for reconsidering Clinton as the likely winner. 'I would feel comfortable saying that it's a 50-50 race right now,' says Drew Linzer, a political scientist who is an independent analyst in Berkeley, California. 'But I don't think anyone would be wise going far past 60-40 in either direction.'" [National Journal]
GOP WOULD TAKE MORE BLAME FOR DHS SHUTDOWN - HuffPollster: "If the Department of Homeland Security gets shut down later this month over a funding battle, the debate over who's to blame could end up looking like a reprise of the 2013 government shutdown, according to a CNN/ORC poll released Tuesday....The poll results are a nearly exact mirror of polling taken just before the government shutdown more than a year ago, for which the public's blame also landed largely on the Republicans....Just 15 percent of Americans say it would be a crisis if DHS shut down for a few days, and 31 percent that it would become a crisis if it lasted a few weeks, but a 55 percent majority see even a several-day shutdown as being at least a major problem. In 2013, 49 percent said the same about an overall government shutdown." [HuffPost]
AUTOMATED POLLS GOT LUCKY IN 2014 - Natalie Jackson: "Last year automated phone polls, sometimes called "robopolls," got closer on average to the actual election results than most other surveys. Yet such polls have been repeatedly criticized as less reliable. So how is it that an oft-disparaged method ended up with the most accurate results? In short, those pollsters got lucky in the 2014 election cycle. And we can use house effects -- the degree to which any pollster's results consistently favor one party over another -- to show how that happened....The automated method has trouble reaching groups that usually prefer Democratic candidates, with the result that these polls lean more toward Republican candidates. So in a year when most polls underestimated Republican support, a method that sampled more people likely to lean Republican ended up producing more accurate results. But it doesn't mean we should give automated polls credit for being better." [HuffPost]
HUFFPOLLSTER VIA EMAIL! - You can receive this daily update every weekday morning via email! Just click here, enter your email address, and click "sign up." That's all there is to it (and you can unsubscribe anytime).
WEDNESDAY'S 'OUTLIERS' - Links to the best of news at the intersection of polling, politics and political data:
-A majority of Americans say Republicans should not have invited Prime Minister Benjamin Netanyahu to speak to Congress without consulting the White House. [CNN]
-With a week remaining before Chicago's mayoral election, Rahm Emanuel is just five points shy of the 50 percent needed to avoid a runoff with 18 percent still undecided. [Chicago Tribune, Politico]
-A new California poll finds Kamala Harris "strong but not dominant" in the race for U.S. Senate. [KQED via @OpinionToday]
-New Jersey voters question whether Christie has what it takes for 2016. [Rutgers Eagleton]
-Disaffected Democrats were the key to electing a Republican governor in Maryland. [WashPost]
-Blue states will choose the 2016 Republican nominee, says Bill Schneider. [Reuters]
-Ron Brownstein counters John Judis on the "emerging Republican advantage." [National Journal]
-Malaena Taylor compares view of Occupy Wall Street and the Tea Party. [Roper]
-Weekly church attendance is highest in Utah, lowest in Vermont. [Gallup]
-Kate Kaye explains how movie studios use data and social media to target Academy Award voters. [Ad Age via @alexlundry]

BEFORE YOU GO
PHOTO GALLERY
Obama On Late-Night TV