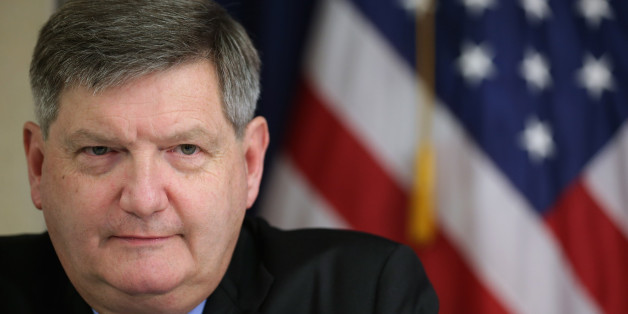 James Risen reiterated on Tuesday a warning about the White House that he delivered nearly one year ago.
"The Obama Administration is the greatest enemy of press freedom in a generation," the New York Times reporter wrote in a tweet.
Risen was responding to a speech Attorney General Eric Holder gave on Tuesday. Speaking at the National Press Club in Washington, D.C., Holder addressed the issue of whistleblowers and argued that press leaks can do more damage than good for national security.
"I also think it's a question for you all, for all members of the press, as we have asked ourselves when it comes to national surveillance: Simply because we have the ability to do something, should we?" he asked. "I think there is a question members of the press should ask about whether or not the disclosure of the information has a negative impact on the national security of the nation."
Risen went after Holder on Twitter on Tuesday night, calling him "the nation's top censorship officer" and claiming that Holder is making it look "okay" to jail journalists worldwide.
Given Holder's speech today, I repeat: The Obama Administration is the greatest enemy of press freedom in a generation.

— James Risen (@JamesRisen) February 18, 2015
Last year, Risen said those same words at the George Polk Awards' "Sources and Secrets" conference hosted by The New York Times, calling the current administration "the greatest enemy of press freedom that we have encountered in at least a generation." In August, Risen repeated the sentiment to New York Times columnist Maureen Dowd during an interview.
For years, Risen fought the White House over its war on leaks after being ordered to testify against former CIA agent Jeffrey Sterling, who was believed to have given Risen confidential information for his 2006 book State of War. The Department of Justice finally excused Risen from testifying against his alleged source in January, but the reporter still feels that government officials are destroying his right to do his job, as well as the rights of other journalists.
Eric Holder has been the nation's top censorship officer, not the top law enforcement officer.

— James Risen (@JamesRisen) February 18, 2015
Eric Holder has sent a message to dictators around the world that it is okay to crack down on the press and jail journalists.

— James Risen (@JamesRisen) February 18, 2015
Eric Holder managed to destroy any semblance of a reporters privilege in the United States.

— James Risen (@JamesRisen) February 18, 2015
This is Eric Holder's true legacy on press freedom:

"There is no First Amendment "reporter's privilege."

From DOJ brief in my case.

— James Risen (@JamesRisen) February 18, 2015
I plan to spend the rest of my life fighting to undo damage done to press freedom in the United States by Barack Obama and Eric Holder.

— James Risen (@JamesRisen) February 18, 2015
My son is a reporter. I don't want him to have to live in a country where there is less press freedom than when I started as a journalist.

— James Risen (@JamesRisen) February 18, 2015
H/T Politico