Last Saturday night a slew of artists, performers and influencers who navigate the queer nightlife community of Brooklyn, New York descended upon a warehouse space in Crown Heights.
Their intention? To collectively contribute to the physical manifestation of a very necessary spiritual and emotional release -- especially on a night being cited as the coldest yet of the season. This event, called Psychic Snow, is one of four seasonal events thrown by promoter/DJ David Sokolowski, Paul Leopold and, for the first time, Mark Dommu of The Culture Whore.
At a time of year where merely existing in the metropolis is a day-to-day struggle, queer-focused events that act as modes of identity celebration and exploration serve a powerful function. We need reminders that not only is our queerness a gift, but that the relentless nature of our environment -- namely, the endlessly hellish cold -- will eventually subside.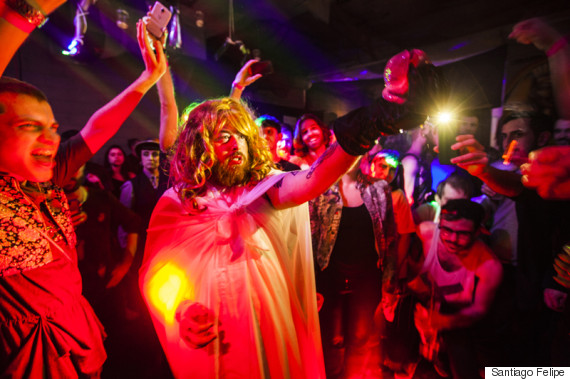 The night brought out hundreds of queer people and ran well past sunrise. In addition to libations and music, Psychic Snow offered attendees tarot card readings and donation-based massages as acts of healing in conjunction with the event.
As we previously mentioned, The Psychic party series just completed it's first full cycle, having successfully sold out 2014's Winter, Spring, Summer and Fall installations -- an impressive feat in an industry where nightlife events can have a short lifespan.
Now we have another reason we can't wait for spring.
Check out some photos from Saturday's Psychic Snow below. All photos courtesy of Santiago Felipe.
PHOTO GALLERY
Psychic Snow