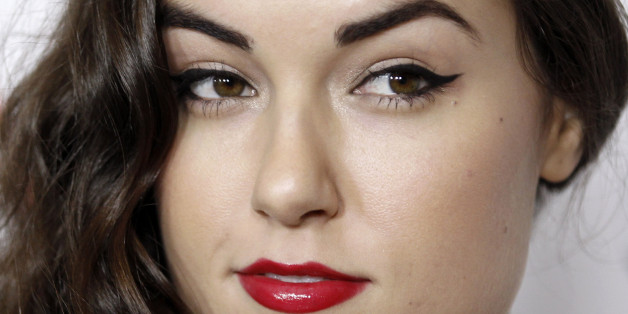 Ex-porn star Sasha Grey took to Twitter Wednesday to debunk a rumor that she had been killed by the Ukrainian military.
Grey, who quit the adult industry in April 2011, confronted a wild rumor that she was a woman named "Sasha Serova" who had been captured and brutally murdered by soldiers while volunteering as a nurse with Russian militants fighting in Ukraine. "Serova" is similar to the Russian word for "gray," according to the Moscow Times.
The bogus post featured a photo of Grey and a brief narrative describing her purported death. It went viral after it appeared Feb. 17 on a pro-Russian social media group. Mediaite reports that the rumor originated on the image board Dvach, described by the blog as "Eastern Europe's version of 4Chan."
According to the Moscow Times:
The story says that a nurse named "Sasha Serova" was captured by Ukrainian military forces, who then filmed themselves "humiliating" her before chopping her body up with an ax.
Tweets below (Warning: Graphic language)
Grey appeared none too pleased about the post, tweeting her opposition soon after the rumor gained traction.
I <3 my Russian fans, but this propaganda takes it too far. News that I was a NURSE killed in the Russian/Ukraine conflict. #fuckpropoganda

— Sasha Grey (@SashaGrey) February 18, 2015
Grey, 26, became seen as pro-Western in Russia after tweeting support for "a coup that eventually overthrew the former pro-Russia prime minister of Ukraine, Victor Yanukovich," according to Mediaite. She tempered her outrage over the false report of her death with sympathy for those affected by the conflict.
People are dying. People are losing family members & BS outlets mock the deceased with Fappery like this

— Sasha Grey (@SashaGrey) February 18, 2015
I have love & respect for all of my Russian & Ukrainian fans, I wish there was more I could do. #peace

— Sasha Grey (@SashaGrey) February 18, 2015
Although she has recently focused on mainstream acting roles, appearing on HBO's Entourage and several independent films, Grey remains an outspoken advocate for actors in adult entertainment. She defended outed Duke University student-turned-porn star Belle Knox in a 2014 interview.
Like Us On Facebook |

Follow Us On Twitter |

Contact The Author
BEFORE YOU GO
PHOTO GALLERY
Porn Stars Without Makeup