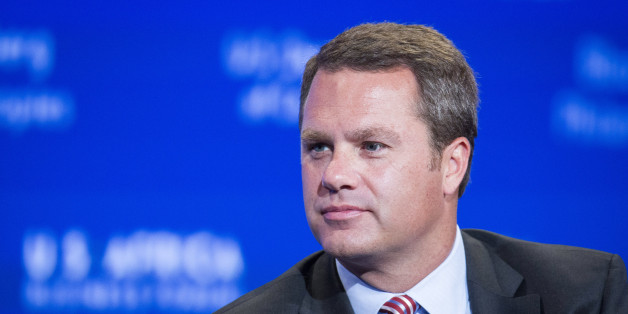 Many Arkansas residents voted last year to raise the minimum wage in Walmart's backyard. Turns out the retail giant's CEO was one of them.
"I voted for that increase, by the way," Doug McMillon, Walmart's president and CEO, told CNBC on Thursday, referring to a ballot initiative Arkansas voters passed in November to raise the state's minimum wage incrementally from the federal floor of $7.25 to $8.50 by 2017. McMillon appeared on the business channel's "Squawk Alley" program shortly after announcing Walmart was raising its own minimum wage to $10, giving a boost to about 500,000 workers.
Arkansas was one of four Republican-leaning states that passed minimum wage increases in November. Liberal pundits and politicians hailed the votes as a sign that public opinion is shifting in favor of raising the minimum wage, regardless of political party. Securing a wage increase in Arkansas, where Walmart has its headquarters, was seen as a particular coup, given the retailer's reputation for paying workers low wages.
While many states are raising their minimum wages on their own, Republicans in Congress have resisted Democratic efforts to raise the federal minimum wage to $10.10, even though such a hike is popular among Republicans and Democrats generally. The fact that McMillon voted for his state's increase -- and his company raised wages for its own workers -- suggests that raising the federal minimum wage isn't just politically popular, it may be good for business.
Experts have said for years that a minimum wage hike would put more money in the pockets of the people most likely to shop at Walmart: low-income Americans. If all businesses are forced to raise their starting wage, then Walmart won't have to worry that shelling out will put it at a competitive disadvantage.
And as McMillon pointed out on CNBC, if workers are happier about their jobs because they have extra money in their pockets, they'll be more likely to give shoppers a pleasant experience.
"That's going to show up in sales," he said, noting that sales at stores open a year will be the primary metric Walmart uses to evaluate the success of its own wage hike.
BEFORE YOU GO
PHOTO GALLERY
What Minimum Wage Haters Won't Say