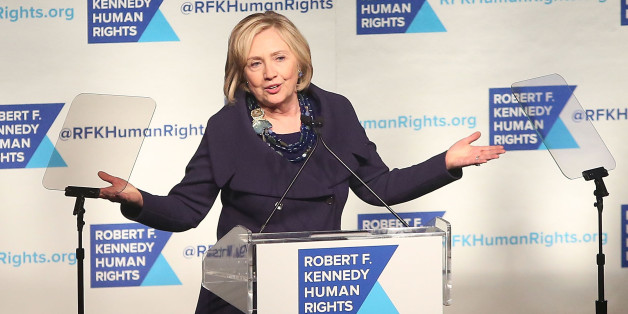 Republicans are just beginning to consider their choices for 2016. Women see Hillary as representing the future rather than the past. And uncertainty and misconceptions about Common Core standards are widespread. This is HuffPollster for Thursday, February 19, 2015.
WHO WOULD YOU CONSIDER IN 2016? - Sarah Dutton, Jennifer De Pinto, Anthony Salvanto, and Fred Backus: "With less than a year to go before the first contests of the 2016 presidential election are underway, the latest CBS News Poll asked Americans which candidates they would consider supporting for their party's nomination. Among the potentially crowded Republican field, self-identified Republicans are most likely to say they would consider voting for Jeb Bush (49 percent) and Mike Huckabee (46 percent) for the GOP nomination. These political figures also appear to be the best known of the potential candidates....At this point, there is little enthusiasm for Chris Christie. Forty-three percent of Republicans would not consider supporting Christie for the Republican nomination for President - the highest of any Republican figure asked about, while 28 percent would consider backing him...Republicans nationwide are divided on Rand Paul at this early stage: 30 percent of Republicans would support him, but 31 percent would not." [CBS]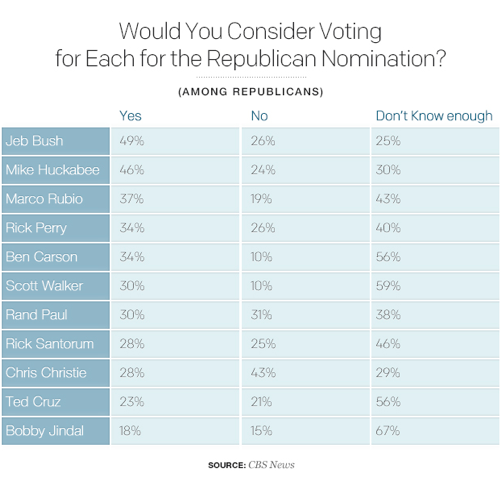 And among Democrats - More from CBS: "Democrats are most likely to say they would consider supporting Hillary Clinton for their party's nomination: 81 percent would consider voting for [Clinton]; only 12 percent would not. Vice President Joe Biden follows Clinton; 47 percent of Democrats would consider backing him for the Democratic nomination, although 35 percent would not vote for him. A third of Democrats would back Elizabeth Warren, and only 14 percent would not consider her for the party's nomination. Still, Warren remains unfamiliar to 53 percent of Democrats nationwide."
WHO REPRESENTS THE FUTURE? - Jennifer Agiesta: "Who among the nascent field of 2016 contenders represents the future? For half of Americans, it's Hillary Clinton. Asked in a new CNN/ORC poll whether seven possible candidates better represent the future or the past, 50% said Clinton evoked the future, more than said so of any other candidate. By contrast, Joe Biden and Jeb Bush, whose names have been in the political conversation even longer than Clinton's, were each seen as representing the past by 64% of Americans....Overall, across the field of seven, just two were deemed more "future" than "past," and both were women: Clinton (50% future, 48% past) and Massachusetts Sen. Elizabeth Warren (46% future, 37% past)....Both Clinton and Warren prompt significant gender gaps, with women more likely than men to call each a representation of the future. Among men, 53% see Clinton as a representation of the past, while 55% of women see her representing the future. On Warren, women see her as more future than past by a 50% to 32% margin, while men split evenly, 43% on each side." [CNN]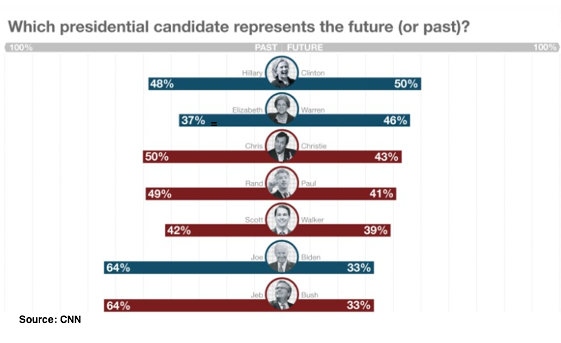 SWING STATE VOTERS WANT THE NEXT PRESIDENT TO CHANGE DIRECTION- Quinnipiac: "Voters in three critical swing states, Colorado, Iowa and Virginia, disapprove by margins of 9 percentage points of the job President Barack Obama is doing…By even bigger margins, voters want the next president to change directions from President Obama's policies...Voters support by wide margins, Obama's proposal to increase taxes on higher income earners to reduce taxes on the middle class. By smaller margins, voters in each state oppose the president's proposal to provide free community college tuition….'[W]hile voters in all three states say their state economy is excellent or good, and many say their personal financial situation is improving, more think Obama's policies have hurt rather than helped the economy'... 'There is strong agreement - by more than 2-1 in these states - on the need to ban from public schools children who have not been vaccinated against childhood diseases such as measles.'" [Quinnipiac]
ONLY 17 PERCENT OF AMERICANS FAVOR COMMON CORE STANDARDS - Dan Cassino: "Currently, 40 percent of Americans say they disapprove of the Common Core State Standards (CCSS), often referred to as just the 'Common Core,' with 42 percent who are unsure and 17 percent who favor the standards... Interestingly, a much greater proportion of Americans – 40 percent – say that they approve of attempts by the federal government to establish educational standards than approve of the Common Core... A majority of Democrats (55%) say that they approve of federal attempts to establish standards, along with only 25 percent of Republicans but only 27 percent of Democrats and 9 percent of Republicans say that they approve of the Common Core…The same survey finds that most Americans say that they don't know very much about the Common Core standards, and they seem to be right: misconceptions about the content of the standards are widespread – almost half of Americans (44%) think that sex education are part of them – and are strongly connected with opposition to them." [Fairleigh Dickinson]
HUFFPOLLSTER VIA EMAIL! - You can receive this daily update every weekday morning via email! Just click here, enter your email address, and click "sign up." That's all there is to it (and you can unsubscribe anytime).
THURSDAY'S 'OUTLIERS' - Links to the best of news at the intersection of polling, politics and political data:
-Fifty-two percent of Americans say Brian Williams should be allowed return to the NBC Nightly News; 40 percent say he should not. [CNN]
-The evening network news shows retain a bigger audience than all other sources of national news, Lynn Vavreck reports. [NYT]
-New Hampshire's senators are more popular than its U.S. House members. [UNH]
-Bostonians are unhappy about the performance of the T and the rest of their public transit system. [WBUR]
-Nate Silver sees room for Marco Rubio in the Republican nomination race. [538]
-Ron Brownstein presents two tables that summarize how demographic change is remaking the 2016 landscape in the swing states. [National Journal]
-Harry Enten reviews what Republicans like and dislike about George W. Bush's foreign policy legacy. [538]
-Alan Abramowitz argues that outside spending on 2014 Senate races was overrated. [Sabato]
-Mark Mellman (D) reviews the social science on false memories. [The Hill]
-Harry Lambert suggests three rules for reporting on U.K. campaign polls. [May2015 via @JamesCU1992]
-Georgetown's student paper conducts a convenience sample poll on its upcoming student assembly elections. [The Hoya via @derekwillis]

BEFORE YOU GO
PHOTO GALLERY
Awkward Mitt Romney