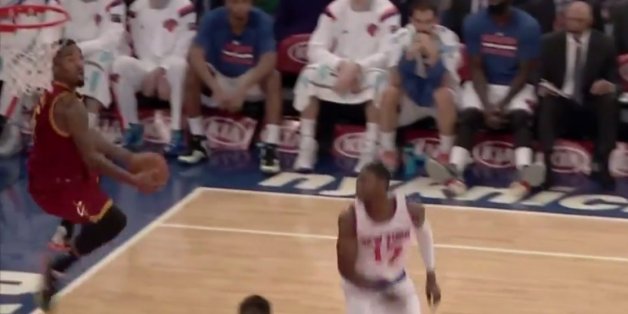 The New York Knicks' regular season basically ended on Sunday when former Knicks J.R. Smith and Iman Shumpert teamed up for one of the cruelest alley-oop dunks of the year during their return to Madison Square Garden.
The play occurred with around 9:15 left in the fourth quarter, and put Smith's and Shumpert's new team, the Cleveland Cavaliers, up by 30 points. (The team went on to win the game by 18 points.)
"It was probably one of the best dunks I've probably seen in my short career," Cavaliers point guard Kyrie Irving said later.
Smith and Shumpert, two of the most charismatic Knicks of recent years, were traded to the Cavaliers in January. This was their first game back in the Garden, and Smith, in particular, made the most of it. The shooting guard shot 7-11 from the field and 3-5 from three on his way to 17 points for the day. Smith also had a +26 plus-minus, a steal, two blocks, four assists and just one turnover in 29 minutes.
If the dunk looks familiar, that's because Smith did something similarly cruel to the San Antonio Spurs when he was still a Knick:
Meanwhile, things are going pretty badly for the Knicks. The team's star, Carmelo Anthony, has shut it down for the year and the team currently has an even worse record than the Philadelphia 76ers, who are really bad.