Our Oscars drinking game involved taking a sip of wine every time a woman or person of color won in a gender-neutral award category. Unfortunately, we ended the night stone cold sober.
Much has been made of the Academy's failure to nominate people who aren't white men in many of the award's most prestigious categories. The cast of white over this year's lineup was nearly blinding and the gender gap was pretty damn big.
Women made up only 19 percent of all non-acting nominees, and 77 percent of Academy voters are male. If you were to take the white dudes out of the credits for year's nominated films, Neil Patrick Harris would have had quite a lot of time to fill.
Of course, there were some highlights during this year's ceremony. Julianne Moore and Patricia Arquette picked up Best Actress awards for powerful portrayals of dynamic female characters. Accepting her award for Best Supporting Actress for her performance in "Boyhood," Patricia Arquette brought the evening to its indisputable high point with her impassioned plea for gender equality.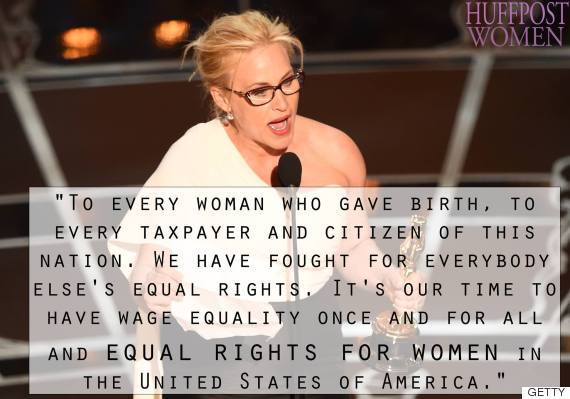 Here are some of our favorite moments from the 2015 Academy Awards:
--Octavia Spencer throwing Neil Patrick Harris shade for asking her to watch over the winner's box and denying her snacks. WTF, NPH?
--Patricia Arquette's pointed and passionate acceptance speech for Best Supporting Actress. "To every woman who ever gave birth to every taxpayer and citizen of this nation: We have fought for everybody else's equal rights. It's our time to have wage equality once and for all and equal rights for women in the United States of America!" Preach, Patricia. Preach.
--Jennifer Lopez and Meryl Streep's reaction. A "you go girl" moment for the ages.

--Common and John Legend's powerful performance of "Glory" from Best Picture-nominated film "Selma." The pair received a standing ovation and later won the award for "Best Original Score."
--Oprah rocking her own personal LEGO Oscar.

Image: Giphy

--Screenwriter Graham Moore, accepting the award for "Best Adapted Screenplay" for "The Imitation Game" made an incredibly honest, impassioned speech dedicated to anyone whose ever felt like an outcast. The 33-year-old said of his teen years: "I felt weird, I felt different, and I felt like I didn't belong. And now I'm standing here. I would like for this moment to be for that kid out there who feels like she doesn't fit in anywhere. You do. Stay weird. Stay different, and then when it's your turn and you are standing on this stage please pass the same message along."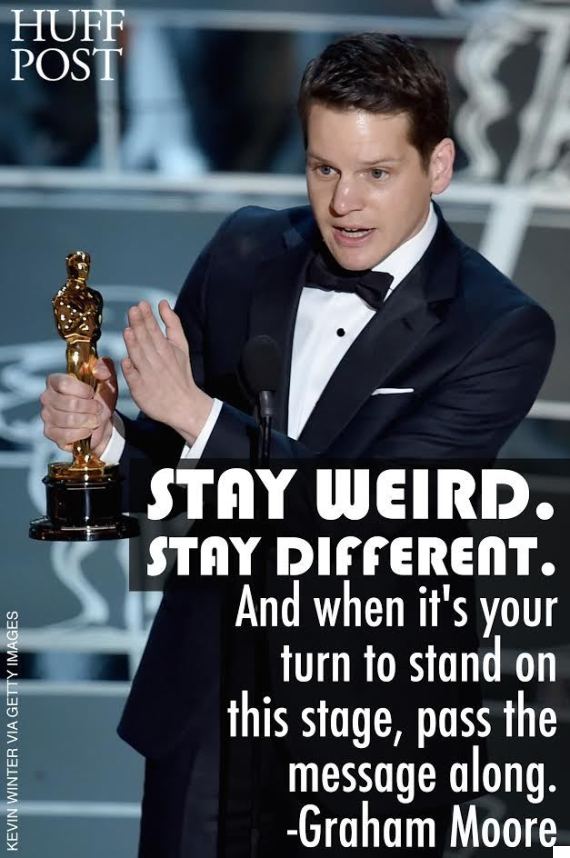 --Lady Gaga performing "The Hills Are Alive" in tribute to "The Sound Of Music's" 50th anniversary as Julie Andrews cheered her on. Intergenerational girl power FTW.
--A documentary made by a female filmmaker earned the top honor in its category -- Laura Poitras shared the win for "Citzenfour" with journalist Glenn Greenwald.
--Eddie Redmayne dedicating his award for "Best Lead Actor" to those worldwide living with ALS, the disease afflicting the preeminent Stephen Hawking whom Redmayne portrayed in "The Theory Of Everything."
--Julianne Moore's emotional, compassionate acceptance speech for her Best Lead Actress win. Moore won the award for her portrayal of a woman suffering from Alzheimer's disease in "Still Alice." "One of the great things about movies is that they make us feel seen and not alone."
Honorable mention:
Before the ceremony, Reese Witherspoon championed #AskHerMore, a call to action for those who ask actresses questions on the red carpet and interview women in general to acknowledge their accomplishments other than picking out a nice dress.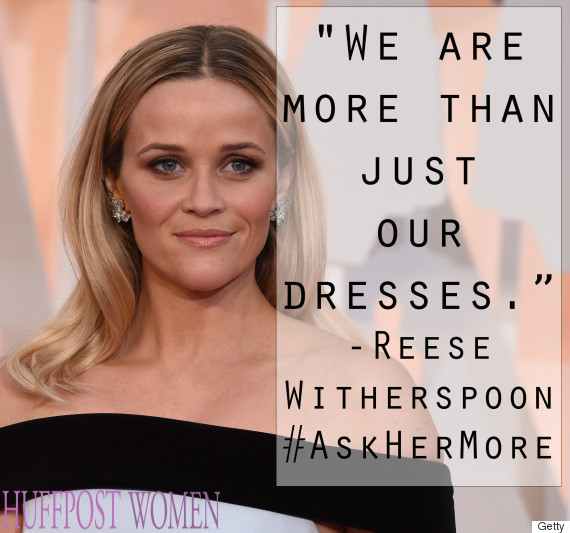 We collected some of the best tweets from women during the ceremony. See some of our favorites below:
PHOTO GALLERY
Women React To The 2015 Oscars
Visit HuffPostWomen's profile on Pinterest.