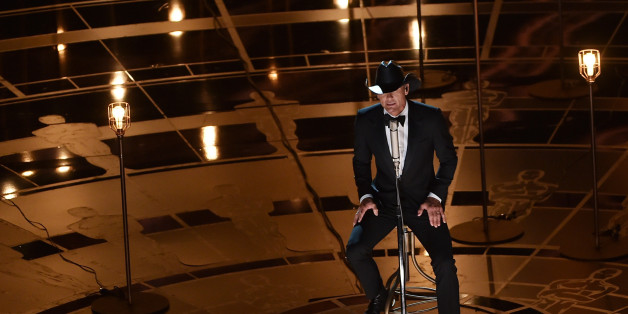 Glen Campbell was not able to attend Sunday's Oscars because of his health, but the iconic singer still cast a long shadow over the ceremony. "I'm Not Gonna Miss You," the final song Campbell recorded following his diagnosis with Alzheimer's disease, was nominated in the Best Original Song category. Country star Tim McGraw -- hand-picked by Campbell's family, according to Rolling Stone -- filled in for Campbell, singing the song with few frills.
The song's co-writer, Julian Raymond, told Rolling Stone that Campbell was, unfortunately, not aware of the nomination (Campbell was placed in a health-care facility last year). "It's a cliché thing to say, but I'm just so happy to be nominated, for him and his family," Raymond said. "I feel just so happy that this whole thing is creating a brand-new legacy for him and getting some of those great old songs heard. As we joke, he's lived a thousand lifetimes. He's just amazing in so many ways."
"I'm Not Gonna Miss You" lost to "Glory" from "Selma," but McGraw's take on the track was an Oscars highlight. Watch above, and check out the original video for "I'm Not Gonna Miss You" -- which comes from the documentary, "Glen Campbell...I'll Be Me" -- below.
BEFORE YOU GO
PHOTO GALLERY
Oscars 2015: Best Instagram Snaps Of The Night