This year's Oscars ceremony may have seemed interminable, but for many of the stars in attendance it was just prologue to a night of parties.
The first stop after the show is always the Governors Ball, which is hosted by the Academy and takes place just an escalator ride up from the Dolby Theatre in Hollywood where the Oscars' ceremony is held. Actors, filmmakers, producers, entourages and significant others flooded the massive ballroom, which was covered in crushed red velvet carpeting for a quick bite, a photo and -- in Alejandro Gonzalez Iñárritu's case -- tequila.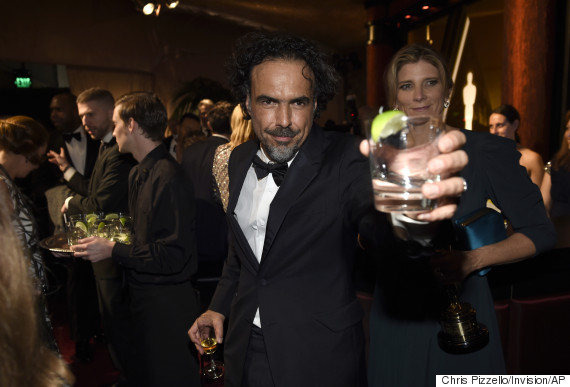 Alejandro Iñárritu celebrates at the Governors Ball
The Mexican filmmaker had quite the start to his Sunday night -- taking home three Oscars for Best Director, Best Original Screenplay and Best Picture for his artsy, cerebral hit, "Birdman." Iñárritu celebrated the victories with shots of tequila while his friends chanted a football cheer in Spanish.
The room, lit with what must have been thousands of candles and decorated with palm fronds, housed some of the biggest stars of the night, including Best Supporting Actor winner J.K. Simmons and wife Michelle Schumacher, Best Supporting Actress winner Patricia Arquette, and Oscar also-rans Wes Anderson and Michael Keaton. The "Birdman" star around with a chicken pot pie in his hand and his son, Sean Douglas, all smiles, just a few steps ahead of him.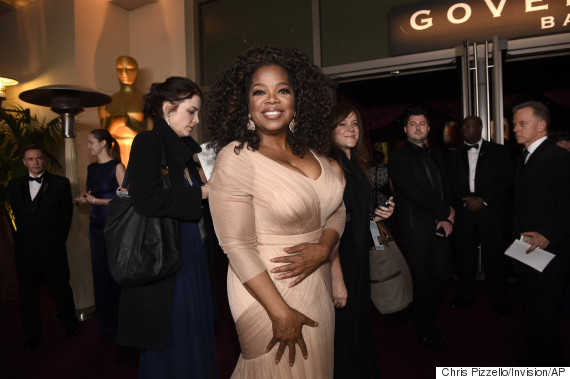 Oprah attends the 2015 Governors Ball
The "Selma" crew was also there -- Oprah Winfrey, star David Oyelowo and Oscar winners John Legend and Common. The rapper passed his Oscar off to a manager in a bright red suit while he chatted with Paramount CEO Brad Grey; off in a corner, Emma Stone shared an emotional hug with Best Actress winner Julianne Moore.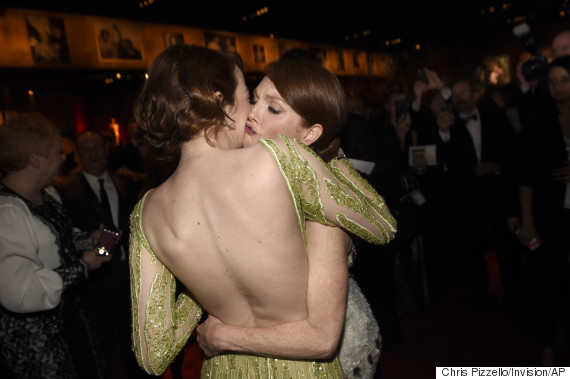 Julianne Moore hugs Emma Stone inside the Governors Ball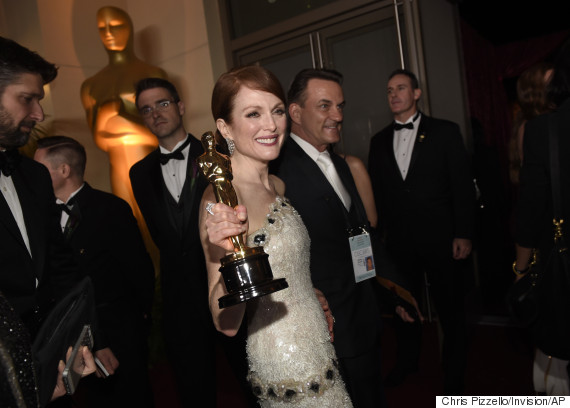 Legend and Chrissy Teigen (his wife, who changed out of her light blue Zuhair Murad gown and into a open back purple and orange party dress) walked hand-in-hand around the ballroom, stopping to say hello to fans and greet chef Wolfgang Puck, who brought them their own special plate of chocolate covered strawberries. Legend later posed alone at the bar with his Oscar while onlookers clapped and snapped photos of the singer. When a fan asked to take a selfie, Legend politely declined and gingerly followed his wife to the dessert bar.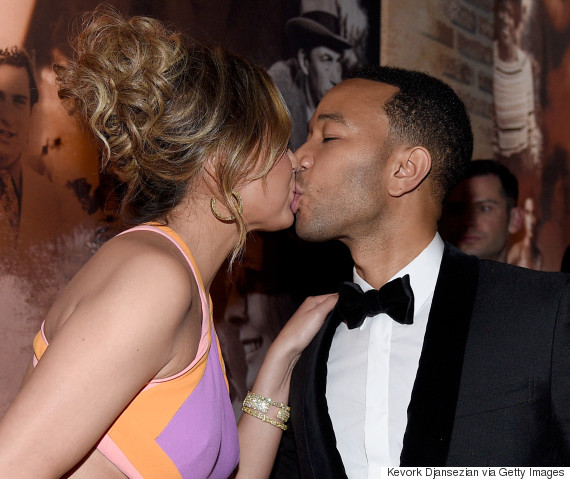 Chrissy Teigen and John Legend smooch inside the Governors Ball
Eddie Redmayne, who won Best Actor for "The Theory of Everything," held court at a large round table in the back of the ballroom with Hannah Bagshawe, his wife, and friend Sienna Miller. When it was time for them to leave, Redmayne quietly picked up the bottom of his wife's gown so that she could easily move through the crowd.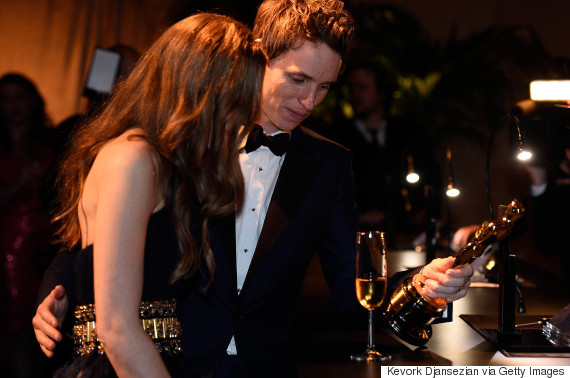 Eddie Redmayne and his wife Hannah Bagshawe at the Governors Ball
Solange Knowles DJ'd the party, playing vintage Mariah Carey, Pharrell, Prince and Bob Marley. She got the memo on the color of the night and wore a bright red dress with red lipstick to match.
The unusually rainy evening didn't keep guests from posing for photos both inside and outside of the ball. Akiva Schaffer and Andy Samberg of The Lonely Island (nominated for Best Original Song for "The Lego Movie") celebrated by taking a photo with Common and his Oscar, while Marion Cotillard, Rosamund Pike, Felicity Jones, Rene Russo, Faith Hill, Tim McGraw, Margot Robbie, Adrien Brody and Questlove all chatted with friends inside.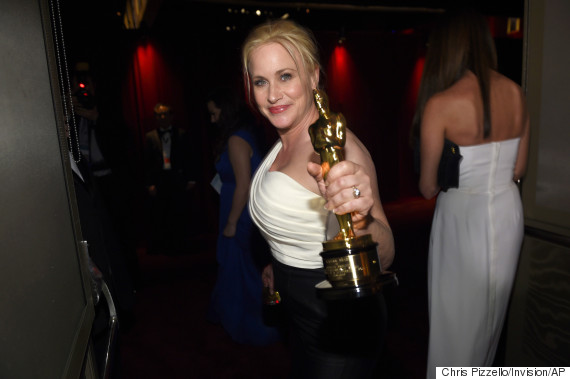 Best Supporting Actress Patricia Arquette arrives with her Oscar
But by 11:11 p.m., there were nearly no Oscar statues shimmering inside the ballroom. Plenty of partygoers still enjoyed passed food, desserts and liquor, but most stars were in and out of the ball quickly as they had to dash off to other commitments for the night: namely, Vanity Fair, Weinstein Co., Elton John or other private parties that go all night in a town that is typically a snooze fest by 2 a.m.
For a full list of Oscar winners, head here.
BEFORE YOU GO
PHOTO GALLERY
Oscars Red Carpet 2015