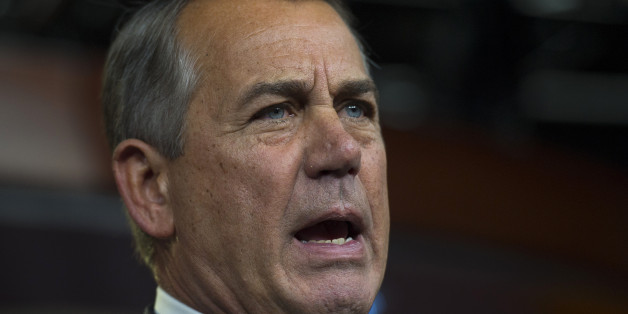 WASHINGTON -- A bipartisan group of lawmakers is urging House Speaker John Boehner (R-Ohio) to schedule a full debate on the president's request for authorization to use military force against the Islamic State -- including giving all members the ability to amend it.
In a Wednesday letter to Boehner, 20 Democrats and Republicans said they have a constitutional responsibility to thoroughly vet the president's proposal. Among other things, President Barack Obama's proposed AUMF would limit military operations against the Islamic State to three years and allow for U.S. ground troops only in specific cases. Lawmakers in both parties have ideas for improvements to the document, which the White House sent to Capitol Hill earlier this month.
"Given the gravity of the question at hand, restricting the ability of the people's representatives to offer amendments to the bill and to fully debate the issue would be inappropriate," reads the letter.
Lawmakers on the letter include Reps. Walter Jones (R-N.C.), James McGovern (D-Mass.), Thomas Massie (R-Ky.), Barbara Lee (D-Calif.), John Duncan (R-Tenn.), Gerry Connolly (D-Va.), Ted Poe (R-Texas), Ann Kirkpatrick (D-Ariz.), Bill Posey (R-Fla.), John Larson (D-Conn.), Curt Clawson (R-Fla.), Earl Blumenauer (D-Ore.), Raul Labrador (R-Idaho), Stephen Lynch (D-Mass.), Justin Amash (R-Mich.), Jim Cooper (D-Tenn.), Mark Sanford (R-S.C.), John Garamendi (D-Calif.), Mike Capuano (D-Mass.) and Gwen Graham (D-Fla.).
Some of those members were around the last time Congress debated an AUMF in 2002, and they weren't happy with how restrictive that process was. Members of the House Foreign Affairs Committee were the only ones allowed to offer amendments, and just two amendments were allowed for debate on the House floor.
"We owe it to the troops, their families, and the taxpayers to fully debate and amend this bill," Jones said in a statement. "I will continue to do everything I can to ensure that we have an open process during this debate."
Boehner spokesman Michael Steel gave no specifics on how open the AUMF process will be.
"The speaker has been clear that he expects we will have vigorous oversight and debate on this issue," said Steel.
It's unclear how, or if, lawmakers can bridge their differences on the AUMF proposal. Democrats want tighter limits on U.S. ground troops, and Republicans don't want to put any restrictions on the president's ability to counter Islamic State terrorists. In the meantime, the White House is content to keep relying on a sweeping 2001 AUMF that the administration argues gives it the ability to launch strikes against the Islamic State with or without new congressional signoff. Some Democrats say that 14-year-old AUMF must be repealed if Obama is truly interested in imposing war limits.
For now, lawmakers are eager to hear testimony from administration officials on the president's AUMF and their strategy for defeating the Islamic State. Secretary of State John Kerry will testify in two House committees this week on Obama's foreign policy budget, which will likely include discussion of the AUMF.
BEFORE YOU GO
PHOTO GALLERY
John Boehner's Lips Are Sealed