Adding a pinch of salt can really make a difference in an otherwise bland dish, but why not punch up the flavor with a more robust infusion? This crunchy, savory salt is the perfect finishing touch to sprinkle on nearly everything, from a hearty pasta to a simple salad.
Kale Lemon Salt
Recipe by Heidi Swanson of 101cookbooks.com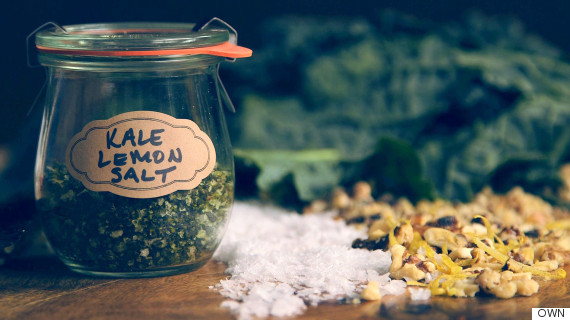 Ingredients
1 sheet of nori seaweed (6-in. x 6-in.)
Zest of 1 lemon
1/4 c. flaky sea salt
1/4 c. walnuts, chopped
4 kale leaves, rinsed and patted dry
Directions
Preheat the oven to 300 degrees, with racks in the top and bottom third. Line two baking sheets with parchment paper.
De-rib the kale by removing the center stems. Arrange the kale in a single layer on one prepared baking sheet. Bake in the oven for 25 minutes.
Place the nori, lemon zest and walnuts on the second prepared baking sheet, keeping ingredients separate. Bake in the oven for about 15 minutes or until ingredients are nicely toasted.
Let all ingredients cool to room temperature. Put the nori, kale, zest and walnuts into a food processor. Pulse until finely ground, then transfer to a medium bowl.
Add the salt to the kale mixture, and stir.
Kale Lemon Salt can be stored in an airtight jar for up to two months.
Another kale-inspired favorite: Kale Pesto is a great way to break free from the same old basil-based recipe.
BEFORE YOU GO
PHOTO GALLERY
The Most Important Ingredient In Your Kitchen Is...