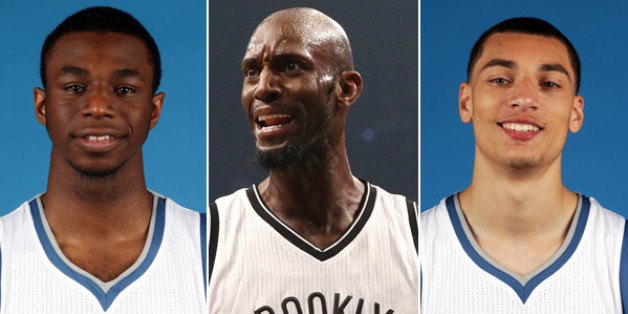 When Kevin Garnett, 38, once again steps onto the court as a member of the Minnesota Timberwolves this week (probably on Wednesday), he'll be playing alongside two up-and-coming rookies who were still quite literally in diapers when Garnett started his first stint with the team.
The rookies, Andrew Wiggins and Zach LaVine, were born on Feb. 23, 1995, and March 10, 1995, respectively. Just a few months later, on Nov. 3, 1995, Garnett played the first game of his career for the Timberwolves. He made all four of his shots on his way to eight points, as you can see in this video we dug up:
The return of the future Hall of Famer to the team where he became one of the most famous players of his generation seems to sort of be freaking the young guys out.
One of the older players apparently told the kids that Garnett might throw their phones in the toilet for some reason, and LaVine, who at 19 is exactly half Garnett's age, seems almost comically afraid right now.
"[My locker] is his [old] locker and I'm actually kind of scared because I think he is going to say something about me being in his locker," LaVine told the Pioneer Press a couple days ago. "I wanted him to take it … I wanted him to sit there. I said, 'I'll move!'"
Of course, Garnett is in the phase of his career where he's thinking about potential ownership strategies, while LaVine is in the phase where you go to All-Star Weekend and do stuff like this:
We're pretty sure they'll be able to get along OK.