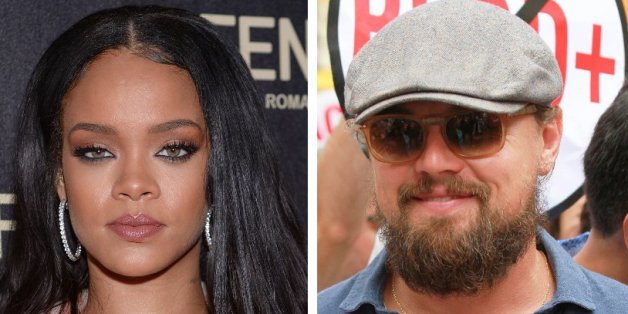 Rihanna celebrated her 27th birthday in style on Friday, with a party courtesy of rumored beau Leonardo DiCaprio.
For months, rumors the actor has been romancing the pop star have been brewing, ushering in the era of RihCaprio (or Rihanardo as commenters over at Jezebel suggested). And now, this party held at a private home in Beverly Hills makes us think these two might actually be dating.
In addition to the birthday girl and DiCaprio, People magazine reports that the guest list included Mick Jagger, Jim Carrey, Bill Murray, Naomi Campbell and Paris Hilton, while Us Weekly notes that Beyonce, Jay Z and Russell Simmons all showed up to the A-list bash.
The party, which raged on until the wee hours of the morning, was apparently the perfect setting for People's source to analyze Rihanna and DiCaprio's body language:
"They weren't couple-y but they would flirt and dance so definitely a little magic there," the source told the magazine. "They were definitely flirty and dancing, but not over the top."
The first rumblings of RihCaprio rumors can be traced back to January, when the two partied together at the Playboy Mansion before the Golden Globes, and were allegedly spotted "making out." Rumors raged on as, shortly after, the stars were both spotted partying at the same hotel. Us Weekly seems to think that RihCaprio is the real deal and claims the alleged couple "took their fling to the next level " and spent Valentine's Day together.
On the flip side, sources now tell the New York Daily News that RihCaprio is not a thing, and that Rihanna is getting close with Up & Down club owner Richie Akiva, who posted a photo of himself with the singer on her birthday and wrote, "Happy Birthday! #badass #sweethearted."
BEFORE YOU GO
PHOTO GALLERY
Rihanna's Best Moments Of 2014