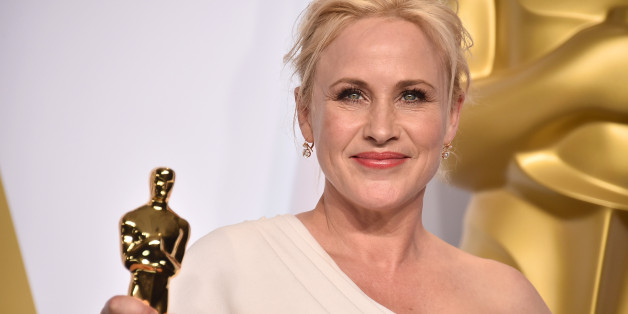 Patricia Arquette used Hollywood's biggest awards show as a platform to speak about something other than the Oscar she won: women's equality. But backstage, when Arquette spoke about women's rights in America to reporters, she made comments that some have criticized as blind to the intersections between race, gender and sexuality.
The 46-year-old actress pleaded for wage equality during her Oscars acceptance speech, saying, "It's our time to have wage equality once and for all, and equal rights for women in the United States of America" -- and inspiring unbridled enthusiasm from Meryl Streep and Jennifer Lopez who cheered her on from their seats.
Backstage, Arquette expanded on this topic. "It's time for us. It's time for women. Equal means equal," she said. "It's inexcusable that we go around the world and talk about equal rights for women in other countries when we don't have equal rights for women in America. When they wrote the constitution, they didn't intend it for women."
Saying that nothing will change until actual laws are passed, Arquette continued: "People think we have equal rights; we don't. Until we pass a constitutional amendment, we won't have anything changed. It's time for all women in America and all the men who love women and all the gay people and people of color that we've all fought for to fight for us now."
Her latter comments caused people to point out that, of course, many women are people of color and part of the LGBTQ community, and that by calling on these groups to "fight for us," Arquette erased the experiences of non-white, non-straight women.
(It's also worth mentioning that women of color face a greater gender wage gap than their white counterparts. And research has shown that the same is true for trans women.)
patricia's comments show the danger in not being hip to this whole intersectionality thing. women of color get erased.

— Tracy Clayton (@brokeymcpoverty) February 23, 2015
Patricia Arquette's 'we fought for you now you fight for us' is just... sad. Who does she think 'we' is? Or 'you'? No queer women of colour?

— Emily Collins (@emmielouli) February 23, 2015
Patricia Arquette says people of color & the gays need to fight for "us," as though scores of women aren't "people of color" and gay.

— Ree Cee (@ree_cee) February 23, 2015
Patricia Arquette basically suggested that people of color and gay people are not currently *femininsts* [women]

— ZEC (@zxxelaine) February 23, 2015
Patricia Arquette is about to get a most righteous history lesson. Also, does she not realize that half of all people of color ARE women?

— Carolyn Edgar (@carolynedgar) February 23, 2015
Oh, good morning, #PatriciaArquette. Intersectionality means the very obvious of WOMEN ARE SOMETIMES ALSO PPL OF COLOR AND QUEER. ugh.

— Sally J. Johnson (@sallyjayjohnson) February 23, 2015
You guys, you got this all wrong. Patricia Arquette just wants gay people and WOC to know we're not real women. Duh. **bangs head on wall**

— Mon Petty Amie (@NaniCoolJ) February 23, 2015
If you're still confused, google "intersectionality."
UPDATE:
Patricia Arquette responded to the controversy surrounding her Oscar night comments via Twitter on Wednesday afternoon:
Wage equality will help ALL women of all races in America. It will also help their children and society.

— Patricia Arquette (@PattyArquette) February 23, 2015
Women have been basically paying a gender tax for generations.

— Patricia Arquette (@PattyArquette) February 23, 2015
I have long been an advocate for the rights of the #LBGT community. The question is why aren't you an advocate for equality for ALL women?

— Patricia Arquette (@PattyArquette) February 23, 2015
If you are fighting against #Equalpay you are fighting for ALL women and especially women of color to make less money than men.

— Patricia Arquette (@PattyArquette) February 23, 2015
BEFORE YOU GO
PHOTO GALLERY
Oscars Red Carpet 2015