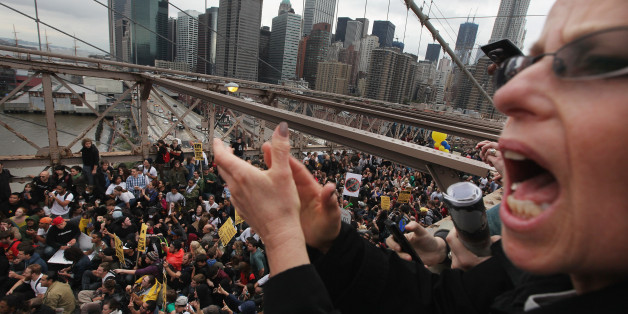 NEW YORK -- In a surprising about-face, a federal appeals court has dismissed a lawsuit brought by Occupy Wall Street demonstrators against the New York City Police Department over mass arrests on the Brooklyn Bridge.
Many of the more than 700 marchers arrested said they were essentially tricked onto the iconic span by police in October 2011. Last August, three judges from the U.S. Court of Appeals for the 2nd Circuit allowed the demonstrators' false-arrest lawsuit to proceed. But they reversed themselves in another ruling Monday.
When the hundreds of demonstrators approached the bridge during a march on Oct. 1, 2011, NYPD officers on the scene retreated -- a move that demonstrators say they took as implicit permission to enter the bridge's main deck. The court found, however, that "it cannot be said that the police's behavior was anything more than -- at best for plaintiffs -- ambiguous, or that a reasonable officer would necessarily have understood that the demonstrators would reasonably interpret the retreat as permission to use the roadway."
The mass arrests, which came in the early days of Occupy Wall Street's monthslong protest against corporate greed, served as an important rallying cry for the movement.
In a statement, the plaintiffs' lawyers at the nonprofit Partnership for Civil Justice Fund decried the 2nd Circuit's "extraordinary" change of heart and said they were considering options for a response.
"The Court has abruptly doubled back on itself to tell the people of New York that if they participate in a police-led and escorted march, peaceful and compliant with all directives from the police, they can be subject to a shocking corralling and mass arrest by the NYPD," said Mara Verheyden-Hilliard, the group's executive director.
New York City, meanwhile, hailed its victory in sidestepping what might have been a significantly expensive lawsuit.
"As we have consistently maintained, the alleged facts and multiple videotapes of the events do not show that the plaintiffs were ever granted permission to march onto and block all vehicular traffic on the roadway of the Brooklyn Bridge," city Law Department spokesman Nick Paolucci said in a statement.
Years after the protest movement petered out, New York City is still facing a number of lawsuits over the NYPD's policing of Occupy demonstrations. The city has spent more than $1 million on settlements in lawsuits related to Occupy Wall Street.
The city has recently engaged in settlement talks over the notorious pepper-spraying of protester Kaylee Dedrick, but Ron Kuby, one of Dedrick's attorneys, told HuffPost that no agreement has been reached.
BEFORE YOU GO
PHOTO GALLERY
Occupy Wall Street Anniversary