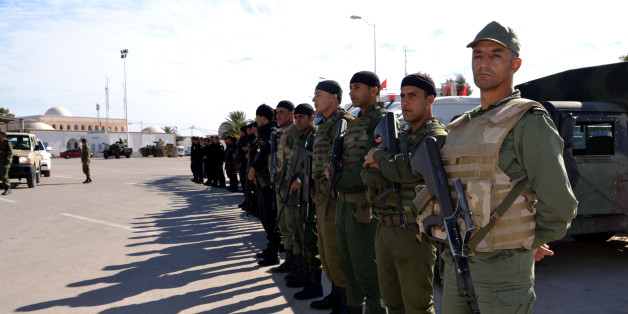 By Tarek Amara
TUNIS, Feb 24 (Reuters) - Tunisia arrested about 100 suspected Islamist militants in the last three days, some of whom were preparing attacks, officials said on Tuesday, and published video footage showing evidence of an Islamic State influence on some of those detained.
Tunisia is waging a campaign against hardline Islamist groups who emerged in the country during its transition to democracy after the 2011 uprising against autocrat Zine El-Abidine Ben Ali.
News of the arrests comes one week after four Tunisian policemen were killed by militants in the central region of Kasserine, close to the Algerian border.
"In the past three days we foiled terrorist operations and arrested about 100 jihadist elements," Mohamed Ali Aroui, a spokesman for the Interior Ministry said.
Aroui said security forces had uncovered a militant cell in the city of Hammam Ghzaz that was preparing explosives to use in attacks on security buildings.
A video published by the Interior Ministry on Facebook showed the cell had owned instructions for making explosives and a picture of Abu Bakr al-Baghdadi, the leader of the Islamic State militant group which is active in Syria and Iraq.
Islamic State has already expanded its presence in Libya, where it has exploited the absence of law and authority as rival militias battle it out, and there are fears it is seeking to expand its activities in the rest of North Africa.
In addition, Tunisia has been a major source of Islamist fighters traveling to Syria since 2011. The number of Tunisians fighting in Syria has been estimated at about 3,000. A few hundred have returned home, although many have been tracked down and arrested.
Among the Islamist militant groups to have emerged after the 2011 uprising is Ansar al-Sharia, which is listed as a terrorist organization by U.S. and European officials.
The main hotbed of militant activity has been the Chaambi mountain range bordering Algeria, where fighters took refuge in after fleeing a French military offensive in Mali last year. Since then, Tunisia has deployed thousands of soldiers to the area. (Editing by Raissa Kasolowsky)