Note: This exhibition contains lots of (painted) nudity. Be warned.
With all the juicy melodrama of a telenovela and the gravitas of a Baroque painting, Laura Krifka pumps her canvases full of love, lust and a thirst for blood. Her exhibition "Reap the Whirlwind," now in its final week at CB1 Gallery, features paintings and sculptures of sex, mischief and betrayal, postmodern parables filled with obvious symbolism and overblown innuendos. They're over the top in the best possible way, appealing to Renaissance audiences and TV addicts with a single sharp stroke.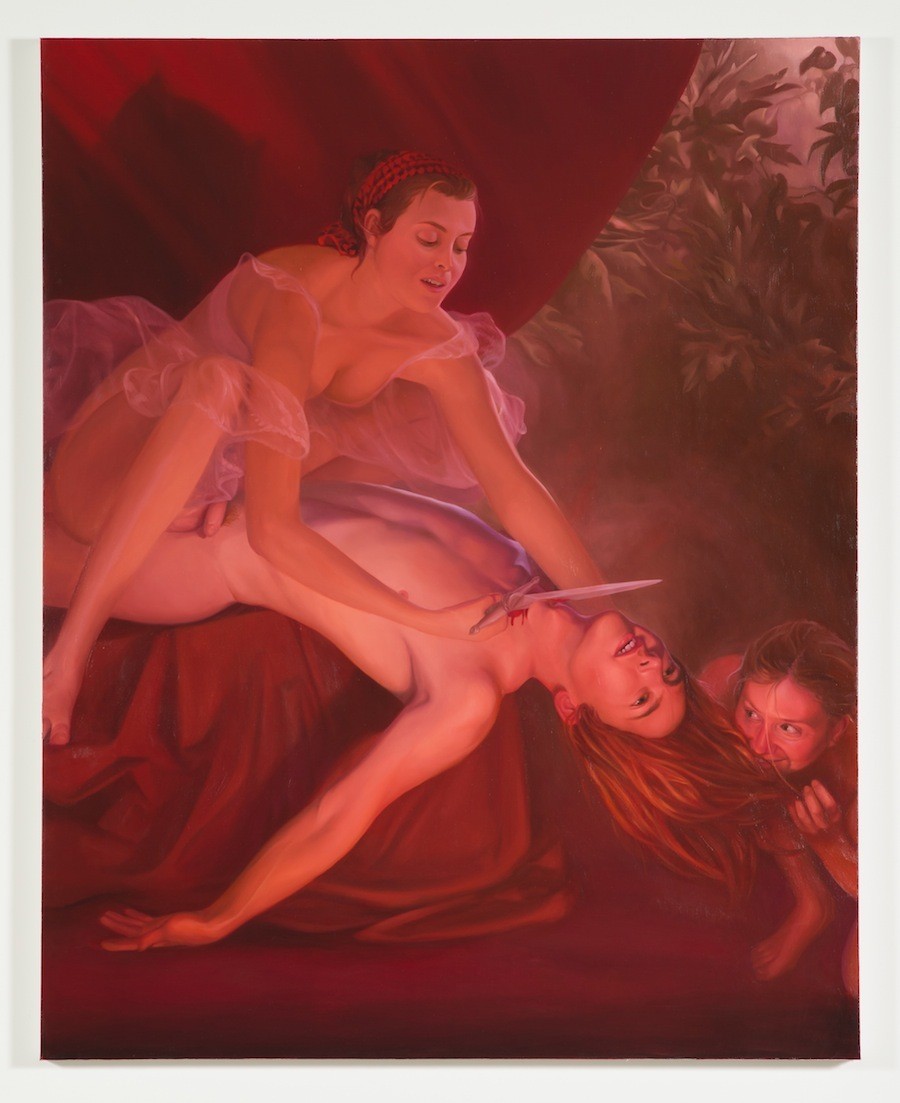 Laura Krifka, Judith and Holyfernes, 2014, Oil on canvas, 60" x 48"
The works on view depict instances of punishment, both slight and severe. In "Flying," a nude young man floats temporarily above a menacing crowd of cacti, while in "Judith and Holyfernes," a woman giddily slits a nude man's throat while a third woman crouches nearby, smelling the victim's hair. Despite the noticeable gash spurting from his neck, the new Holofernes' expression appears placid, even pleasured. In "The Prick," an androgynous blonde gazes open-mouthed at the viewer, displaying a needle and blood-soaked finger. Although the golden curls, soft breasts and willowy physique hint at femininity, a penis poking out from tight white shorts complicates the frame.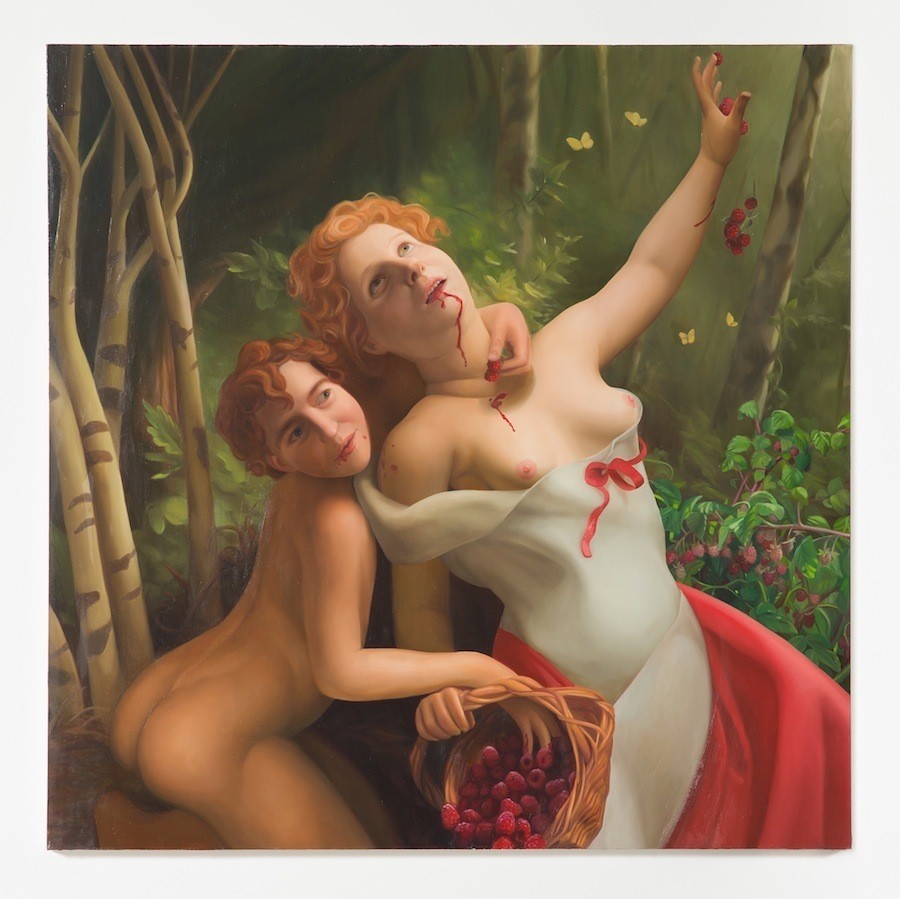 Laura Krifka Lambs, 2014 Oil on canvas 48" x 48"
Although Krifka doesn't hold back when it comes to depicting sex, her aesthetic, teetering between classical realism and caricature, fully embraces the ridiculousness of its subject matter without ever veering into the ironic. Her faces, despite their relative naturalism, feel more like board game characters who've jumped out of "Guess Who" than genuine human beings. Beautiful Decay dubbed them "renaissance blowup dolls," alluding to the inflated nature of both traditional values and debauchery, and the spaces where both can coexist.
Aside from the paintings, Krifka also creates small, lumpy mixed media sculptures, similarly dressing explicit content in fairy tale whimsy. The gloriously rendered, morally questionable scenes lead the viewer to take pleasure in the subjects' pain.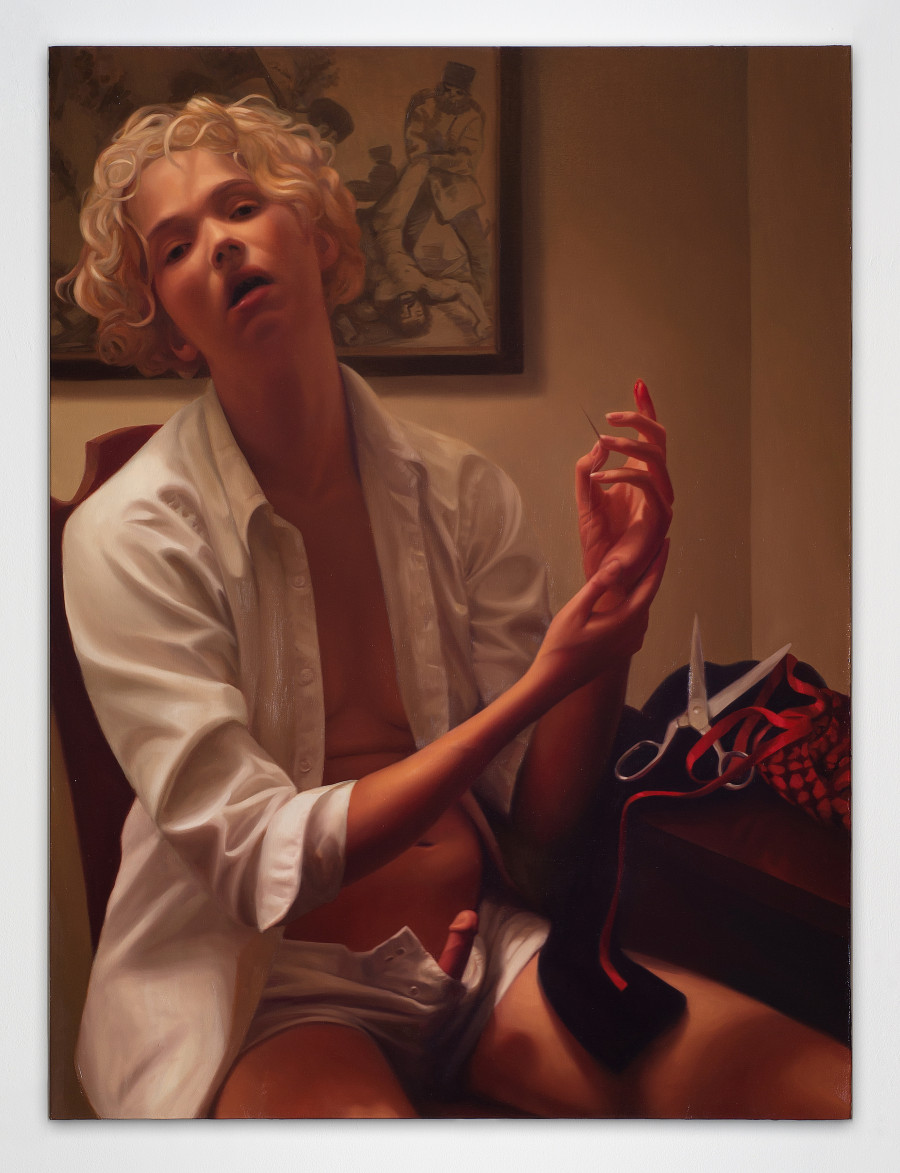 Laura Krifka The Prick, 2014 Oil on canvas 40" x 30"
Thematically, the show centers around ideas of moralized violence and the desire for retribution. Whether in a Hollywood film or a classical painting, entertainment often revolves around the ambition of serving punishment where it's due. But why? When did we embrace this high-minded bloodlust, finding in others' anguish? In the words of CB1 Gallery, "This artificial and vicious world pushes the question of when and why we root for punishment, why we crave the purge of destruction yet weep when it touches our own world."
"Reap the Whirlwind" runs until February 28, 2015 at CB1 Gallery in Los Angeles. See a preview of the exhibition below.
BEFORE YOU GO
PHOTO GALLERY
Lisa Yuskavage