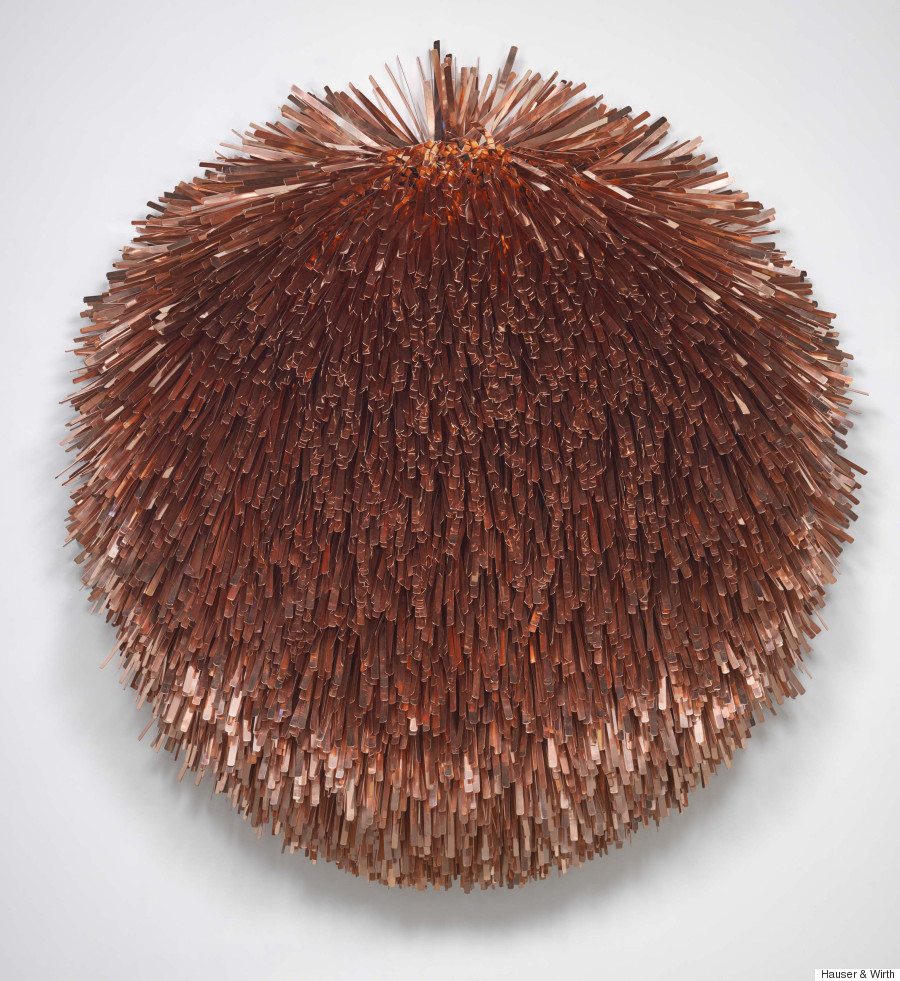 Orange Thing. 2014. Steel, copper tongs, plastic. Photo: Genevieve Hanson.
Subodh Gupta is having an identity crisis. Depending on which critic you read, the artist who famously turns kitchenware into elaborate sculptures is either Damien Hirst, Marcel Duchamp or René Magritte. Headline writers have their own extended versions of these names -- they love to call Gupta the Marcel Duchamp of the Subcontinent, or the Damien Hirst of Delhi, a title used as recently as two weeks ago by The New York Times. Implicit in this language is the idea that artistic genius ripples out of the West, a stone dropped in France, England, America. Those artists in the far reaches of the planet who detect the rings in foreign waters, who catch the dispersed energy and reflect it back to Western audiences, are the ones we like to name: the so-and-so of so-and-so.
There's plenty of irony to all this because Gupta, arguably India's biggest art star, is also its least scholarly. This isn't due to any kind of innate inability, but circumstance. He comes from India's poorest state -- Bihar -- producer of precisely zero other world famous artists. Bihar is something of a national joke, mocked for everything from the accent of its people to the crookedness of its politicians. To rise from the impoverished Bihari countryside to the center of the art world is a big deal, akin to Bill Clinton swapping a frame house in Arkansas for the White House.
Unlike Clinton's family though (presumably), Gupta's still doesn't understand quite what it is he does. India's artist of the moment is forever "the railway boy," as he puts it, born to an alcoholic father who died when he was only 12. It was presumed the son would walk the right side of the path shown him, working a stable government job with Indian Railways as his father did, and as his brother and brother-in-law do today.
Instead he is a bonafide art star. The metrics artists hate and chase, cash and fame, Gupta has had on lock since 2008, the year he became the youngest Indian ever to break into Christie's "million-dollar club." Since joining the auction house's varsity team, he has seen multiple works sell above the million dollar mark, including one to François Pinault, the French billionaire.
He's also mastered a secondary art form beloved by his kind, that is: to confuse the critics. Of the 36 articles his name appears in from the last 12 years at The New York Times, few seem to know what to make of him. One begins with a question never answered, presented as a mystery for the ages: "How does an artist who works far from the Euro-American art centers and closely identifies with the culture he lives in present that culture to an international audience that historically has a skewed image of it?"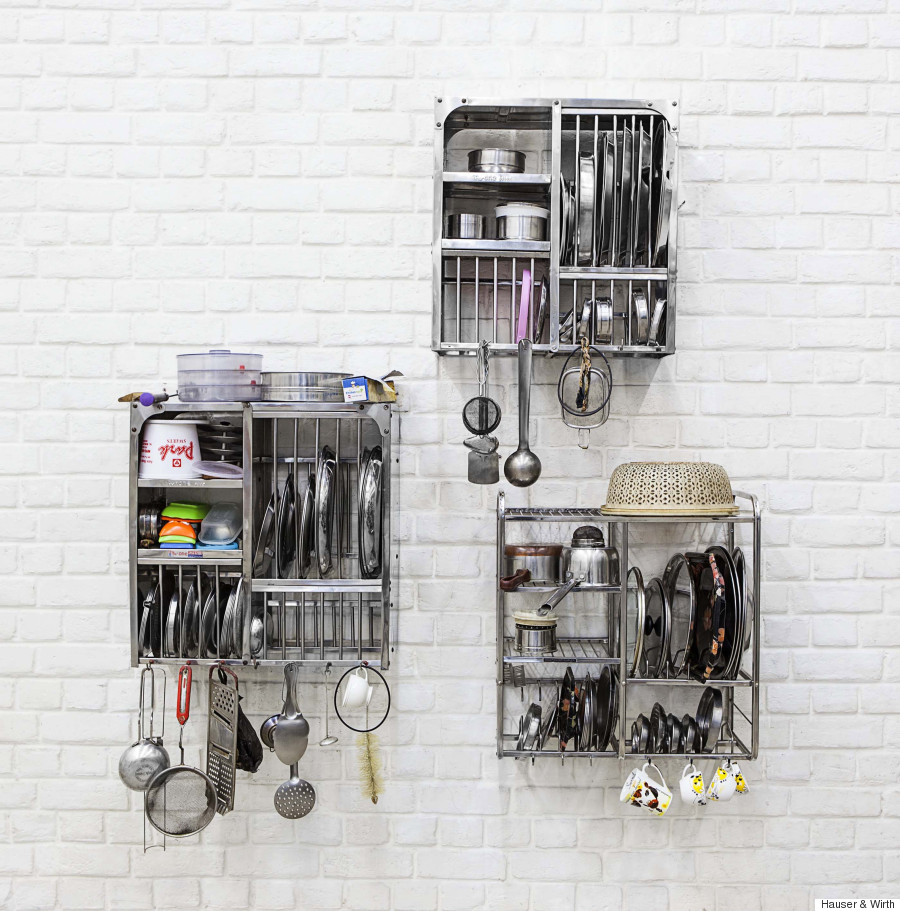 My Family Portrait. 2013. Mixed media. Photo: Axel Schneider.
In a sleek gallery in Manhattan, Gupta is trying to make sense of his situation. We are in a back room in Hauser & Wirth, a Zurich-based multinational whose roster brims with artists who break records with integrity, maestros like the late sculptor Louise Bourgeois -- she of the nightmarish spiders -- and the art world's enfant terrible du jour, Paul McCarthy. Not even a block away rises the High Line, the famed urban park locked in a balancing act between art and commerce, with its views of gaudy condos, tourists and cutting-edge architecture.
Gupta is here to open a retrospective of his three decade-long career, "Seven Billion Light Years." After leading members of the press through a preview, he has agreed to meet one-on-one to discuss the odds of his rise. The topic seems to fill him with genuine awe. "Sometimes I surprise myself," he says at one point, his eyes wide and bright as if he is gazing at the stars for the first time. "I'm the railway boy. I should be doing what they're doing."
It is whispered in some Indian circles that Gupta has grown complacent with age and success, relying on his now signature material, stainless steel, to dazzle audiences. And for simple reasons of contextual dissonance it is hard to imagine the 51-year-old now seated in a designer chair ever coating his naked body in cow dung and filming the process of slowly washing the matter off, as a younger Gupta did in the 1990s.
But any illusion of a market-hardened artist disappears the moment he starts talking. He is soft-spoken, even shy. His speech, peppered in the Hindi preposition "ki," lacks the British lilt so common among India's elite. His is the Bihari accent, both wrong and somehow comforting in the anodyne gallery environment, calling to mind a memorable tribute to the recently deceased, gravel-voiced columnist, David Carr: "a Raymond Carver character plopped into an Edith Wharton world."
In this incongruous voice, Gupta says that he does not know much of Magritte's work. He explains that art barely touched his youth. He grew up in Khagaul, a small farming village. Once a seat of culture for various ancient northern kingdoms, by Gupta's lifetime the region had devolved along with the rest of Bihar into a sort of badlands beset by poverty, overpopulation and corruption, "a Wild West frontier town," as he once described it, where "almost every day someone was murdered."
Not being the eldest son, he felt little pressure to support the family, and was by his own admission a "very lazy" student who barely graduated college. It was only when he fell into a local theater group that he turned onto self-expression. Someone noticed a poster he drew for the company and suggested he look into art school. He was nearly 20 then. "I didn't even know art school existed," he says.
In prior interviews, Gupta has equated his five years at the College of Arts & Crafts in Patna, Bihar to a high school art class in Europe. "When people spoke of art history," he once confessed to a reporter, "I had no idea what was going on."
That didn't stop him. His early work, meditations on the life he knew with frequent blue collar allusions to taxi cabs, luggage handlers and, of course, kitchens, became a fixture in the Indian art world after a debut at the influential Bombay gallery Chemould. His was a trajectory considered blessed from the start. Fresh out of art school, the story went that he turned down an assistantship offered by the late painter M.F. Husain, the godfather of the modern Indian art scene (known in his day, it bears mentioning, as the Picasso of India). Gupta declined so as to devote himself to his own art, a vote of self-love that is said to have impressed Husain into remarking that he would watch the young man's career closely.
As Gupta's fame rose, the life he knew changed. He began hearing the names of old masters -- by critics eager to anoint him -- and even seeing their work as he finally left the country. Fame was a flash course in art history. As the comparisons piled on, Gupta began turning out almost ham-fisted allusions to his supposed brothers in the craft: among them, a skull made of stainless steel pans that practically copies the look of Hirst's platinum and diamond-studded skull, and a similarly blunt enshrinement of Duchamp's moustached Mona Lisa -- a bronze bust version of the defiled postcard image.
Along the way, he has confused critics even more. During a talk hosted by Christie's, he shirked comparisons to other artists, calling them the crutch of "journalists who know the least about art." And yet, this was in 2009. He was speaking on the occasion of another show at Hauser & Wirth, wherein he unveiled "Jeff the Koons," an aluminum installation based on Koons' mail-order-puppy stunt, for which he waited three years to obtain the American artist's permission.
His homages -- if that is what this alternative genre of allusive work should be called -- are far from subtle. The titles practically scream their forebears' names, from "Jeff the Koons," to "Et tu Duchamp" (the bust), to the star piece at "Seven Billion Light Years," "This is not a fountain," an explicit echo of Magritte's famous caption for his image of a pipe.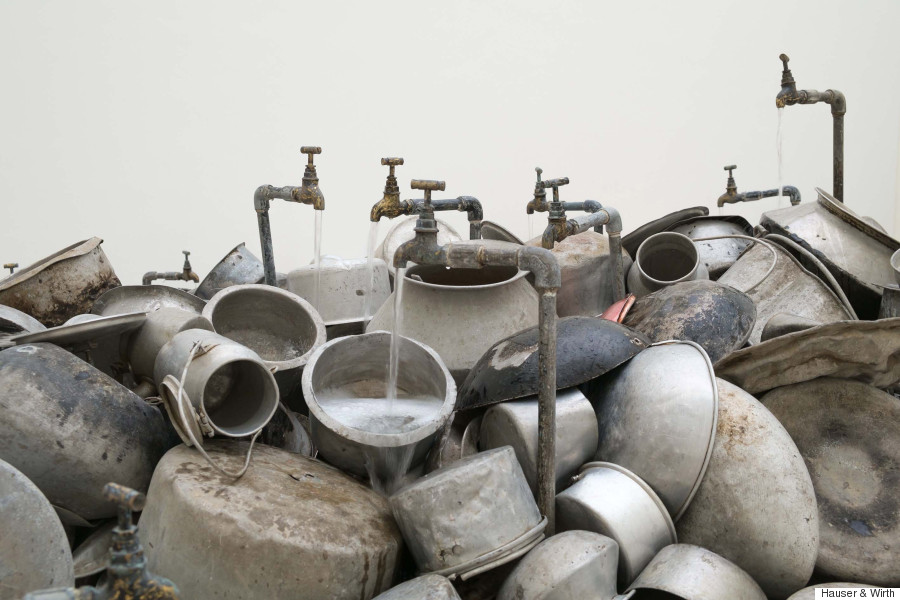 This is not a fountain (detail). 2011 – 2013. Old aluminium utensils, water, painted brass taps, PVC pipes, motor. Photo: Axel Schneider.
These pieces are Gupta's most anomalous, arising not from the stuff of Indian life but from the fluff of newspaper inches. All have been made in the past decade. And perhaps because of the dramatic nature of Gupta's rise, it seems possible to track his journey toward them. In the trove of articles at The New York Times, one stands out, a profile of India's small band of global art stars, including Gupta and his wife, the artist Bharti Kher. Describing this group, one Manhattan-based gallerist quipped that "there are Indian artists, and then there are international artists who happen to be Indian."
Whether by effort or fate, Gupta seems to have embraced this identification. "When Jasper Johns made the American flag, he was an absolute American," he once told a reporter, setting Johns up in contrast to himself. "If, as an Indian artist, I make a flag, I will be seen as both a nationalist and a boring artist. If you do not fit with the art language, you will not succeed as an artist."
And yet, Gupta does speak his own language. During the press tour, he was adamant that his fountain be seen as simply as possible. He dismissed abstract themes of ritualism and cleansing and cited pressing issues instead: scarcity, recycling, the scariness of the sound of a tap left dripping in a country where water is disappearing.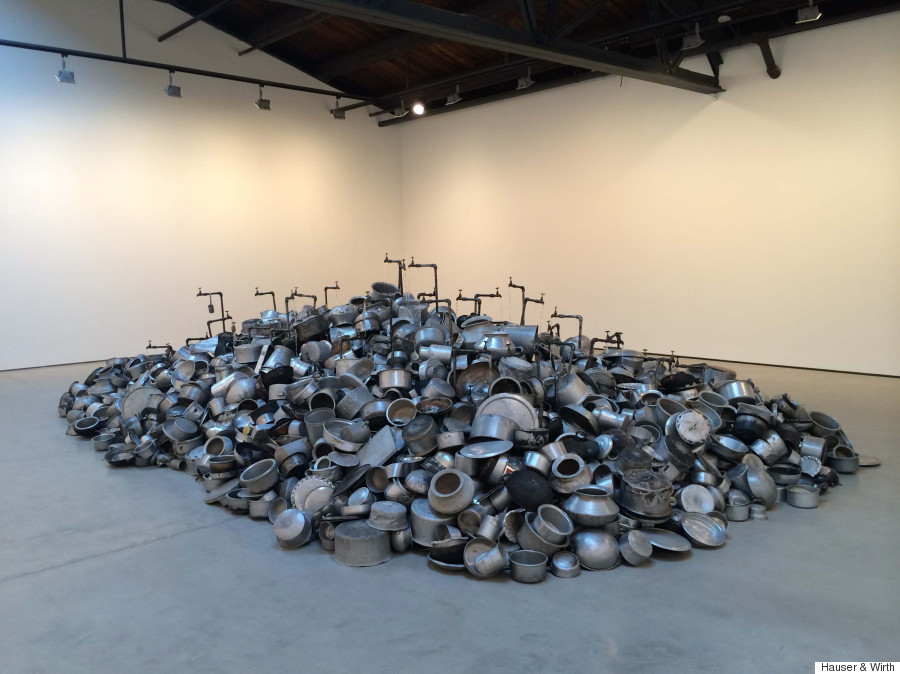 This is not a fountain. 2011 – 2013. Old aluminium utensils, water, painted brass taps, PVC pipes, motor. Photo: Axel Schneider.
If anything, he is an enemy to Duchamp and Magritte. They helped define Dada, a special postwar absurdism born from the sense that nothing means anything. Duchamp performed abstractions, effectively dissembling reality. His most famous object is a joke (titled -- as Gupta must know -- "Fountain"): a urinal elevated to art so as to destroy both categories.
To Gupta, objects are the opposite of meaningless; they practically vibrate with meaning. He holds a pantheistic worldview aligned with his religion, Hinduism, a belief that everything in the universe is imbued with a divinity -- so that books, if thrown or brushed with a foot, must be reconsecrated with the same motion a worshiper makes to an idol. Gupta calls kitchens secular temples, and the machinery inside idols. (His wide-touring exhibit of kitchenware was for this reason titled "Very Hungry Gods.") Objects are embedded with a power he likens to a soul. Even his method of obtaining them exists inside a religious context, as a driver of what he calls "karmic action." While he used to find his materials in markets, he now prefers soliciting them directly from their owners, swapping in new versions in exchange -- a shiny fork for a dull one -- and having a conversation that imbues the whole process with the energy contained in the object.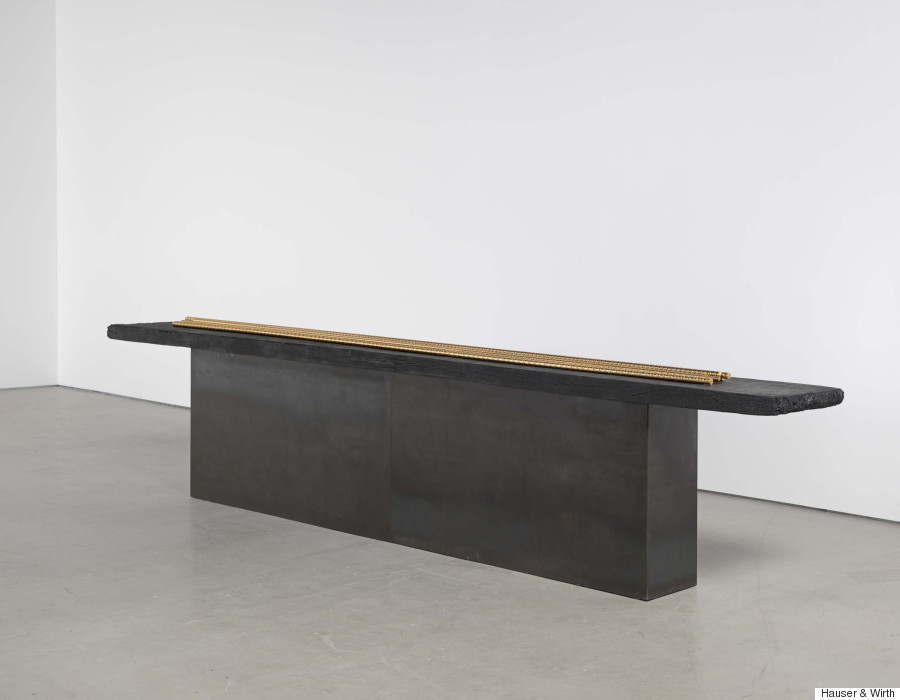 Gupta's calling card is to imbue the mundane with grandeur, as in Imperial Metal, a piece made in 2014 of steel rebars plated in 24 karat gold. Photo: Genevieve Hanson.
In the back room, a moment is recalled. Gupta's co-guide for the tour, the legendary critic Germano Celant, had ceded the floor one notable time during the walk, while discussing "Pure," an installation based on Gupta's dung experiment. Celant had been reminded of a famous depiction of memory. He took a few minutes to pull up an image on his smartphone of the painting, titled "Reckless Sleeper," and indeed there was an uncanny visual resemblance in both pieces' treatment of objects. In the painting, a hat, a candle, and various assorted items are depicted below the sleeper, embedded like treasures in the ground of his subconscious. Meanwhile, Gupta buried objects for "Pure" -- all donated by villagers, including a hookah and a pair of shoes -- into a packed field of clay and dung transplanted to the gallery.
Gupta admits to having never seen the painting before. It is a Magritte. The similarities do not seem to disconcert him. Nor does it bother him now, he says, to be called the so-and-so of India, the image of the pipe, and not the pipe itself. "They are masters," he says. "If somebody finds that close to me, I feel good."
Subodh Gupta's "Seven Billion Light Years" will be on view at Hauser & Wirth in New York City from February 10 to April 25, 2015.
CORRECTION
: This story has been amended to better reflect the nature of Mr. Gupta's relationship with Gallery Chemould, and to correct a reference to the collector François Pinault. It is Mr. Pinault's son, François Henri-Pinault, who is married to the actress Salma Hayek.
BEFORE YOU GO
PHOTO GALLERY
Subodh Gupta