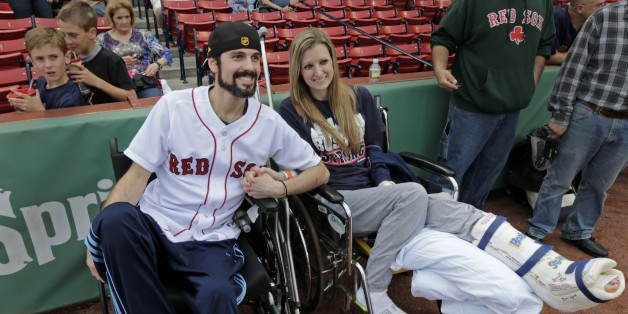 A couple who tied the knot after being injured in the Boston Marathon bombing is separating after 10 months of marriage, People reports.
Rebekah Gregory, 27, and Pete DiMartino, 30, were waiting at the finish line of the Boston Marathon when bombs went off on April 15, 2013. The pair, who met in March 2012, were both wounded in the attack; Gregory was forced to amputate her left leg in November after undergoing 17 surgeries, and DiMartino lost 90 percent of his right Achilles tendon and suffered broken ankle bones and a ruptured eardrum.
The couple married just weeks before the first anniversary of the terror attack in a wedding put on by wedding planning website The Knot.
In a statement to People released Wednesday night, Gregory opened up about the separation: "After the decision was made to amputate my leg in November, I found myself having to make an even more painful choice -- to separate from my husband Pete," she said. "Over the last several months I've come to realize that going through such a horrific event together put a fast-forward on our relationship that we each handled differently."
She added: "While my heart is beyond broken, I have a certain peace knowing from day one, I truly gave it my all, and have been fully invested in keeping this marriage, and my commitment before God. I still love Pete with all of my heart and ask that everyone respect our privacy as we try to figure out our next steps."
Gregory, who who has a 7-year-old son from a previous relationship, plans to run the Boston Marathon in April with the help of a new prosthetic leg. In a Facebook post she shared with her followers on Thursday, she wrote of pushing through the rough times in life:
H/T Newser
Keep in touch! Check out HuffPost Divorce on Facebook and Twitter. Sign up for our newsletter here.
BEFORE YOU GO
PHOTO GALLERY
Boston Marathon Survivors Write Inspiring Messages To Runners On Their Skin