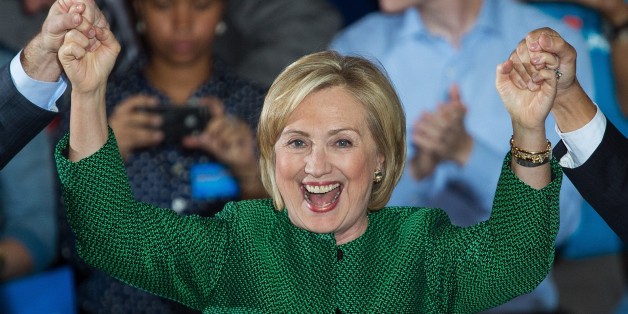 Hillary Clinton's massive early Iowa lead is a big change from 2008. Walker's polling surge may persist if it triggers endorsements from party leaders. And few young Americans perceive measles as a threat. This is HuffPollster for Thursday, February 26, 2015.
CLINTON LEADS IN IOWA - Quinnipiac University: "With 61 percent of likely Iowa Democratic Caucus participants, former Secretary of State Hillary Clinton has an overwhelming early lead...U.S. Sen. Elizabeth Warren of Massachusetts has 19 percent, with 7 percent for Vice President Joseph Biden, the independent Quinnipiac University Poll finds. No other candidate tops 5 percent and 6 percent are undecided. If Secretary Clinton decides not to run, Sen. Warren is the choice of 36 percent of likely Democratic Caucus participants, with 32 percent for Vice President Biden. U.S. Sen. Bernie Sanders of Vermont gets 8 percent, with 17 percent undecided. Biden leads in one negative category, as 12 percent of likely Iowa Democratic Caucus participants say they "would definitely not support him," with 6 percent saying no-way to Clinton... Iowa likely Democratic Caucus participants give Clinton a 90 - 7 percent favorability rating... By a 63 - 25 percent margin, Democratic Caucus participants say experience as a Senator or member of Congress better prepares a candidate to be president than experience as a governor or administrator." [Quinnipiac]
Iowa looks very different than 2008 - In 2008, the Iowa caucuses loomed from the start as a potential Clinton vulnerability. Although she enjoyed wide early polling leads nationwide and in other early primary states, polls showed her support among Iowa's likely caucusgoers typically hovering in the mid 20-percent range.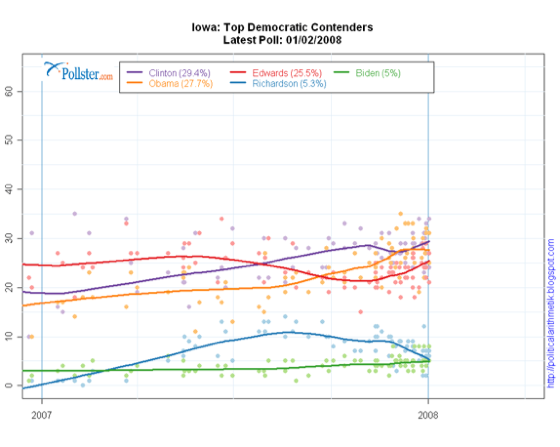 IS THE 'WALKER SURGE' REAL? - Jonathan Bernstein: "How can we tell if Scott Walker's polling surge means anything? Walker has been doing well for three weeks now – including in a new Iowa survey putting him firmly in the lead (albeit with only 25 percent of the vote) and a national poll on Tuesday showing him just ahead of the rest of the pack. Here's the thing: Anyone can get a bubble like this. It happened to Michele Bachmann and Herman Cain (among others) in 2012....The first thing to watch for real is whether he receives a flood of endorsements from politicians, interest-group leaders, campaign and governing professionals, and other important party actors. And a second indication that Walker is gaining ground would be if some possible rivals drop out." [Bloomberg]
WHIT AYRES (R) EXPLAINS NEED FOR GOP MINORITY SUPPORT - HuffPollster: "The American electorate is more diverse than ever, which means Republicans will have to attract a record percentage of minorities to win the presidency in 2016, a GOP pollster said Tuesday. About 70 percent of the Americans eligible to vote are white, a decline of 15 percentage points since 1980, according to a new report co-sponsored by the Center for American Progress, the American Enterprise Institute, and the Brookings Institution..."The fundamental challenge for my side is the seemingly inexorable change in the composition of presidential electorates," Republican pollster Whit Ayres, whose clients include Sen. Marco Rubio (R-Fla.), said during a panel discussing the report. "And there's no reason to believe that that's going to stop magically." [HuffPost]
MEASLES SEEM LIKE A REMOTE THREAT TO YOUNGER AMERICANS - HuffPollster: "In the wake of recent measles outbreaks, pollsters have noticed a trend: Younger Americans are considerably less convinced of vaccines' safety, less likely to see the vaccination issue as a matter of public health and less inclined to support mandatory vaccinations for childhood diseases. Three-quarters of Americans aged 65 or older have had measles, compared to just 4 percent of adults under 30. The same is true of polio, for which a vaccine first became widely available in the 1950s. While few people in any age group represented in the poll had suffered from polio themselves, 56 percent of those in the oldest age group knew someone who had. In contrast, just 9 percent of respondents under 30 knew a polio survivor." [HuffPost]
HUFFPOLLSTER VIA EMAIL! - You can receive this daily update every weekday morning via email! Just click here, enter your email address, and click "sign up." That's all there is to it (and you can unsubscribe anytime).
THURSDAY'S 'OUTLIERS' - Links to the best of news at the intersection of polling, politics and political data:
-A majority of Republicans tell PPP (D) they want to establish Christianity as the national religion. [HuffPost]
-Fifty-four percent of Republicans said that "Muslim" best described what Obama "believes deep down." [WashPost]
-Fifty-seven percent of Americans see the United Nations as a poor problem solver. [Gallup]
-Latinos see climate change as a critical threat more often than non-Latinos. [NBC]
-A majority of Texans approve legalizing marijuana. [Texas Tribune]
-Kyle Kondik and Geoffrey Skelley assess religious identity correlated with vote choice at the state level in the 2012 elections. [Sabato]
-Planet Money explores what the spreadsheet has done to us. [NPR]
-A Turkish pollster shows support falling for the ruling party, then gets raided by government auditors. [Today's Zaman via @JamesCU1992]
-South Korea's millennials have a particularly dark view of the future. [Pew]
-Tea is increasingly popular among young Americans. [YouGov]
BEFORE YOU GO
PHOTO GALLERY
Hillary Clinton