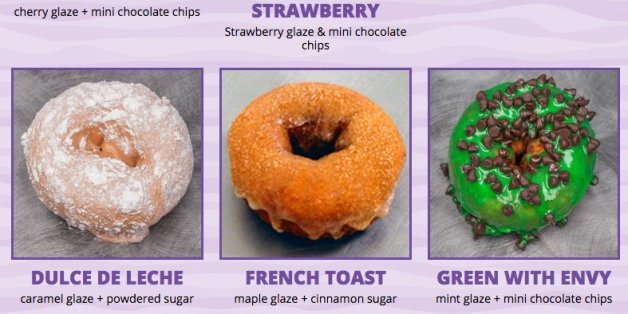 Donuts are certainly having a moment. Dunkin' and Entenmann's are like the Sega games you retired to the attic when your parents finally bought you a PlayStation. You keep them in your heart and they offer fond feelings of tingling nostalgia, but that's it. You no longer consider them a quality game.
Yes, donuts have grown up. From the acclaimed Cronut™, a hybrid pastry, to an innovative creation that brings the classic partners of peanut butter and jelly back together again, donuts have expanded beyond princess-colored sprinkles and frosting. Bakers are thinking outside of the fryer, and now, one donut shop is leaving the masterminding in the hands of its customers.
At Fractured Prune, patrons don't pick a donut by pointing to one that sits behind a glass window. Instead, they're given the option to customize their own donut -- which is made from scratch. Fractured Prune offers 19 different glazes (from banana to marshmallow) and 13 different toppings (like sea salt and bacon!). Once they select their toppings and glaze, hungry donut seekers will only have to wait three to five minutes for their pastry to come to life.
This is a grand opportunity for anyone who's ever chomped into a donut and thought, "Hmm, this is missing something," or "Man, I wish this didn't have sprinkles because I'm driving and now they're stuck between my clutch." The design-your-own donut concept recognizes and celebrates that each consumer is an individual with a specialized palate. It is donut democracy! Check out some of the brilliant concoctions thought up in the past below. Then, think about what your perfect donut would consist of, pause and smile.
Want to read more from HuffPost Taste? Follow us on Twitter, Facebook, Pinterest and Tumblr.
BEFORE YOU GO
PHOTO GALLERY
Homemade Doughnuts