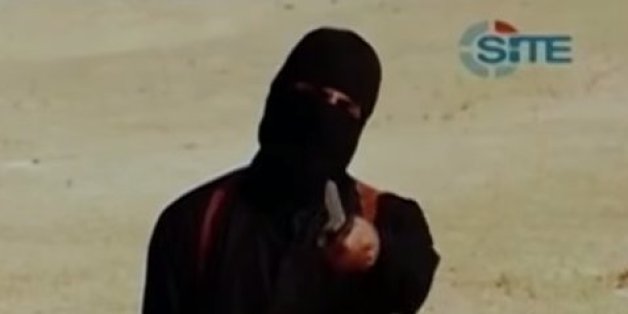 On Thursday, British and American security officials revealed they believe the Islamic State member commonly referred to in the media as "Jihadi John" is a British citizen by the name of Mohammed Emwazi.
A prominent figure in the brutal beheading videos the terrorist group releases as propaganda, the English-accented figure clad in black robes was previously unidentified. Now that his identity is out, information has begun to emerge about Emzawi's life prior to joining the extremist group.
Here are 10 points of interest on one of the most visible members of the Islamic State:
1. He grew up in London.
Mohammed Emwazi was born in 1988 in Kuwait, the BBC reports. His family emigrated to the U.K. when he was six years old, according to The Guardian.
Emwazi was part of a "well-to-do family" and grew up in West London, The Washington Post says. His last publicly listed address in the U.K. is located in London's Queens Park neighborhood, where reporters interviewed shocked neighbors after news broke on Thursday.
2. He trained as a computer programmer.
Emwazi attended the University of Westminster in London, where he graduated in 2009 with a degree in computer programming, reports The Washington Post.
The university was the subject of controversy in 2011, after a student with ties to a group with radical Islamist beliefs was elected student union president, according to The Telegraph.
A spokesperson from the university provided this statement to The WorldPost:
A Mohammed Emwazi left the University six years ago. If these allegations are true, we are shocked and sickened by the news. Our thoughts are with the victims and their families.

We have students from 150 countries and their safety is of paramount concern. With other universities in London, we are working to implement the Government's Prevent strategy to tackle extremism.

We are setting up a dedicated pastoral team to provide advice and support. In the meantime, we urge any students who are concerned to contact the Student Support and Well-being team.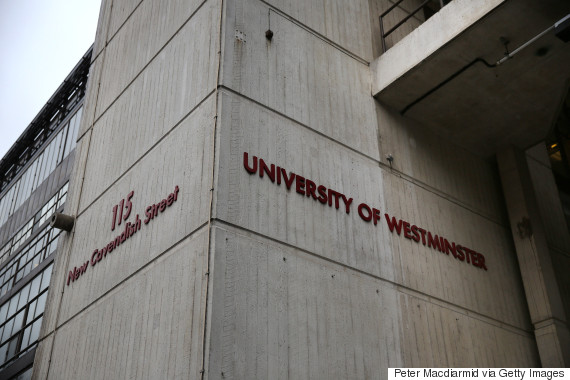 The University of London on Thursday. (Peter Macdiarmid/Getty Images)
3. He was detained on a 'safari trip' in Tanzania.
After graduating from the University of Westminster in 2009, Emwazi traveled to Tanzania on what he claims was a safari vacation. Traveling with two friends, Emwazi landed in the city of Dar es-Salaam but was promptly questioned and detained by police, according to The Washington Post. Following the detention, Emwazi and his two friends were deported, taking a flight back to the U.K. via Amsterdam.
Emwazi claims that upon arriving at Amsterdam's Schiphol airport, he and his two friends were stopped, separated and interrogated again by authorities. In email correspondence with the British activist group CAGE, Emwazi recounted later that two men ushered him into an interrogation cell. CAGE is an activist organization that aims to "empower communities impacted by the War on Terror," according to its website. The group was founded by a former Guantanamo Bay detainee and has been criticized for sympathizing with jihadists.
In his correspondence with CAGE, Emwazi claimed one of the men, named "Nick," questioned him about the intentions of his trip to Tanzania and accused him of wanting to go to Somalia.
A former Islamic State hostage has said that Emwazi was infatuated with the Somalian terror group al-Shabaab, reports The Washington Post.
4. He claims an MI5 officer tried to recruit him.
In his emails to CAGE, Emwazi also claimed that "Nick" tried to recruit him to work for MI5, the British intelligence service. Emwazi said he declined the offer. A request for comment on this sent to Britain's Home Office by The WorldPost was not immediately addressed.
5. He said he was questioned in Britain as well.
Further email correspondence between Emwazi and CAGE Research Director Asim Qureshi, who called Emwazi a "beautiful young man" in a press conference Thursday, tell of more run-ins with authorities.
In his messages to the group, Emwazi claimed that he had moved to Kuwait for work as a computer programmer, but then was detained and questioned by authorities upon returning to Britain in June 2010, reports The Guardian. He added that he was blocked from flying back to Kuwait, and in a 2010 email he stated, "I feel like a prisoner, only not in a cage, in London."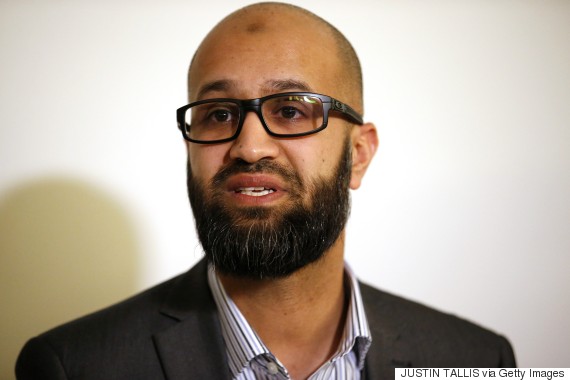 Asim Qureshi of campaign group CAGE speaks during a press conference in London on Wednesday. (Justin Tallis/AFP/Getty Images)
6. He tried to become an English teacher.
Qureshi says he met Emwazi one last time in January 2012, when the two sat down at the group's offices in East London. The same year, Emwazi made a failed attempt to become an English teacher in Saudi Arabia, before disappearing, reports The Washington Post. It is unclear when exactly he joined the Islamic State group.
7. He may have played a lead role in hostage negotiations.
After joining the ranks of ISIS, Emwazi quickly became a prominent figure among the extremists. He appeared in several propaganda videos and may also have played a role in the group's ransom operations. Two officials involved in hostage negotiations for Europeans held captive between 2012 and 2013 told The Guardian that they believe someone who sounded exactly like Emwazi spoke to them over Skype during the discussions.
8. He's believed to live around the Islamic State stronghold of Raqqa
The Syrian city of Raqqa functions as something of a home base for the Islamic State group, and Emwazi is believed to be spending most of his time in and around that area, reports The Guardian. He is said to be leading a training camp for recruits near Raqqa, alongside an Australian jihadi who trains snipers.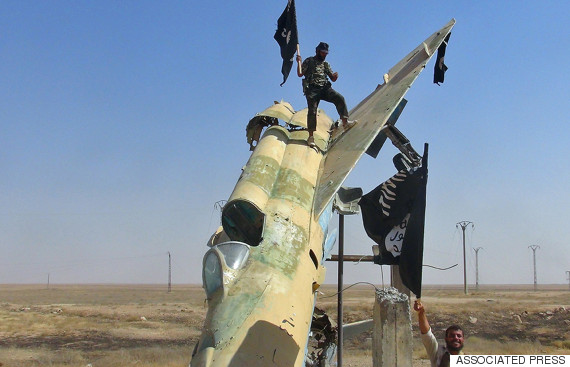 In this undated file photo posted on Aug. 27, 2014, fighters of the Islamic State wave the group's flag from a damaged display of a government fighter jet. (AP Photo/Raqqa Media Center of the Islamic State group, File)
9. The name 'Jihadi John' was a reference to The Beatles.
Former hostages held by the Islamic State have noted the presence of a particularly brutal trio of English-speaking captors, who were nicknamed The Beatles, according to The New York Times.
Emzawi was among this group, receiving the name John, in reference to John Lennon. Former hostages have noted that conditions became significantly worse once they were moved to be under control of the so-called Beatles, as the trio instituted strict security and tortured prisoners.
10. He's been described as a 'sadistic' killer.
It appears that Emwazi is a well-known figure among the foreign fighters in the group's ranks, and some former members of the group described him in brutal terms to The Guardian. "To us, he was the British guy who slaughters people," one former member told the paper, which describes his reputation as one of a "ruthless executioner." The Guardian also spoke with a former hostage who was familiar with Emwazi and who called the former Londoner "cold, sadistic and merciless."
Additional reporting contributed by Charlotte Alfred.
BEFORE YOU GO
PHOTO GALLERY
Syria War In February