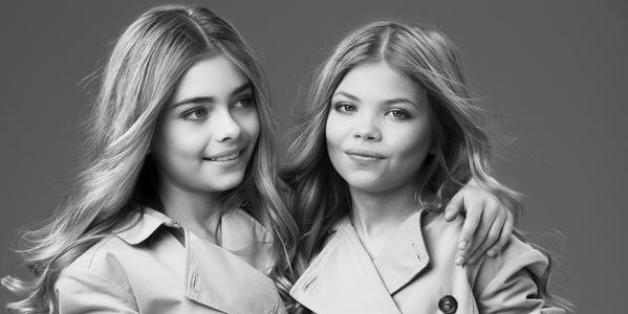 Watch out, Kate and Cara. Your (adorable) competition has arrived.
Twelve-year-old Maya Koski-Wood and 10-year-old Harley Chapman are giving models Kate Moss and Cara Delevingne a run for their money by recreating some of their most popular photos.
Mini Kate Moss and Cara Delevingne doppelgangers cast to launch @WithingsUK Activité Pop watch http://t.co/i3EuVWmcLB pic.twitter.com/CgRufPH6Uu

— Andrew Bloch (@AndrewBloch) February 24, 2015
Withings, a company that makes smart products, decided to use the little lookalikes to promote its Activité Pop watches. According to The Telegraph, the watch is known as the "little sister" to the Withings Activité watch, which explains why the ad campaign features junior models.
Harley is a spitting image of Delevingne, and Maya is a darling Moss in their individual replica photos. But when the girls team up to recreate the models' joint Burberry campaign, it's obvious this won't be their last modeling gig.
. #ICYMI these adorable little models recreated iconic British fashion moments: http://t.co/hxHxtNAikm pic.twitter.com/WrYVxzpSQt

— HELLO! Fashion (@hellofashion_uk) February 26, 2015
Work it, girls.
H/T Elite Daily
Follow HuffPost Teen on
Twitter |
Instagram |
Tumblr |
Pheed |
BEFORE YOU GO
PHOTO GALLERY
Cara Delevingne For Pepe Jeans