Trolling strangers on the internet rarely leads to consequences. Trolling a self-described "alpha male" and "bad ass lawyer," however, landed one college student in court fighting over free speech.
Attorney and former Central Michigan University professor Todd Levitt has a local reputation for rabidly defending student clients and fashioning himself in ongoing homage to Saul Goodman, the shady lawyer on "Breaking Bad." When CMU senior Zachary Felton created the parody Twitter account "Todd Levitt 2.0," Levitt made an even bigger name for himself by suing the 22-year-old.
Last Thursday, a judge dismissed Levitt's libel and defamation case, issuing an order stating the parody was protected under the First Amendment.
"The tweets were meant to ridicule and satirize plaintiff's social media presence in a humorous way," wrote Isabella County Judge Paul Chamberlain, according to the Washington Post. "It is clear that Todd Levitt 2.0 cannot reasonably be interpreted as anything other than a parody account."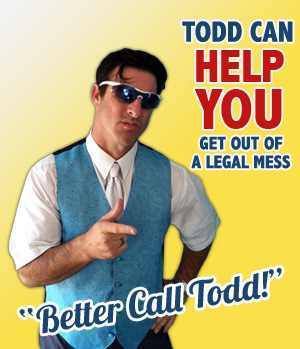 An image Todd Levitt uses on his real social media profiles.
Levitt, who taught marketing at CMU from 2009 through the first half of last year, has given himself the moniker "Bad Ass Lawyer" and is well known on the campus in Mount Pleasant -- he hosts a radio show, frequently posts videos on YouTube, and reportedly began filming a reality TV pitch. He's styled himself as a brash defender like Goodman, the fictional lawyer who helped meth-dealing Walter White on "Breaking Bad" and is now the subject of a spinoff, "Better Call Saul."
"I watched the first ten minutes of the new Saul Goodman show and it hit kind of close to home. It's him," Felton told The Huffington Post.
Levitt, who also maintains a colorful Vine account, told The Telegraph earlier this month that he was "the closest thing there is to Saul Goodman without crossing the line":
"I will advocate hard for my clients, I fight and fight, I'm an alpha male. There's a point where you approach the line but you remind yourself not to go over it," he says. ...

"Saul Goodman is likable, he practices with a sense of humor, and I love the way he dresses. I'm like that too. I wear black patent leather wedding shoes because they're the shiniest shoes I can find and people always look at your shoes. When people look at mine, they have to wear sunglasses," he says with pride.
His emulation stops, he has said, before Goodman's willingness to actually engage in criminal activity.
Felton tweeted about 70 times as "Todd Levitt 2.0" for a couple weeks in April; his version of Levitt was a partier, drug user, unethical teacher and narcissist. Felton said Levitt soon deleted his real Twitter account, so Felton stopped tweeting from the fake profile.
A month went by, and Levitt sued.
"He doesn't embody anything that is being tweeted out in this parody account," his attorney Rob Piziali, to whom Levitt directed inquiries, told The Huffington Post. "Not all speech is protected. The speech that's been used in this Twitter account has been hateful and bullying, and Todd wants it to end."
Levitt's complaint claimed he "could not continue as an adjunct professor" as a result of the parody, but local newspaper The Morning Sun reports court filings show Levitt told CMU he wouldn't be returning to his teaching job prior to Felton creating the fake account. Piziali said Levitt had gradually removed himself from teaching in order to focus on his practice, but that Felton's tweets harmed Levitt's business and reputation as an attorney. The lawsuit claims Levitt lost at least two clients because of Felton's "malicious and unrelenting" attacks.
Felton told HuffPost he had followed Levitt's real tweets for a long time and found them "ridiculous," especially for a teacher. He said he thought Levitt had a pattern of blowing up at people on Twitter, and so he started the account when it happened to a friend.
"I think the term for what I did online was trolling," Felton said. "I kind of just wanted to do that back to him."
Felton studies finance and has taken some law classes. He said he was careful about how he framed his parody; the definition was fresh in his mind from a recent copyright class and he researched past cases.
"My thought process was … if I'm clean and up front about it being a parody, I think it should be okay, especially for someone as public a figure in a small town as Levitt is," Felton said. "I didn't want to tweet garbage. I thought tweets that were very pointed were the only ones I should tweet."
After Levitt discovered Felton was the man behind the parody account, he allegedly tweeted several expletive-ridden tweets about Felton and other professors Levitt claimed were involved in the fake account -- something Felton denies.
"Punk Ass losers," read a tweet from Levitt's account that was captured by Felton before apparently being deleted. "See you all in court and hell mother f*cks."
Piziali told HuffPost he wasn't aware of those tweets, but that the situation has been an emotional and stressful time for Levitt and his two daughters.
"If those things were tweeted out by Todd, I'm sure it was done as a way to, or just, he let his emotions get carried away, he said.
As for Felton, who was represented by a CMU professor in court, he doesn't regret creating the Twitter account -- but he doesn't plan to repeat the experience any time soon, either. When the case was dropped Thursday, which happened to be his birthday, "felt like a normal college student again," he said.
"When you Google my name, these lawsuits and news articles come up, and I have been applying to jobs lately," Felton said. "I actually mentioned this to a few professors I've had, and they actually told me it's a positive thing, that it shows I'm okay with handling some pressure."
That attention has also spawned another Levitt parody account, as well as a parody of Felton himself. Now impersonated himself, Felton isn't taking too much offense, though said he was "disappointed" that it wasn't a better satire.
But the parody "Zach Felton 2.0" did have some useful thoughts on the case for all involved: "Some people need to find something better to do. Including me," read a tweet.

BEFORE YOU GO
PHOTO GALLERY
"Better Call Saul"