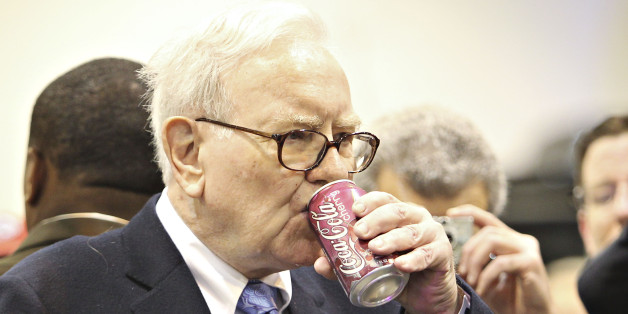 With billions of dollars at his disposal, you'd imagine Warren Buffett enjoying gourmet meals whipped up by a chef and served up on a gold platter. But it turns out the billionaire's tastes are a bit more, shall we say, elementary. Buffett, 84, credits his longevity to his five-Coke-a-day habit: three during the day and two at night. And no, it's not because he owns nearly 10 percent of Coca-Cola.
"I checked the actuarial tables, and the lowest death rate is among six-year-olds. So I decided to eat like a six-year-old." It's the safest course I can take," Buffett told Fortune Magazine.
And the childlike eating habits don't stop with the sugar-laden soft drink. He admitted he sometimes has chocolate-chip ice cream for breakfast. He also loves Utz Potato Stix and has said his favorite meal is a cheeseburger with a Cherry Coke.
Buffett has also spoken of an affinity for all things Frito-Lay, including Cheetos, Fritos and even Munchos -- as long as they're washed down, of course, with Coke. While the diet may seem unhealthy, he insists it's all about calories, and staying within 2,500 to maintain his weight.
And he wouldn't have it any other way. "If somebody told me that I'll live a year longer by eating nothing but broccoli and asparagus from now on, I would just say... every day will seem like as long," he told CNBC's Squawk Box in 2010. "I'll stick with the Cheetos and the Coke."
BEFORE YOU GO
PHOTO GALLERY
Adorable Warren Buffett Photos