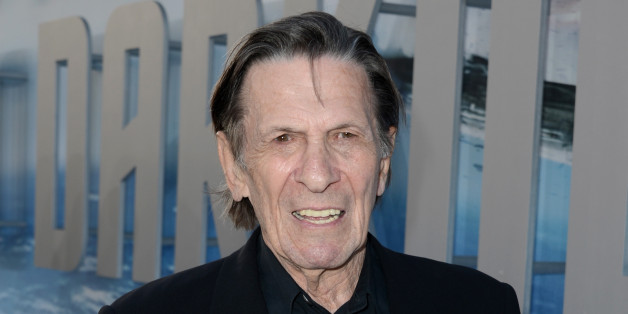 When Leonard Nimoy died on Friday after living a long and prosperous life, the news of his death hit Hollywood hard. Friends, former co-stars and others who just found the 83-year-old actor to be an inspiration took to social media to express their grief over the loss of a beloved man.
"I loved him like a brother. We will all miss his humor, his talent, and his capacity to love."

-William Shatner http://t.co/U8ZN98tVYp

— William Shatner (@WilliamShatner) February 27, 2015
This, too pic.twitter.com/6ycS6YMF0V

— Joss Whedon (@josswhedon) February 27, 2015
George Takei, Nimoy's friend and former co-star, called into "Andrea Mitchell Reports" on MSNBC to say:
You know, the word extraordinary is often overused, but I think it's really appropriate for Leonard. He was an extraordinarily talented man, but he was also a very decent human being. His talent embraced directing, as well as acting and photography. He was a very sensitive man. And we feel his passing very much, he had been ill for a long, long time. And we miss him very much. He'd been there for a long, long time, and we miss him very much.
Leonard Nimoy brought us one of the greatest, noblest characters in the history of American storytelling. Someone find the Genesis planet.

— Seth MacFarlane (@SethMacFarlane) February 27, 2015
#LeonardNimoy illustr8d th blessing of Th High Priest on Star Trek-every1 who watched th show received his loving intentions thru his hands.

— Roseanne Barr (@therealroseanne) February 27, 2015
He created a role that nobody else could play. Multitalented writer,actor,director. A terrific&sweet man. RIP Leonard Nimoy #Spock #StarTrek

— Larry King (@kingsthings) February 27, 2015
Has the Information Society released a statement yet? #RIPLeonardNimoy

— Patton Oswalt (@pattonoswalt) February 27, 2015
RIP Leonard Nimoy pic.twitter.com/uIcnvI8wNN

— J.K. Rowling (@jk_rowling) February 27, 2015
Live Long And Prosper. RIP Leonard Nimoy #Spock pic.twitter.com/ywyZ7RGynd

— Randy Jackson (@YO_RANDYJACKSON) February 27, 2015
Leonard Nimoy! You will forever be part of us all! Rest. Rest with the angels.

— Alyssa Milano (@Alyssa_Milano) February 27, 2015
Sad to hear about the passing of Leonard Nimoy. He was a true renaissance man. pic.twitter.com/st6EsV82Gm

— Joy Behar (@JoyVBehar) February 27, 2015
RIP to the great #LeonardNimoy. pic.twitter.com/HSH01k7MxR

— Howard Stern (@HowardStern) February 27, 2015
Leonard Nimoy was more than Mr. Spock. But Mr. Spock is his gift to us all. Live long and prosper. HANX.

— Tom Hanks (@tomhanks) February 27, 2015
Leonard Nimoy Dead at 83 http://t.co/YAEBsIIu4q via @thedailybeast #rip, sir.

— Eliza Dushku (@elizadushku) February 27, 2015
Leonard Nimoy has died. I've set my phaser on "weep."

— Gary Shteyngart (@Shteyngart) February 27, 2015
RIP, Mr. Nimoy.
You really did live long and prosper, and we were all the richer for it.

— Jeri Ryan (@JeriLRyan) February 27, 2015
"This is the Mugar Omni Theater." "...because he grew up six blocks from here." "Who put the bomp?" #LeonardNimoy

— Mindy Kaling (@mindykaling) February 27, 2015
BEFORE YOU GO
PHOTO GALLERY
Entertainers We've Lost In 2015