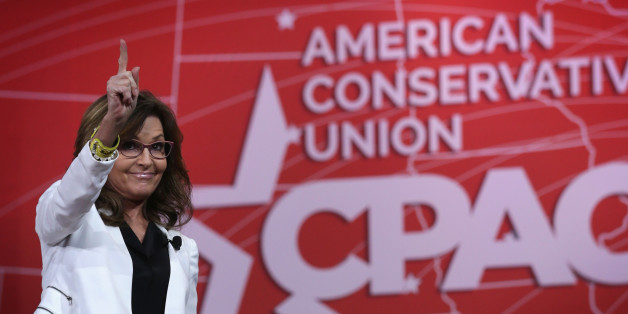 Democrats have a more positive image, but Republicans are stronger on key issues. CPAC tries to guess the next president through a straw poll. And a pie chart finds its doppelgänger. This is HuffPollster for Friday, February 27, 2015.
AMERICAN SPLIT ON POLITICAL PARTIES - Pew Research: "President Obama's job approval has ticked up in recent months, to 48% currently, and his rating dwarfs the 26% approval measure for the leaders of the new Republican Congress. Yet the public is divided over whether Obama or Republican congressional leaders should take the lead in solving the nation's problems: 40% say Obama while 38% say GOP leaders. That is virtually unchanged from a few days after the midterm elections in November." [Pew]
Democrats seen as less extreme, more tolerant... - More: "About six-in-ten say the Democratic Party "cares about the middle class" (60%) and "is tolerant and open to all groups of people" (59%). By comparison, 43% say the GOP cares about the middle class, and 35% say it is tolerant and open to all. And while about as many say the Republican Party is too extreme (50%) as say it is not (46%), just 36% view the Democratic Party as too extreme; 59% say it is not."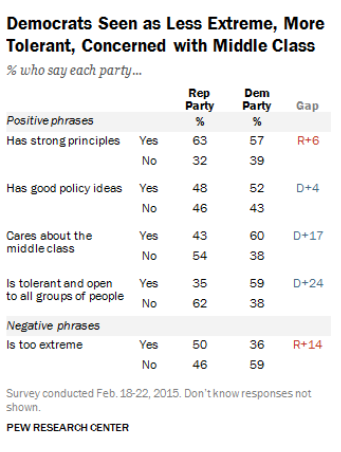 ...Yet GOP fares better on most issues - More: "[T]he Republican Party fares much better on issues than image. Despite the majority view that the GOP lacks empathy for the middle class, about as many Americans say the Republican Party (44%) as the Democratic Party (41%) can do better in dealing with the economy. On immigration the public also is divided: 45% say the Democrats can do better, while 43% prefer the GOP. The only issue on which Democrats have an edge is on health care (47% to 40%). Republicans have opened substantial leads on dealing with the terrorist threat at home (20 points), making wise decisions about foreign policy (13 points) and dealing with taxes (11 points)."
CLIMATE CHANGE AS A MORAL ISSUE APPEALS TO AMERICANS - Reuters: "A significant majority of Americans say combating climate change is a moral issue that obligates them – and world leaders – to reduce carbon emissions....In recent months, the pope has warned about the moral consequences of failing to act on rising global temperatures, which are expected to disproportionately affect the lives of the world's poor. The result of the poll suggests that appeals based on ethics could be key to shifting the debate over climate change in the United States… Two-thirds of respondents (66 percent) said that world leaders are morally obligated to take action to reduce CO2 emissions. And 72 percent said they were "personally morally obligated" to do what they can in their daily lives to reduce emissions...Sixty-four percent of those polled agreed with the pope that human activities are largely responsible for the rising CO2 levels that scientists say drive climate change...The poll respondents also said that United Nations scientists and a popular U.S. television host, Bill Nye "The Science Guy", carry more authority on climate change than U.S. politicians." [Reuters]
CPAC 'STRAW POLL' REALITY CHECK - The Conservative Political Action Conference, which runs from Wednesday through Saturday at National Harbor MD, will feature a "straw poll" sponsored by the Washington Times testing seventeen potential Republican candidates. Results will be announced Saturday evening. However, as the Times' Stephan Dinan reports, "But the winner of the year-before straw poll hasn't had great success winning the GOP's nomination. Indeed, no straw poll winner of the year-before contest has ever won the GOP's nomination in five iterations." [WashTimes]
More from Twitter:
-Jonathan Bernstein: "CPAC straw poll: unimportant. The impression candidates make at CPAC: can be important. This isn't very complicated, folks." [@jbview]; more at [Bloomberg]
-Brendan Nyhan: "Important context for CPAC straw poll coverage: year-before winner has never been nominated...2011 Ron Paul, 2007 Mitt...We shouldn't confuse the broader invisible primary - which will play crucial role in choosing the GOP nominee - with meaningless straw poll" [@BrendanNyhan here and here]
-Ryan Lizza: "For the last eight years (2007-2014), only people with the last name Romney or Paul have won the annual (overhyped) straw poll at CPAC. Other CPAC straw poll winners: Jack Kemp, Phil Gramm, Steve Forbes, Gary Bauer, Rudy Giuliani, George Allen. Notice a trend?" [@RyanLizza here and here]
WHEN 'DK' IS JUST THE SUNNY SIDE OF A PYRAMID - A pie chart from the Pew Research report seems strangely familiar... [Pew, FlowingData]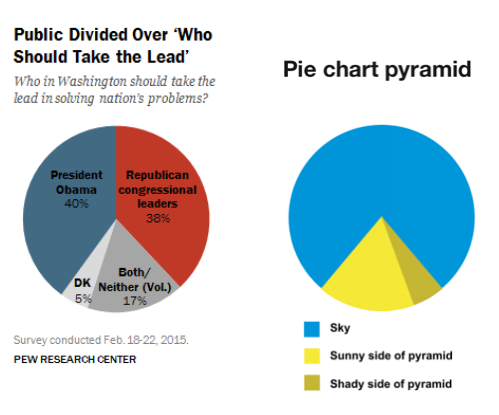 HUFFPOLLSTER VIA EMAIL! - You can receive this daily update every weekday morning via email! Just click here, enter your email address, and click "sign up." That's all there is to it (and you can unsubscribe anytime).
FRIDAY'S 'OUTLIERS' - Links to the best of news at the intersection of polling, politics and political data:
-Amy Walter looks at data that suggests the white vote is no longer enough for the GOP to capture a presidential win. [Cook Political]
-Global harassment of Jews reaches a seven-year high. [Pew]
-Americans are not as threatened by China's economic power as they once were. [Gallup]
-Americans are divided on Brian Williams. [PPP]
-Self described moderates are just as likely as anyone else to hold extreme positions. [Vox]
-Harry Enten forecasts a 92 percent chance that the Senate will confirm Loretta Lynch as Attorney General. [538]
-There's no "rich data" in women's sports. [538]
-Seven in ten Iranians think an agreement on nuclear will be reached. [Gallup]
-The U.S. Mint is seen as most positive and the IRS is seen as least positive among government agencies. [Harris]
BEFORE YOU GO
PHOTO GALLERY
2014 Election Results: Winners & Losers