A brawl among more than a dozen inmates at a New York City jail plagued by violence has left seven correctional officers injured.
On Friday morning, 14 inmates began fighting in a classroom at Rikers Island, a facility dogged by complaints of mistreatment of inmates. Jail officials quickly ended the fight after using "chemical agents" on the inmates, Department of Corrections Public Information Officer Jack Ryan told The Huffington Post. Ryan did not specify what the agents used were.
The seven officers that sustained injuries in the fight were all taken to the hospital to be evaluated. Ryan described the injuries as minor.
The recent fight is yet another tally on the long list of problems encountered by guards and inmates in New York City's largest jail.
Last August, authorities struggled with controlling a riot after 68 inmates refused to comply with a curfew order. Officials said the curfew was an attempt to stem recent bouts of violence and stabbings that were occurring in the later hours. After two hours of unrest, guards regained control by pepper spraying the inmates.
Just a week prior to that incident, more than 30 inmates sparked a riot that lasted more than an hour. Video of the violence shows the inmates fighting with mop sticks, chairs, and at least one knife, while correctional officers look on. Norman Seabrook, the president of the Correction Officers' Benevolent Association, said the outnumbered officers could do little to quell the unrest.
"We don't have the staff to break it up," Seabrook told ABC 7. "The officers certainly can't go in there with just three officers against 60 inmates."
While inmates involved in that riot faced discipline, and some even criminal charges, Seabrook is far more lenient in his punishment of guards who at other times have been found to have used excessive force, a New York Times investigation revealed. He also fought against "stronger screening measures designed to stop correction officers from smuggling weapons and drugs into the jails," the report reads.
A January report by the city's Department of Investigation blasted the shoddy hiring process of Rikers officers. Among 150 newly hired staff, nearly half had been flagged for potential problems during their psych exam. A third had "clearly failed to exhibit good character." Ten of the hires had been arrested before, with one even admitting to gang member ties.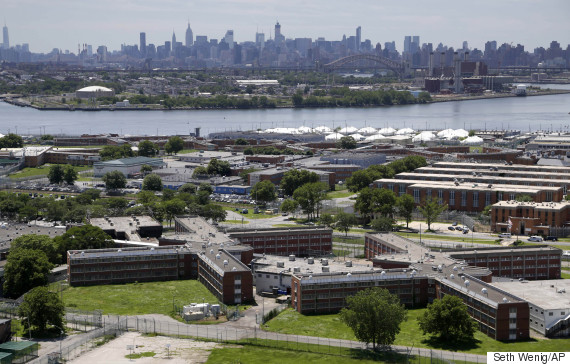 Friday's fight comes just a few days after a report showing that despite big reform efforts at the notorious city jail, Rikers Island remains a violent place for inmates.
The most recent Department of Correction data, obtained by The New York Times, shows that in 2014 guards used physical force against inmates 4,074 times, the highest number in more than 10 years.
The Times also identified 62 cases, from August to January, when guards seriously injured inmates. In 70 percent of those beatings, inmates suffered head injuries, despite rules forbidding officers to strike inmates in the head unless absolutely necessary.
Thirty guards were injured during that same time period. Nearly half the injuries consisted of fractured hands from hitting inmates.
In one case, 10 officers were charged with beating an inmate, fracturing his eye socket and nose.
Seabrook came to the officers' defense:
"Here we have correction officers paraded into court for merely defending themselves," Seabrook said, according to The Times. "The officers did everything that they were supposed to do."
Mayor Bill de Blasio's has attempted to overhaul conditions on the island. He tapped Joseph Ponte last year to be the corrections commissioner and begin reforms.
Ponte has pledged to end solitary confinement, also known as punitive segregation, for inmates under the age of 21, and earlier this week, he unveiled a new, "enhanced supervision housing" unit for the island's most violent inmates.
"Some 7% of the population perpetrate most of the violence in our jails," Ponte said in a statement. "By letting us manage our most dangerous inmates more effectively, Enhanced Supervision Housing will enable Dept. of Correction to create a safer environment for staff and inmates throughout our facilities."
In August, the U.S. Department of Justice released a scathing report on the "culture of violence" on Rikers. The report described the "rampant use of unnecessary and excessive force" against inmates in the prison, as well as the over-reliance on solitary confinement as a form of punishment.
Three high-profile inmate deaths over the last three years have also focused attention to conditions on Rikers, as did the heartbreaking tale of 16-year-old Kalief Browder, who was held on Rikers -- often in solitary confinement -- for three and a half years on a robbery charge that was later dismissed.
Chris Mathias contributed to this report.
Like Us On Facebook |

Follow Us On Twitter |

Contact The Author