Taking screenshots on your iPhone (which happens when you hold down the power button and the home button at the same time) can be a handy way to save info and share or reference it later. But all those images take up valuable space on your phone, and it's kind of a nightmare to sift through your Photos app to delete them.
Android users have it easy; their phones have a dedicated folder just for screenshots, keeping them totally separate from other kinds of images and making deletion a snap. iPhone users, however, end up with a chronological stream of images, which jumbles together all the screenshots and camera photos. Ugh.
Fortunately, we've found a new app that makes sorting and deleting screenshots a total breeze. It's called Screenshots, and it pulls out all the screenshots you've taken and organizes them so you can easily access, edit and delete them.
There are plenty of other apps that organize your screenshots -- Screenshotter, Screeny and Sharkie, to name a few -- but Screenshots outshines them.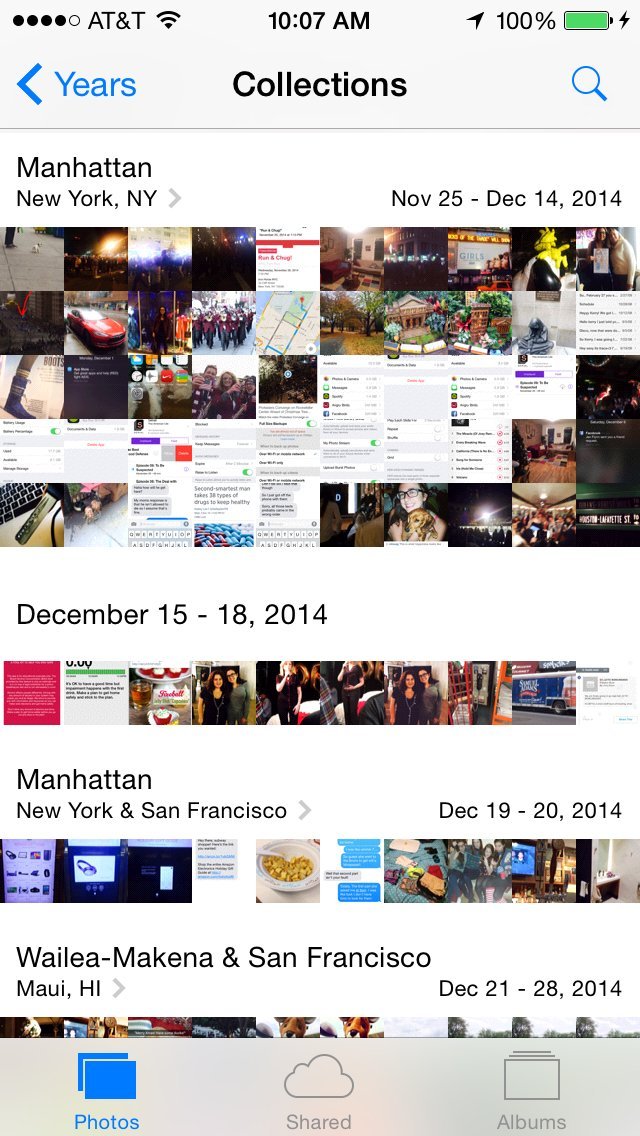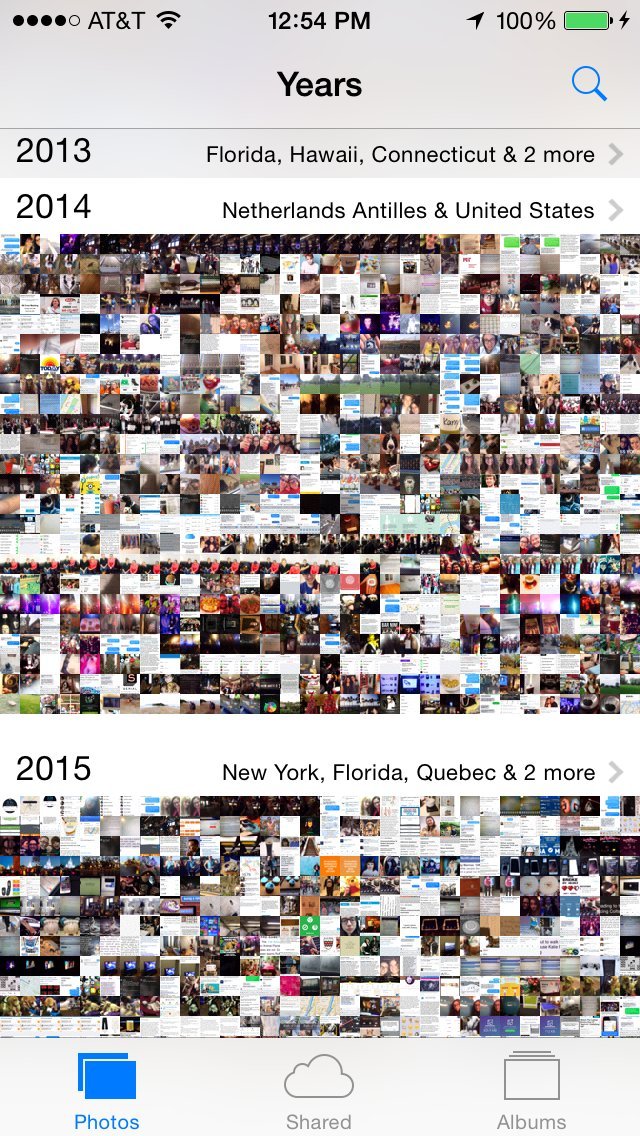 The headache that is the iPhone Photos app.
What makes Screenshots unique is its ability to recognize what app you captured the images from and then file them into specific folders. For example, your screenshots taken off Facebook will be in a folder called Facebook.
The app can also decipher the information within the screenshots, including the images, texts and links, so you can more easily share a photo or quote.
Here's how to use it:
Step 1: Download Screenshots in the App Store. (It's free -- yay!) Launch the app after it's loaded.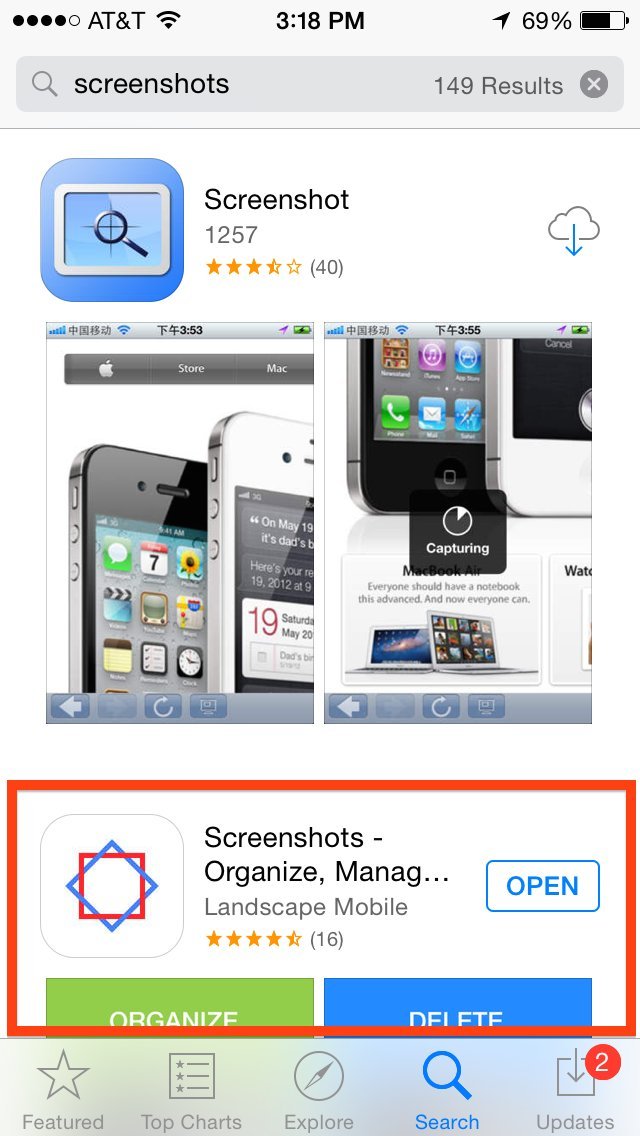 Step 2: Give the app permission to access your photos. (If you're interested in deleting all your screenshots quickly, skip directly to Step 9.)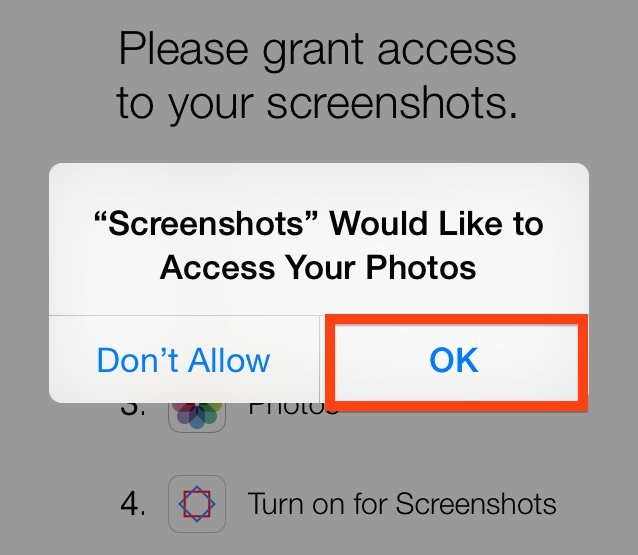 Immediately, the app will scan your Camera Roll. It went through all 3,000 of my photos and pulled out 1,029 screenshots in just a few minutes.
Now, your screenshots have been sorted into different folders, accessible on the left sidebar. How does that work? Screenshots is programmed to identify the design characteristics of particular apps.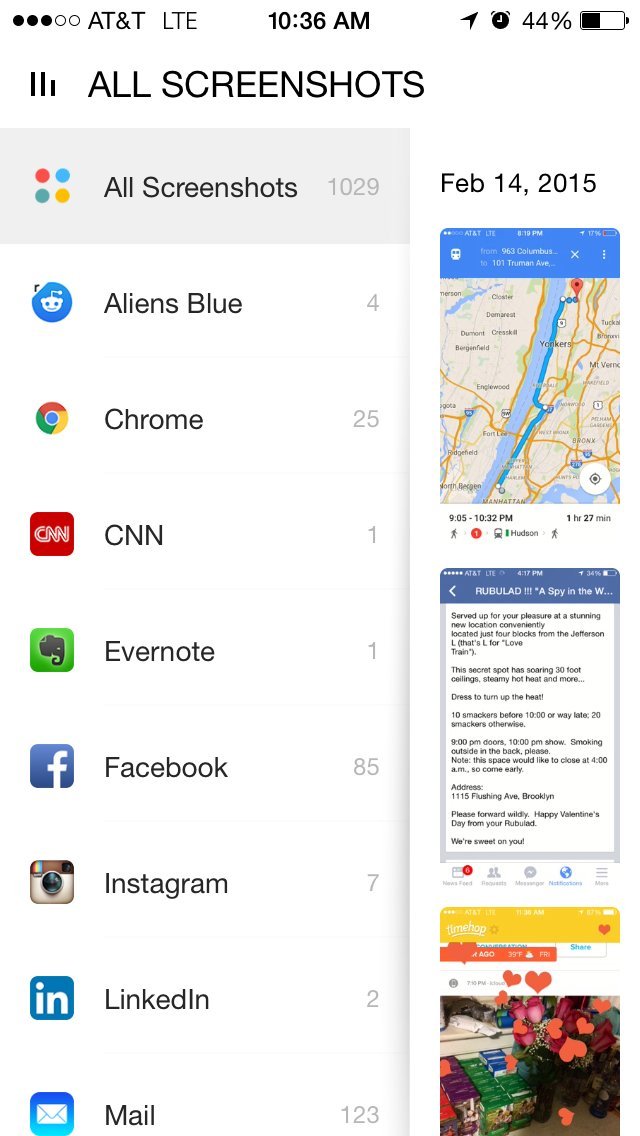 The Screenshots app currently recognizes images from about 40 apps. Images from apps that aren't on that list land in a folder marked "Others." My "Others" section had screenshots from Spotify, Kindle and Google Maps, which have yet to be supported but could with enough user requests.
The filtering system isn't perfect, though. Occasionally, a screenshot will end up in the wrong folder, especially if you've made edits to images by cropping or resizing before sorting them in Screenshots. But you can easily move misfiled images into their proper folder. (See Step 7 - 8.)
Step 3: Click on a folder to edit the photos within it. For the next few steps, I'll be using a screenshot I found in the Twitter folder.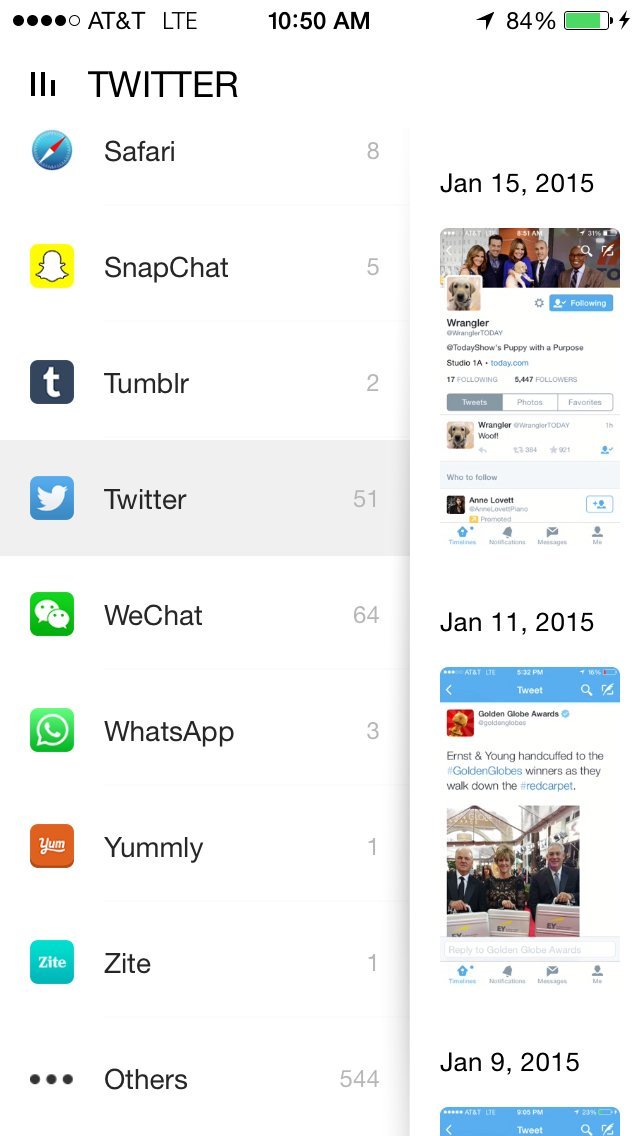 Step 4: To edit a screenshot, select a specific one and tap the orange card at the bottom. Here's a lovely screenshot featuring a tweet about the Westminster dog show; the orange card tells me that the image came from Twitter and the date when I captured it.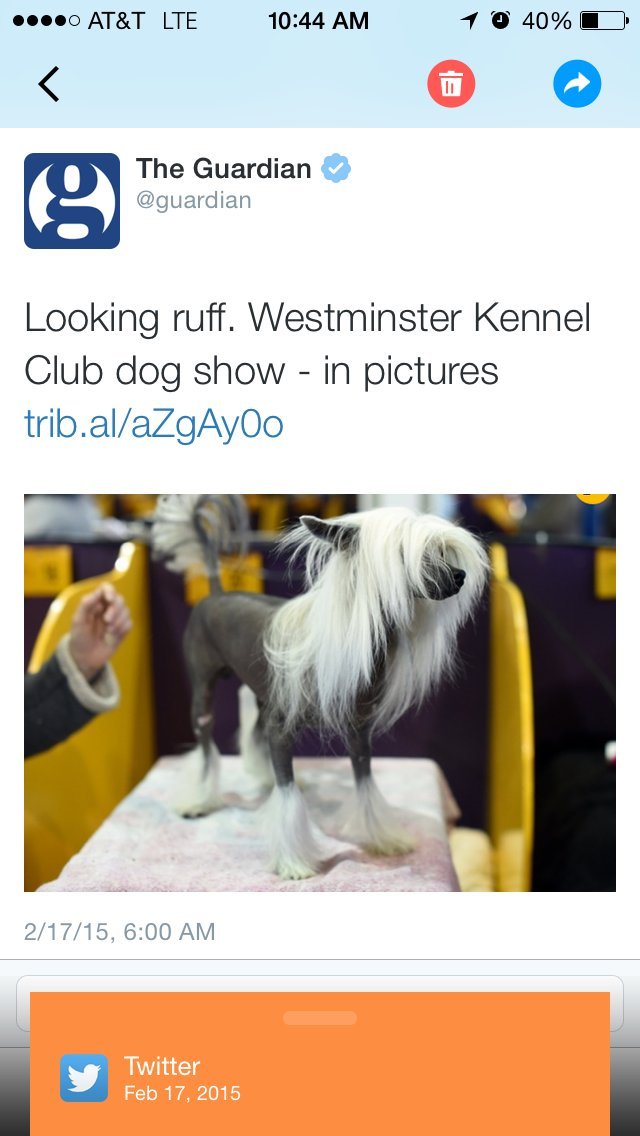 Step 5: If your screenshot has an image within it, the Screenshots app can separate the image and save it onto your Camera Roll. Just click the green button at the top of the app window.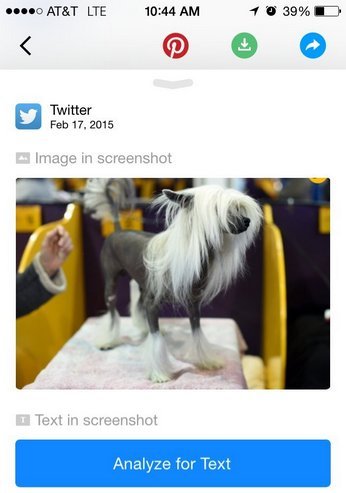 Step 6: You can also pull text out of a screenshot, which is super helpful if there's a link in there you want to retrieve. Just click the blue "Analyze For Text" button at the bottom of the image to get that done.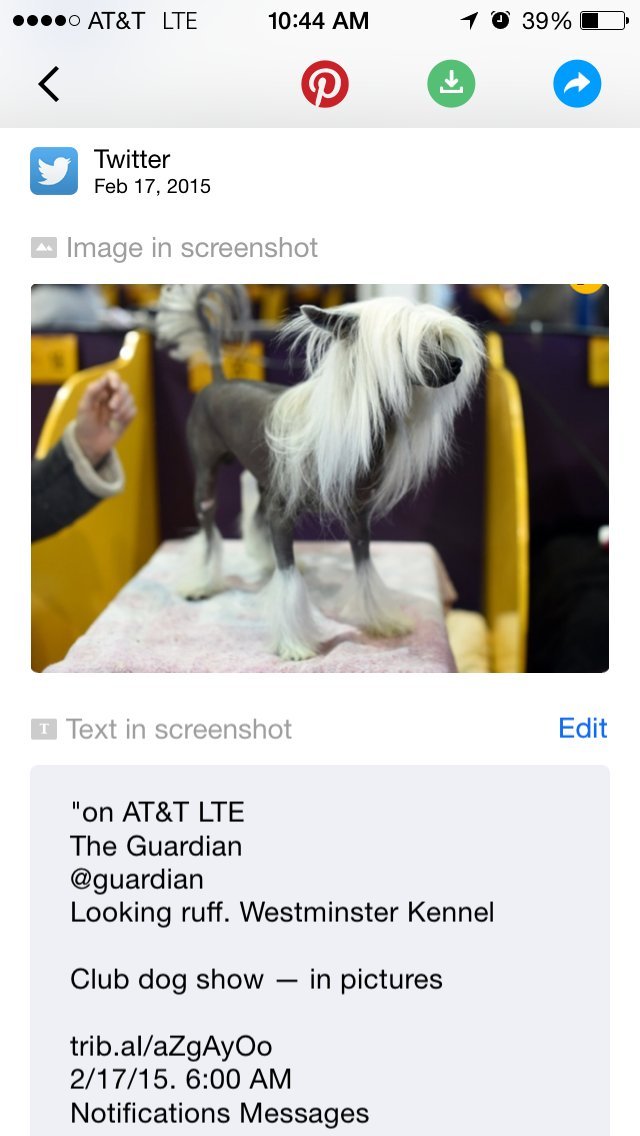 In my Westminster dog show image, the text analysis found the Twitter link for me, but it also grabbed a bunch of other garbage that's not really useful. Fortunately, the Screenshots app lets you edit the text to delete everything but the stuff you want. This is excellent if you plan on saving the screengrab and sharing it online or via text. But if you just need the link, you can copy it from the text box and move on with your life.
There are options at the top of the app screen that let you share your image and the edited text. The red icon shares to Pinterest, and the blue one sends to Message, Mail, Twitter, Facebook, Evernote or other texting apps you have on your phone.
Step 7:If you want to remove screenshots from your phone completely or move them to a different folder in the Screenshots app, open any folder and press "Select" in the upper right-hand corner.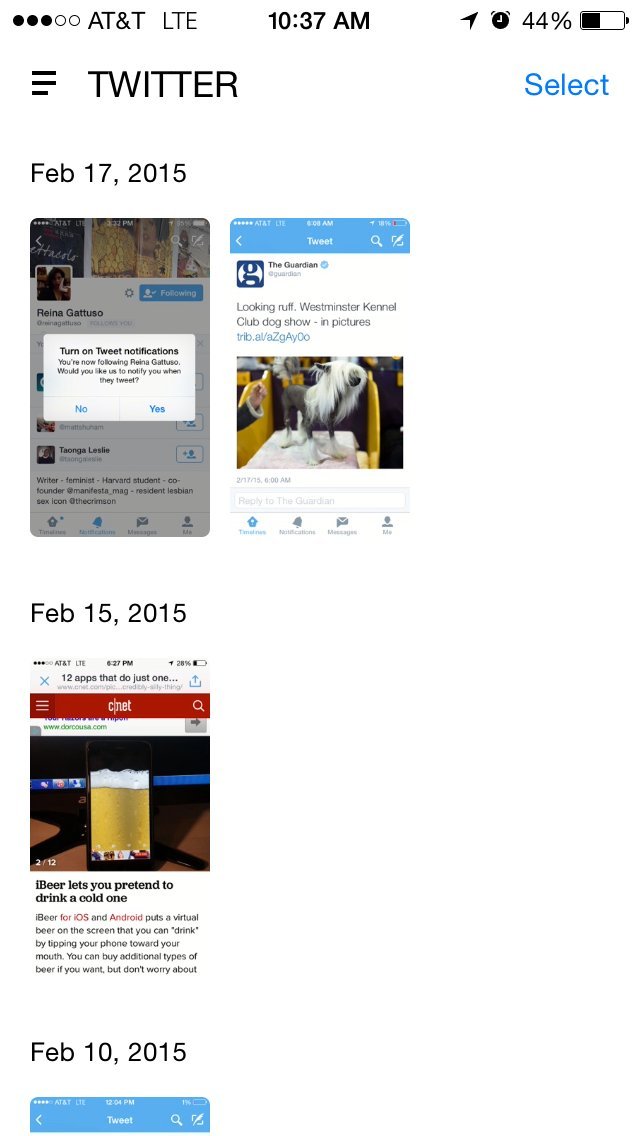 Step 8: Tap away on the images in the folder. Before you select Delete, you'll be given a final warning. By choosing Move, you can change what folder the image is stored in.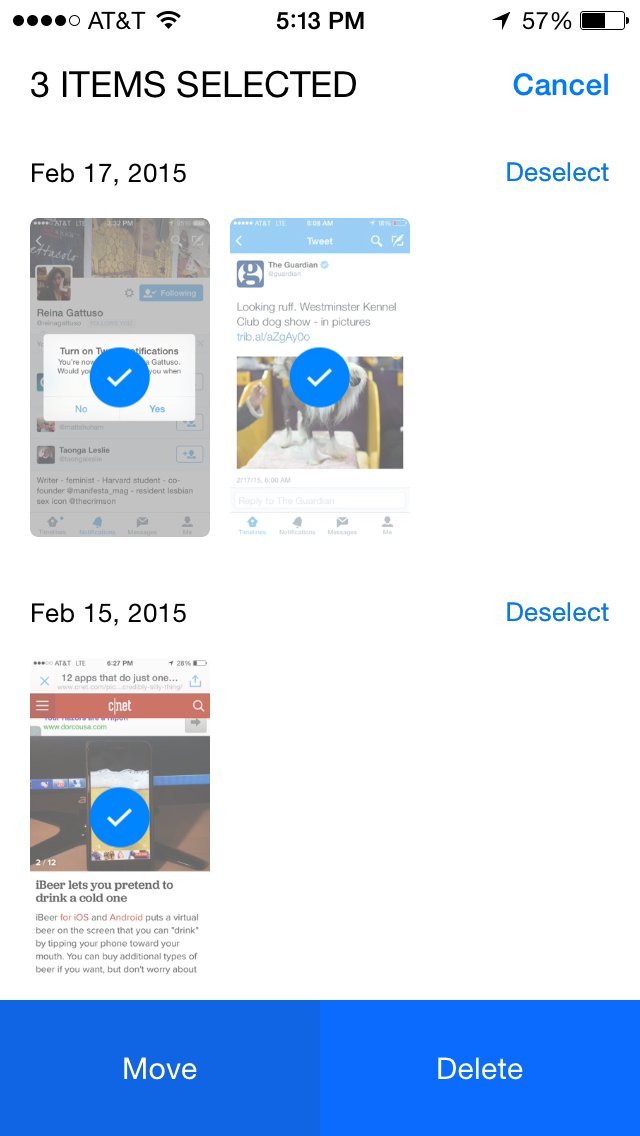 Step 9: DELETE EVERYTHING!!! If you're looking for the best mass-delete method, open the All Screenshots folder. There's no one-step trash button, sadly. Instead, screenshots are grouped by date, letting you scroll through and select and delete each grouping -- until they're all gone. Ah, sweet freedom.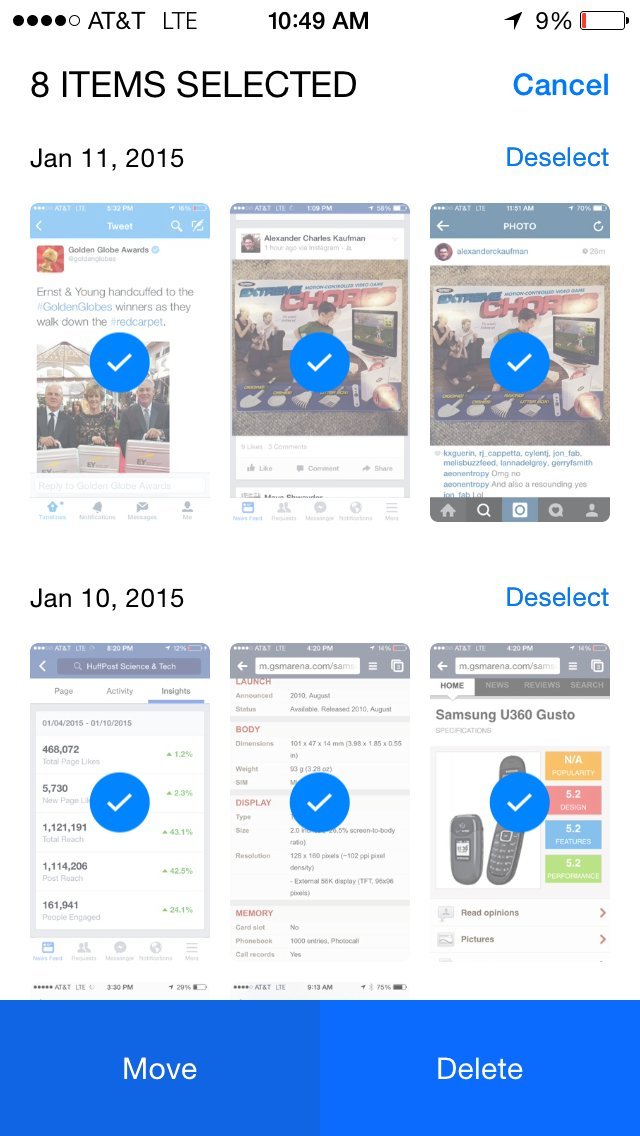 For you Android users still reading (Oh hai!), Screenshots is currently only for iOS, but the app's founder, Yue Zhuge, told The Huffington Post via email that an Android version will be coming soon.