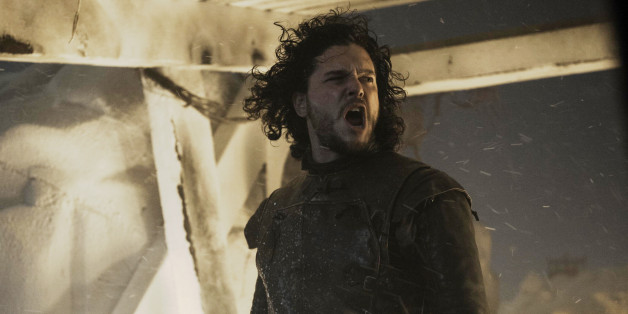 "Game of Thrones" has reportedly sent the last new visions for Season 5, and, like the Mad King, it appears the old format is getting usurped. (Shhh! Don't tell, Khaleesi. You know how she feels about that kind of thing.)
Rather than show a bunch of scenes cut together in a short and ambiguous video, these new visions seem to show single, much longer clips from the upcoming season. One of the latest visions shows Jon Snow meeting with Mance Rayder. And for such a cold place, it looks like the Wall is getting pretty heated:
So what does it mean? It appears Jon may be trying to form some kind of deal with the Wildlings, but Mance seems hesitant. Can you blame him? The guy trusted Jon before, and we all remember how that turned out. (No Ygrittes, Jon.)
Another reported new vision appears to show Brienne getting all depressed with Podrick about someone's death. This is "Game of Thrones," Brienne. Get used to it:
The videos were said to be followed with a message saying, "The Raven has brought its last vision." Though we may have to wait until Season 5 begins to find out the true context of the clips, one thing is apparent: The Three-Eyed Raven knows how to go out in style!

Image: YouTube

"Game of Thrones" Season 5 premieres Sunday, April 12, on HBO.
BEFORE YOU GO
PHOTO GALLERY
"Game of Thrones" Season 5