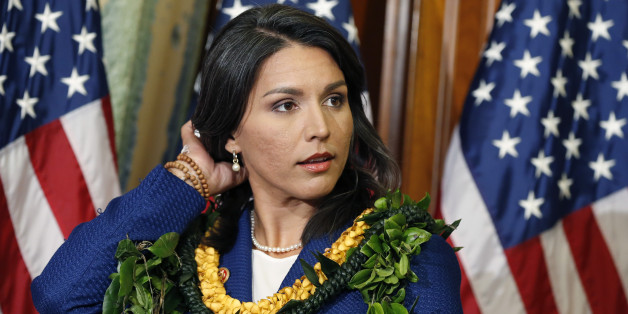 Rep. Tulsi Gabbard's (D-Hawaii) new chief of staff -- a business owner with no government experience -- is raising eyebrows in the state.
Gabbard's announcement on Tuesday that she had named Kainoa Ramananda Penaroza, 30, to the influential job "baffles political insiders" because of Penaroza's thin political resume, wrote local political news site Honolulu Civil Beat.
Penaroza has no government experience and his political exposure has been limited to volunteer and coordinator work on Gabbard's campaigns.
Gabbard's office said in a statement that Penaroza "brings to the office a unique, down-to-earth, and results-driven style of leadership."
For the past five years, Penaroza has been a sales manager for his family's health-food business. He also owns an eco-friendly clothing company that provides products to Whole Foods.
According to Civil Beat, "The news of Penaroza's appointment was met with varying sense of amusement, surprise and disbelief by Hawaii's political insiders -- including staffers among Hawaii's congressional delegation -- but most of them were not willing to speak on the record."
Local news channel Hawaii News Now reports that Gabbard, 33, and Penaroza have known each other for more than 20 years.
In a statement, Gabbard said: "I've known Kainoa for many years. I've found him to be dependable, energetic, and smart. Most importantly, he shares my love for Hawaii, and my enthusiasm to be of service to the people of Hawaii and our nation."
While Gabbard is frequently referred to as a "rising star" in the Democratic party, she has made waves for her frequent appearances on Fox News and her criticisms of President Barack Obama for his refusal to use the term "Islamic extremism."
Hawaii News Now notes that Gabbard has "appeared in at least eight live interviews on CNN, FOX and MSNBC networks this month so far."
The national publicity doesn't always sit well with constituents in Hawaii, and Gabbard's newest staff member is causing further unease.
"The way to really be an important member of Congress is grinding out the details and the stuff that Sen. [Dan] Inouye used to do," Colin Moore, a University of Hawaii political science professor, told Hawaii News Now. "And to do that, you need a staff member who really has a lot of experience at working in this institution."
Penaroza is the third person to hold the position of chief of staff in the two years Gabbard has represented Hawaii's 2nd Congressional District. Jessica Vanden Berg, Penaroza's predecessor, left shortly before the 2014 election.
BEFORE YOU GO
PHOTO GALLERY
Distinguishable Members Of Congress