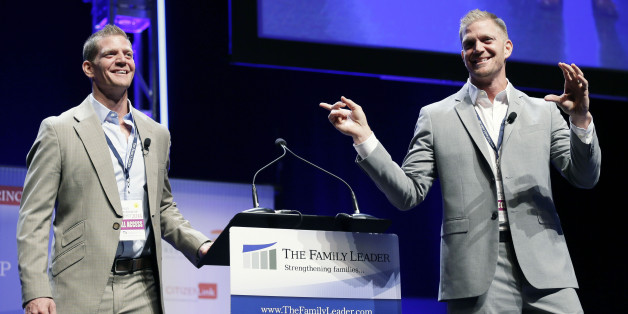 Those must have been some seats.
David Benham, one of the twin brothers who lost their HGTV reality show after their anti-gay views came to light, says a gay man decided to "walk away from [his] lifestyle" after he gave him Chicago Cubs tickets.
According to the Blaze and other outlets, Benham recently told the story at the National Religious Broadcasters convention in Nashville, Tennessee: "We had so many people from the gay community reaching out to us and one man in particular from the city of Chicago reached out — and he said things to me that made me lose my appetite. But I simply responded in love," he said.
"After a little conversation back and forth," Benham continued, "I found out he loved baseball … and I got him tickets to a Cubs game. He shot me a Facebook post and said, 'I was not expecting that — and I've been thinking a lot about this. I've chosen to walk away from my lifestyle.'"
Asked to elaborate, Benham told The Huffington Post:
Obviously, homosexual attraction does not simply disappear by going to a baseball game. But it appears that my reaching out to this man was part of a larger divine plan that actually brought about a transformation in his life, and for that I'm profoundly grateful for the small role I was able to play.
In May, HGTV dropped a house-flipping reality show set to star Benham and his twin brother, Jason, after the family's anti-gay views were revealed by Right Wing Watch.
According to the report, Benham spoke of "homosexuality and its agenda that is attacking the nation" during a prayer rally outside the 2012 Democratic National Convention. He also had compared opposition to same-sex marriage laws with the battle against the Nazis in a blog post, according to the outlet.
H/T Towleroad
BEFORE YOU GO
PHOTO GALLERY
Anti-Gay Celebrity Statements