Almost two years ago, two tightly packed pressure cookers unleashed a storm of ball bearings and nails that ended three lives and ripped off legs at the crowded finish line of the 117th Boston marathon.
Locals this week will once again confront those indisputable facts and many that are far more complicated as a 21-year-old college student stands trial for crimes that felt to many like an attack on the city itself.
The accused bomber, Dzhokhar Tsarnaev, must be concerned first and foremost with the opinions of 12 jurors and six alternates expected to be selected on Tuesday. They will determine if he's guilty, and if so, whether he should be executed. But when Tsarnaev enters the federal courtroom above Boston Harbor, he will be a marked man to many more who've already made up their minds.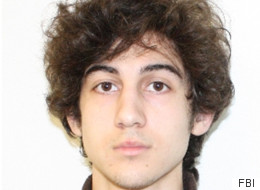 "Boston is such a city that you don't do what you did. This marathon is over 100 years old. A little boy was killed. It's not right," said Claire O'Connell, a nurse for 28 years at the city's Brigham and Women's Hospital, where she treated some survivors in the surgical ICU. "The innocence of this 100-plus-year-old race is gone and probably never to return again."
THE ATTACKS AND THE MANHUNT
The three people killed by the blasts on April 15, 2013, were Martin Richard, 8; Krystle Campbell, 29; and Lingzi Lu, 23. The explosions wounded 264 others, including 16 who lost a limb.
On April 18, 2013, the FBI released photos of two men , later said to be Dzhokhar and Tamerlan Tsarnaev, suspected of carrying the homemade bombs in backpacks to Boylston Street.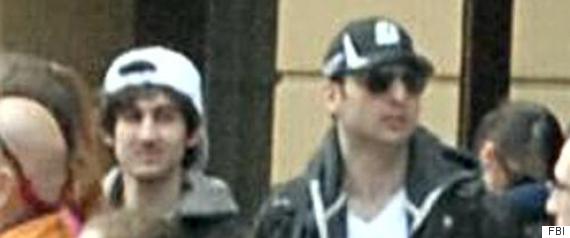 Hours later, MIT Police Officer Sean Collier was allegedly killed by the suspects across the Charles River in Cambridge. The manhunt for Tsarnaev and his older brother Tamerlan turned into a gunfight in Watertown in which other explosives were tossed at cops. Transit police officer Richard Donohue survived life-threatening injuries during the shootout.
Tamerlan died from gunshot wounds and being run over by a carjacked vehicle driven by Dzhokhar. The siege lifted when police found Tsarnaev hiding in a recreational boat kept in a resident's yard.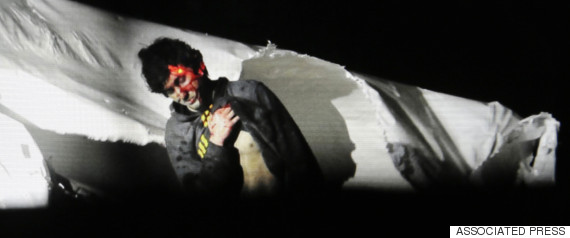 In this April 19, 2013, Massachusetts State Police file photo, Tsarnaev, bloody and disheveled with the red dot of a sniper's rifle laser sight on his head, emerges from a boat at the time of his capture.
UNITED STATES v. DZHOKHAR TSARNAEV
From this mayhem, United States Attorney Carmen Ortiz's office announced a 30-count indictment against Tsarnaev for alleged crimes like use of a weapon of mass destruction; possession and use of a firearm during a crime resulting in death; carjacking; and conspiracy to bomb a place of public use resulting in death. Seventeen of the charges carry the death penalty. Tsarnaev has pleaded not guilty.
Observers believe it's unlikely that Tsarnaev, a naturalized American citizen of Chechen descent, could be acquitted. Success for the defense will be measured by whether the jury comes back with a life sentence.
Analysts frequently predict that the defense will try to portray Tamerlan Tsarnaev as a violent and domineering influence on his younger brother.
"Tamerlan is going to be the elephant in the courtroom," said Northeastern University professor of law Daniel Medwed.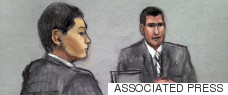 Witness lists aren't available yet, but it's likely that bombing survivors and investigators organizing the manhunt will testify. A UMass-Dartmouth student faces 25 years in prison for removing a backpack containing evidence from Tsarnaev's room before authorities captured the accused bomber. Azamat Tazhayakov, the student (pictured in a courtroom sketch), has signaled he'd testify against his friend.
"I think [federal prosecutors] have a mountain of evidence that this is the guy who did it," Boston College professor of law Robert Bloom. "What the defense is focusing on is not guilt or innocence. Part of what the defense is going to focus in on is avoiding the death penalty. To the extent that they can show a disheveled, pothead kind of kid who was following his older brother … they might succeed."
The public defenders representing Tsarnaev are led by Judy Clarke, a prominent attorney who secured life sentences for Unabomber Ted Kaczynski; Jared Loughner, the gunman who shot former Rep. Gabrielle Giffords and killed six others; and Eric Rudolph, an abortion opponent who set off a bomb at the Atlanta Olympics in 1996.
With Clarke's track record and the unpopularity of the death penalty in Massachusetts, some have asked why there hasn't been a plea deal to lock up Tsarnaev for life.
The prosecutors, led by William Weinreb, declined to be interviewed, and Tsarnaev's attorneys didn't respond to HuffPost's inquiries.
One line of thinking holds that prosecutors oppose cutting a deal because they believe the severity of the attack warrants putting Tsarnaev to death. Skeptics say it's government posturing to take a hard stance against terrorists.
Just getting to the cusp of opening statements has not been an easy feat.
U.S. District Court Judge George O'Toole took a pool of 1,373 potential jurors in January and slowly narrowed it to 75 qualified men and women who are not opposed to the death penalty. On Tuesday, the prosecution and defense will pare down the group to 12 jurors and six alternates.
The defense has charged the jury's makeup will skew toward middle-aged white people. They've also repeatedly asked to move the trial away from Boston, saying that it's impossible to stage a fair trial there. But on Friday a higher court rejected their fifth bid to switch locations.
Those complaints could form the basis of an appeal if Tsarnaev loses the trial, Medwed, the Northeastern professor, told HuffPost.
"One of the fundamental axioms of criminal defense law is you're not just raising the issues in terms of winning. You're also trying to raise issues for review down the line," he said.
It's no surprise the defense wanted a change of venue. Boylston Street, where the bombs exploded, is practically sacred ground to Boston residents. Photos of a bundled-up man solemnly shoveling snow from the finish line in January reawakened the intense local pride and sense of resiliency that has been boiled down to two words: Boston Strong.
"I think there is some pride in looking at what we did and ... at what we did together," O'Connell, the nurse, said of the city's solidarity. "This is what life should be every day."
CORRECTION: An earlier version of this article misstated what day the FBI released photos of the suspects who placed bombs near the Boston Marathon's finish line. They released the pictures on April 18, 2013, not March 18, 2013.
The last name of one of lawyer Judy Clarke's previous clients was also spelled wrong. She represented Eric Rudolph, not Eric Randolph.