Georgia's only woman on death row was spared from lethal injection Monday night "out of an abundance of caution" after concerns arose over the single drug used in the procedure, The Associated Press reports.
Kelly Gissendaner's 7 p.m. execution at the the Georgia Diagnostic and Classification Prison in Jackson was postponed after Georgia Department of Corrections spokeswoman Gwendolyn Hogan said late Monday that the drug, pentobarbital, appeared cloudy.
"Postponed. No questions," was the statement given by the Georgia DOC, according to Atlanta news station WXIA.
Gissendaner would have been the first woman in 70 years to be executed on Georgia's death row. Gissendaner's lawyers had also mounted last-minute arguments to the U.S. Supreme Court which were previously reported as the reason for the delay of execution.
It wasn't clear when the Supreme Court would issue a decision and the Georgia DOC did not specify a new execution date.
A jury sentenced Gissendaner to death 18 years ago for plotting with her boyfriend, Gregory Owen, to kill her husband, Douglas Gissendaner. Supporters who asked the Georgia Board of Pardons and Paroles to consider her case for clemency included prison staff, clergy and two of her three children, who were minors when their father was murdered.
Gissendaner's attorneys raised two issues late Monday in a filing with the Supreme Court, asking it to consider that she didn't take part in the actual killing and that she had been thoroughly rehabilitated. Earlier, defense lawyers asked the state to commute her sentence to life, arguing she was no more responsible for the killing than Owen, who had actually committed the murder. Owen accepted a plea deal before trial, is serving a life sentence and will be eligible for parole in eight years, CBS News reports.
The board denied the petition last week and affirmed the decision on Monday. Gissendaner's lawyers argued late Monday that the parole board also didn't get the chance to hear supportive testimony from prison employees and other supporters.
Gissendaner was transformed behind bars through a "deep and sincere expression of a personal relationship with God," the prison's chaplain wrote, according to The Associated Press.
Though only Georgia's state clemency board has the authority to commute a death sentence, supporters presented Georgia Gov. Nathan Deal (R) with a petition for reprieve on Monday morning that contained more than 40,000 signatures, CNN reports.
"Kelly is a living testament to the possibility of change and the power of hope," the petition read. "She is an extraordinary example of the rehabilitation that the corrections system aims to produce."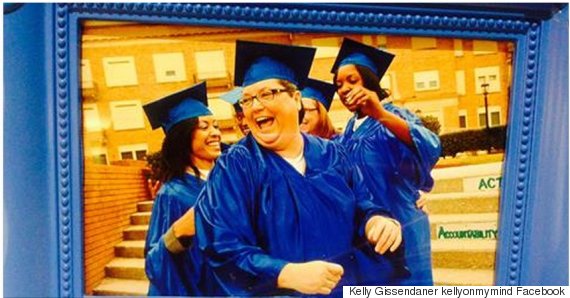 Gissendaner, center, in an undated photo from her graduation from the prison theology program.
Gissendaner earned her theology degree while in prison and ministered to fellow inmates, supporters pointed out. At a vigil Sunday night at Emory University in Atlanta, former inmate Nicky Rogers told attendees that while in the same prison, Gissendaner kept her from committing suicide by talking to her through a heating vent.
"I'll believe to my last breath that I owe everything to you. Thank you, Kelly," Rogers said.
Gissendaner ultimately admitted to conspiring in the Feb. 1997 stabbing death of her husband, with whom she had an on-off relationship. During her 1998 trial, prosecutors alleged she convinced Owen to kill her husband so she could profit from life insurance policies and the couple's house, according to The Guardian.
"The sentence is appropriate for the crime that was committed and the circumstances of this case," Gwinnett County District Attorney Danny Porter told NBC11 prior to the execution. "Really, what she's done since is almost not something that needs to be considered."
Monday's delay of execution came less than a week after her Feb. 25 execution date was put on hold due to a rare winter storm that affected travel conditions and prison staffing.
In a statement to the clemency board last week, Gissandaner apologized to her three children and her husband's family, the Washington Post reports.
"There are no excuses for what I did. I am fully responsible for my role in my husband's murder," she said. "I had become so self-centered and bitter about my life and who I had become, that I lost all judgment."
UPDATE: This story has been updated to include the latest statements from the Georgia Department of Corrections.
BEFORE YOU GO
PHOTO GALLERY
No Seconds: The Last Meals Of Death Row Prisoners