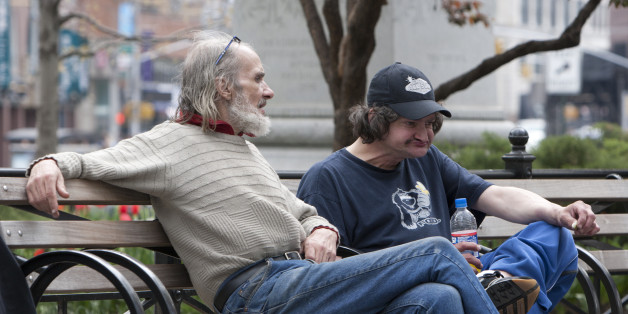 Anti-homelessness laws are on the rise in California, but one state lawmaker is pushing back against the trend.
Criminalizing homelessness has spiked in the Golden State, a tactic experts and advocates say achieves nothing but fostering a tense environment and more targeted violence against homeless people. To make the streets a more peaceful place, state Sen. Carol Liu (D-La Cañada Flintridge) introduced on Friday the Right to Rest Act, which would allow homeless people to move freely in public without fear of getting harassed or punished by authorities.
If the bill passes, people on the streets would be able to rest, eat, shield themselves from inclement weather and occupy a vehicle in public, among other activities, so long as that area doesn't prohibit the general population from partaking in such actions.
"It's time to address poverty, mental health and the plight of the homeless head-on as a social issue and not a criminal issue," Liu said in a statement. "Citing homeless people for resting in a public space can lead to their rejection for jobs, education loans and housing, further denying them a pathway out of poverty."
Liu's concern came to a head on Sunday afternoon when LAPD officers shot dead a homeless man, who reportedly had a history of mental illness, on Skid Row.
While responding to a 911 call about a robbery, police said the homeless man, known as "Africa," reached for an officer's gun, the Los Angeles Times reported.
But some witnesses said Africa was overpowered by officers who broke down his tent when he refused to emerge, and had often been ordered by police to dismantle his shelter in the past.
"The people on the street are in an untenable position and that puts the officers in an untenable position when [it] comes to policing," Andy Bales, president of the Union Rescue Mission, told the Times. Bales said Africa often helped out at the Mission and he had seen the homeless man lash out occasionally.
About 1,700 homeless people live on Skid Row and are permitted to sleep on the streets from 9 p.m. to 6 a.m.
While the details surrounding that case are still being investigated, experts say that there's an undeniable correlation between the criminalization of homelessness and the rise in violence against people on the streets.
According to the National Coalition for the Homeless (NCH), targeted attacks against homeless people jumped 23 percent from 2012 to 2013.
Michael Stoops, NCH's director of community organizing, attributed the surge to a number of factors, including laws that make homeless people out to be inherent criminals.
"Cities continue to crack down on the homeless population by enforcing laws and creating a hostile attitude toward the homeless population," Stoops told The Huffington Post when the preliminary figures were released.
These laws are also costly and ineffective when it comes to reducing homelessness, a report released last year by the National Law Center on Homelessness and Poverty (NLCHP) concluded.
That study, and a number of others, has proven that the most cost-efficient way to end homelessness is by providing housing to the people who need it.
The method has even already worked in Los Angeles.
From 2008 to 2010, a program provided housing and supportive services to 50 chronically homeless individuals living on Skid Row.
After two years and an an initial investment of $3 million, the Project 50 program was cost neutral and generated a surplus of $238,700 because of savings on incarceration and medical services, according to a recent report released by the University of California, Berkeley.
"We can end homelessness in America," the NLCHP study concluded. "This will not happen, however, as long as communities continue to rely upon misguided criminalization policies that punish people for being homeless, without offering real solutions to the problem."
To take action on pressing poverty issues, check out the Global Citizen's widget below.
BEFORE YOU GO
PHOTO GALLERY
Haunting Photos Of Homeless Vets