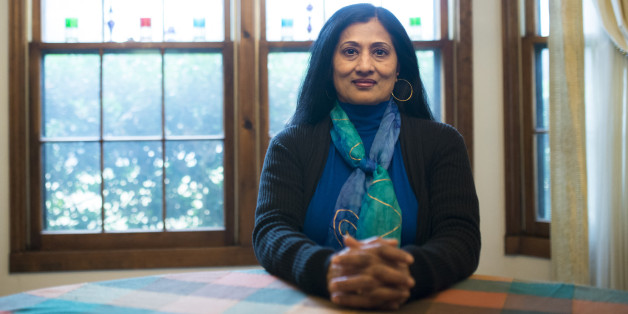 Press play to hear Jay Joshi tell her story.
When Jay Joshi first heard about the Supreme Court case that could take away the health insurance subsidies that enabled her family to get covered, "it came as a total shock," she said.
Joshi's husband, Kaye, has diabetes and was uninsured before the Affordable Care Act went into effect. The family was paying full price for his insulin at the pharmacy or stocking up on cheaper medicines during their visits every two years to India, the country they left more than three decades ago for life in the United States.
"He's 62 and I'm 60, so this is the age when I think health issues start cropping up. So we really needed some health insurance, and Obamacare came just in time for us," said Joshi, who lives in Richardson, Texas, outside Dallas. The couple and their two sons got subsidized coverage for less than $300 a month on the state's insurance exchange, which is run by the federal government. The lawsuit before the Supreme Court alleges only exchanges created by states themselves are permitted to provide these tax credits.
Things have been tougher since Jay Joshi's career as a travel agent dried up and the family's laundromat went out of business during the economic downturn. Kaye Joshi has only ever run small businesses and has no experience doing anything else, but the family doesn't have the money to open a new one. Jay Joshi has been working part-time as an after-school teacher, but they've had to spend down their savings.
Having a pre-existing condition kept her husband without health coverage even when things were going better, Joshi said. "It was very, very difficult -- almost impossible -- to get him insurance, and my greatest fear was if something was to happen to him and he had to be hospitalized, that would be a big expense for us," she said. Health care already ate up a quarter of the family's budget even without a catastrophe, she said.
When they got Obamacare, it was "a sigh of relief for us," Joshi said. The "nervous edge" she felt about the financial toll of an unseen health emergency dissipated. Losing their health insurance subsidies now, however, would put the Joshi family back at square one.
"I've just been keeping my fingers crossed that Obamacare is not taken away, the subsidy is not taken away," Joshi said. "Because I believe, looking at my invoice that I have, it's something that I don't think I can afford without the subsidy."
For more personal stories about the real-life effects of the Supreme Court case, go to Courting Disaster: Obamacare Is Back At The Supreme Court, And These Six Lives Hang In The Balance.
The audio interviews in this feature were produced and edited by Ibrahim Balkhy and Brad Shannon.