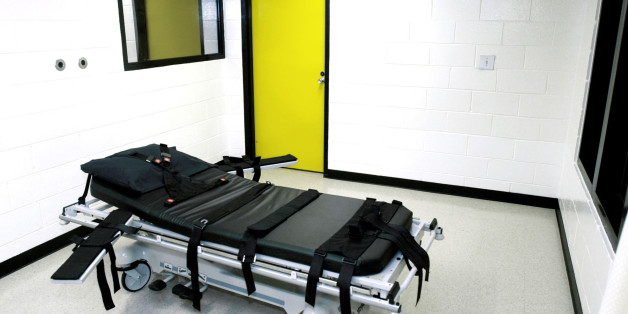 Georgia has halted all executions for death row inmates in the state due to concerns over the lone drug used in its lethal injection protocol.
"Out of an abundance of caution, the scheduled executions of Kelly Renee Gissendaner and Brian Keith Terrell, have been postponed while an analysis is conducted of the drugs planned for use in last night's scheduled execution of inmate Gissendaner," the Georgia Department of Corrections said in a statement issued Tuesday.
Less than half a day earlier, Gissendaner, the only woman on Georgia's death row, had been scheduled for a 7 p.m. execution by lethal injection. But more than two hours after the deadline, prison officials finally emerged to say the execution had been delayed because the drug, pentobarbital, appeared cloudy.
"Postponed. No questions," was the statement given by the Georgia DOC late Monday, according to Atlanta news station WXIA.
DOC officials did not immediately return The Huffington Post's requests for further information following Tuesday's statement.
Pharmaceuticals like pentobarbital are typically marked with a shelf life that's determined by the manufacturer. Cloudiness in a drug can indicate that precipitation -- or solids settling in the solution -- has occurred, or that the drug has reacted with another chemical.
"[Cloudiness] is not something that you want to see," Michael Gabay, director of the Drug Information Group at the University of Illinois at Chicago, told HuffPost. He said if a cloudy drug is infused and not filtered out, it can have dangerous consequences.
"A pharmacy would never use it," Gabay said of a cloudy formula. "They would throw the bag out."
This isn't the first time Georgia's lethal injection drugs have been called into question.
The Drug Enforcement Administration previously seized Georgia's supply of sodium thiopental in March 2011 over questions about how it was being imported. Sodium thiopental was the most commonly used drug for U.S. executions until the European manufacturers began to cut off the supply in protest around 2011, causing states to scramble to find alternatives.
At the time, Georgia death row inmates argued that the drug was counterfeit or expired; their lawyers claimed the state bought its supply from a pharmaceutical company that "operated in the back of a storefront driving school in London," the Atlanta Journal-Constitution reported in 2011.
BEFORE YOU GO
PHOTO GALLERY
No Seconds: The Last Meals Of Death Row Prisoners