President Obama's approval rating may be leveling off after increasing in late 2014. A majority of young Americans support the rights of transgendered people. And what color the dress is transcends party lines. This is HuffPollster for Tuesday, March 3, 2015.
CHECKING IN ON OBAMA JOB APPROVAL - On Monday, the Gallup Daily tracking poll reported that 47 percent of Americans approved of the job Barack Obama is doing as president, while 48 percent disapproved. Gallup's daily reports represent a rolling average of the last three nights of telephone interviewing and can often vary from day to day. Gallup had shown the approval percentage as low as 42 percent just a few days ago, down from a high of 50 percent in mid-February. Tracking by Gallup and other polling organizations continues to show an improvement in the president's approval rating compared to the levels observed throughout most of 2014, when his rating typically averaged between 42 and 44 percent. The HuffPost Pollster chart, which combines results from all public polls, puts Obama's current approval rating at nearly the same level as the most recent Gallup result: just under 47 percent as of this writing. [Gallup, Pollster Chart]
Has the increase leveled off? - Monthly averages of the Gallup and Rasmussen Reports daily tracking, as well as the weekly results from the Economist/YouGov poll, indicate a leveling off following steady increases from November to January. In fact, averages show very slight declines from January to February -- less than a percentage point -- for all three.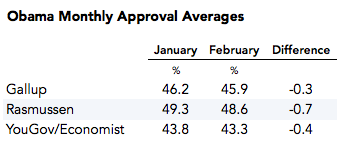 Tweaking the Pollster chart - The HuffPollster chart has aggregated presidential job approval polls the same way since the first weeks of the Obama administration in 2009. It uses a statistical procedure known as local regression (typically abbreviated as "LOESS") to plot a trend line representing all of the polling, smoothing out the random variation. LOESS regression has settings that determine how sensitive the trend line is to day-to-day variation. We set their values based on a job approval chart Pollster.com created for President George W. Bush in late 2007, based on just over 1,400 poll results during his presidency. Due in large part to the Gallup Daily tracking poll, which debuted in 2008, the Obama approval chart is based on twice as much data as the Bush chart-- 2,886 individual polls as of this writing. As a result, as HuffPollster has noted previously, our default trend lines were smoothing out too much variation, missing some real but short-lived changes in Obama's approval rating, such as a bump up following the killing of Osama bin Laden in May 2011. Earlier this morning, *to better represent the underlying data, we have slightly increased the sensitivity of the trend lines. The change had very little impact on the overall rating estimated for the current date, increasing slightly from 46.5 percent approve to 46.8 percent approve.
Create your own - The adjustment also increases the sensitivity slightly on two alternative views available to readers via the "Less Smoothing" and "More Smoothing" options available through the "Create Your Own" tab at the top of interactive chart. "More Smoothing" will sometimes pick up short term changes that get smoothed out by the default, but may pick up changes that turn out to be statistical noise. Currently, for example, the "Less Smoothing" option picks up a leveling off in Obama's rating that the default view smooths over. [Obama Approval with "less smoothing"]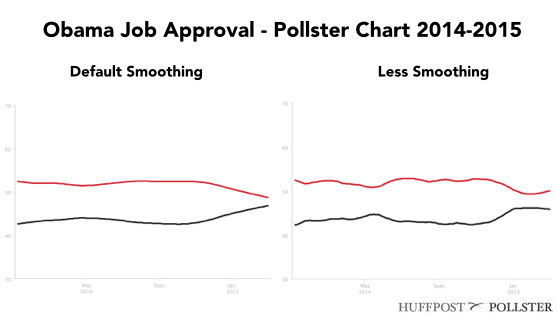 YOUNGER AMERICANS IN GREATER SUPPORT OF TRANSGENDER RIGHTS -Lila Shapiro: "Young people are far more likely than members of older generations to say that transgender people should be allowed to use public restrooms, dressing rooms and locker rooms designated for a different gender than the one they were assigned at birth, according to a new HuffPost/YouGov poll…Fifty-four percent of respondents between the ages of 18 and 29 said that transgender people should be allowed to use the bathroom that corresponds with their gender identity, while only 31 percent of those above the age of 65 said the same. Thirty-one percent of those between the ages of 45 and 64 also supported this, as did 36 percent of 30- to 44-year-olds. A similar generational divide characterized the respondents' views on whether parents should allow their children to identify as a different gender than the one they were assigned at birth. Again, 54 percent of 18- to 29 year-olds said parents should allow this, while just 29 percent of those above 65 said the same." [HuffPost]
FROM THE DEPARTMENT OF NOT EVERYTHING IS PARTISAN - HuffPollster: Last week's debate over the color of a photo of a dress made us wonder: do people hold enough allegiance to their political parties to override their opinions? To find out, we polled 1,000 Americans on the color of the dress -- but first, informed half of them that "some Democrats in Congress have weighed in to say the dress is white and gold", and the rest that congressional Republicans had offered the same assessment. (Both statements happen to be true.)
The result: It didn't really matter that much. Democrats were #teamblueandblack by a 37-point margin when they thought their national leaders were on the same page, and by a similar 30-point margin when they thought they were agreeing with the GOP. Among Republicans, the margins were 32 points, and 19 points, respectively, for black and blue. Given the smaller numbers involved, neither number is statistically significant.
Another question, though, did, if you squint a bit, underscore some demographic differences in people's willingness to accept disparate views.
Fifty-two percent of liberals, but just 44 percent of conservatives, said they understood how other people could see the dress as being a different set of colors. Younger Americans were also more likely to ¯\_(ツ)_/¯ at the controversy, with 58 percent of adults under 30, and just 43 percent of those 30 and older, saying they could understand how someone could pick the opposing set of colors. Teams #whiteandgold and #blueandwhite were about equally likely to say they got how someone could reach the opposite conclusion.
The poll surveyed 1,000 adults between Feb. 28 and March 2. Methodology available here. Complete results available here.
HUFFPOLLSTER VIA EMAIL! - You can receive this daily update every weekday morning via email! Just click here, enter your email address, and click "sign up." That's all there is to it (and you can unsubscribe anytime).
TUESDAY'S 'OUTLIERS' - Links to the best of news at the intersection of polling, politics and political data:
-Women around the world are less likely to approve of drone strikes. [Ike Eichenberg]
-Republicans want their party's candidates to be more conservative. [YouGov]
-The Democratic Party controls both legislative chambers in just 11 states, down from 34 states in 1982 and 27 as recently as 2010. [Pew]
-Whit Ayres (R) explores "how new candidates, new messages, and a new tone are needed for Republicans to win the presidency" in a new book, 2016 and Beyond. [Resurgent Republic]
-Sixty-one percent of Americans want the subsidies to be upheld in the Affordable Care Act. [The Hill]
-Americans consider childhood experiences as a factor that shapes adult health. [NPR]
-Fewer large companies are run by women than by men named John. [NYT]
-Seth Masket argues that millennials aren't any less politically engaged than previous generations. [Pacific Standard]
-Battery life matters more to American consumers than phone thinness. [HuffPost]
-Fifty-eight percent of voters say winter is their least favorite season. [PPP]

BEFORE YOU GO
PHOTO GALLERY
Obama Playing Sports