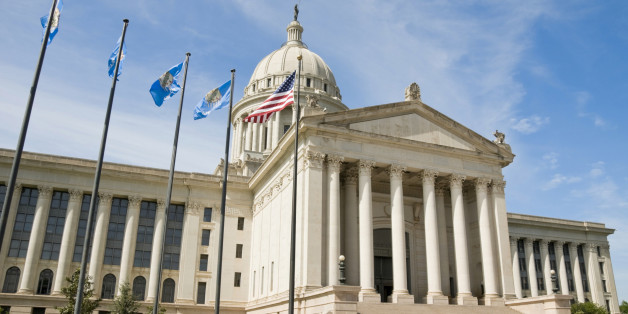 Oklahoma would become the first state in the nation to allow execution by nitrogen gas under a bill that overwhelmingly passed the state House with no debate Tuesday.
Members of the Oklahoma House voted 85-10 in favor of legalizing "nitrogen hypoxia" -- which causes death by depleting the oxygen supply in the blood -- as a gas chamber alternative to poisonous hydrogen cyanide gas. The bill now moves to the Senate for consideration.
"It's revolutionary," Rep. Mike Christian (R-Oklahoma City) who sponsored HB 1879, said of the nitrogen hypoxia method when speaking to The Huffington Post by phone Tuesday. "If Oklahoma is a state that does executions, we can find a better, humane way to carry them out."
He told HuffPost he got the idea from a 2014 Slate article. Execution by nitrogen gas currently is not a state-sanctioned method anywhere in the world, the piece notes.
Dr. Joel Zivot, assistant professor of anesthesiology and surgery at Emory University School of Medicine, previously told HuffPost that it's ethically impossible for a doctor to conduct tests -- and therefore reach conclusions -- on execution procedures.
"No physician is an expert in killing, and medicine doesn't position itself intentionally in taking a life," Zivot said. "There's no therapeutic use of nitrogen gas, and there's no way to ethically or practically test if nitrogen gas is a humane alternative."
Christian said he and the bill's supporters are optimistic about the future of nitrogen hypoxia -- especially as the state's current lethal injection protocol faces scrutiny by the U.S. Supreme Court.
"I think most of people I've talked to across the country think that lethal injection is probably on the way out," Christian added.
Lethal injection is currently the state's primary execution method, though legal challenges to the constitutionality of the drug have cropped up in the wake of botched executions, like that of inmate Clayton Lockett in 2014. On Jan. 28, the U.S. Supreme Court stayed the executions of three Oklahoma death row inmates until it can evaluate the state's lethal injection protocol.
The proposed nitrogen gas method would be a backup method should Oklahoma's lethal injection protocol be declared unconstitutional or if the department of corrections is unable to maintain the drug supply.
Electrocution is currently Oklahoma's second alternative method -- one Christian said he'd be interested in striking out altogether.
"I don't see why there's any need to have the electric chair in the 21st century," Christian said.
The Oklahoma Senate has a companion bill that has already cleared the judiciary committee.
"They have the same language," Christian said. "We'll see which one crosses the finish line first."
BEFORE YOU GO
PHOTO GALLERY
The Long Wait For Death Row Inmates