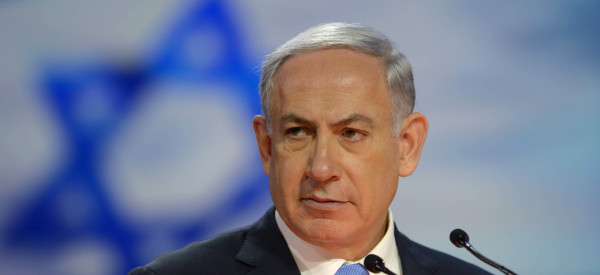 TOP STORIES
To get The Morning Email, HuffPost's daily roundup of the news, in your inbox, sign up here.
OBAMA, NETANYAHU RIFT DEEPENS AHEAD OF SPEECH President Barack Obama and Israeli Prime Minister Benjamin Netanyahu are presenting starkly different views today on how to approach Iran's nuclear situation in the culmination of a saga that has rocked U.S.-Israeli relations. While tickets for Netanyahu's speech before Congress are incredibly difficult to get, over 50 congressional Democrats are boycotting the speech. Visit HuffPost for live-streaming and updates regarding Netanyahu's address, which will take place at 10:45 a.m. EST. [Mollie Reilly, HuffPost]

HILLARY CLINTON USED PERSONAL EMAIL FOR STATE DEPARTMENT PURPOSES "Hillary Rodham Clinton exclusively used a personal email account to conduct government business as secretary of state, State Department officials said, and may have violated federal requirements that officials' correspondence be retained as part of the agency's record. Mrs. Clinton did not have a government email address during her four-year tenure at the State Department. Her aides took no actions to have her personal emails preserved on department servers at the time, as required by the Federal Records Act." Twitter had a field day with the news. [NYT]
KING v. BURWELL: MEET SIX PEOPLE WHOSE LIVES HANG IN THE BALANCE "The Huffington Post interviewed six Americans at risk of the worst effects of a high court ruling against Obamacare. We wanted to know how the law has affected their lives already, and how the absence of subsidies might affect them in the future. They told stories of life and death, financial ruin, lifelong plans in jeopardy and families disrupted. Here are those stories, as told by the people who would be living them." [Sam Stein and Jeffrey Young, HuffPost]
LAPD POLICE CHIEF SAYS MAN HAD TUSSLED FOR OFFICER'S GUN Following the shooting death of an unarmed homeless man on Skid Row, LA's police chief issued a statement detailing the struggle for the officer's gun. [AP]
IRAN BACKS IRAQ'S TIKRIT OFFENSIVE While the U.S. is sitting this battle against ISIS out. [WSJ]
DHS FUNDING RESTS IN JOHN BOEHNER'S HANDS Senate Democrats have put the ball in Speaker of the House John Boehner's court to avoid a DHS shutdown by the end of the week. [Elise Foley, HuffPost]
EXECUTION OF ONLY WOMAN ON GEORGIA'S DEATH ROW DELAYED After concerns arose over a drug to be used in the execution. [Kim Bellware, HuffPost]
WHAT'S BREWING
WAPO: WHERE TO VISIT WHILE THE DOLLAR IS STRONG We're all about getting the most bang for your buck. [WaPo]
THIEVES PULLED OFF A GOLD HEIST WORTH $4.8 MILLION They successfully snagged 275 pounds of gold bars. [AP]
THE LAST DEFENSE AGAINST HONOR KILLINGS: WOMEN'S SHELTERS IN AFGHANISTAN "For a young woman from an Afghan village to go home after running away with a man is tantamount to crossing a busy street blindfolded: There is a strong likelihood that she will be killed for bringing shame on her family. Faheema, who like many Afghans uses a single name, was one of the lucky ones: She had made it to an emergency women's shelter, one of about 20 that over the last 10 years have protected several thousand women across Afghanistan from abuse or death at the hands of their relatives." [NYT]
JARED LETO GOT A HAIRCUT And the internet mourned. [HuffPost]
HOW MUCH A BEST PICTURE WIN IS WORTH $2 million and counting. [Vanity Fair]
SHONDA RHIMES HAS HER NEWEST LEAD Meet Mireille Enos, who will star in the latest Shondaland drama that will debut this fall. [Hollywood Reporter]
'ORANGE IS THE NEW BLACK' GOT A PREMIERE DATE It's not soon enough. [HuffPost]
HOW NOT TO DIE OF BOREDOM USING A TREADMILL First step -- get on one. [HuffPost]
WHAT'S WORKING
FEEDING THE HOMELESS, ONE IMPROVED MEAL AT A TIME The student-run group Drexel Food Lab is reimagining simple recipes of the cheapest ingredients that can easily be prepared by homeless shelters across the country. [HuffPost]
ON THE BLOG
THE AFTERMATH OF FIGHTING EBOLA "When we look back on this epidemic, I hope we'll recognize that fear caused our initial hesitance to respond -- and caused us to respond poorly when we finally did. I know how real the fear of Ebola is, but we need to overcome it. We all lose when we allow irrational fear, fueled in part by prime-time ratings and political expediency, to supersede pragmatic public health preparedness." [HuffPost]
BEFORE YOU GO
~ As we near the 10th anniversary of Natalee Holloway's disappearance, a new witness has come forward saying he saw where Joran van der Sloot hid her body.
~ The Bill Clinton portrait that has the web abuzz.
~ The international monuments going green.
~ Maggie Smith has decided next season will be her last on "Downton Abbey."
~ No one ever believes these sisters are twins.
~ Netflix just bought the rights to a movie by Cary Fukunaga, the director of "True Detective," that stars Idris Elba.
~ Ryan Phillippe talks about his struggle with depression.
~ Jennifer Lawrence is teaming up with Steven Spielberg to star in a movie about a war photographer. Oscar bait, anyone?
~ We're not quite sure what's up with Shia LaBeouf's rattail hairstyle.
~ Khloe Kardashian has lightened up her locks even more.
~ How to build an … igloo.
~ People just want more phone battery.
~ How to unclog a toilet without a plunger in times of dire need.
~ Meryl Streep's daughters look smashing in the latest campaign for & Other Stories.
~ In case regular Tinder wasn't enough for you, behold Tinder Plus.
~ If you missed it, Warren Buffet's annual shareholder letter.
~ And a little pick-me-up from Mister Rogers.
Send tips/quips/quotes/stories/photos/events/scoops to Lauren Weber at lauren.weber@huffingtonpost.com. Follow us on Twitter @LaurenWeberHP. And like what you're reading? Sign up here to get The Morning Email delivered to you.