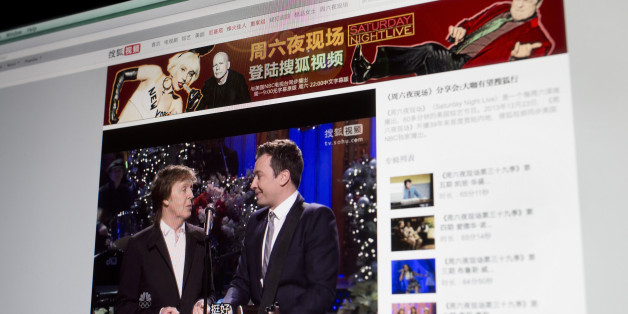 Live from China, it's Saturday night!
"Saturday Night Live" producer Lorne Michaels is developing a version of "Saturday Night Live" for China in conjunction with Sohu.com Inc., an online search and video site based there, according to Bloomberg Business. While the U.S. version is already available to stream in China, this local version will star Chinese comedians -- something the original "SNL" has never had on its cast.
On Tuesday night's "Conan," comedian Conan O'Brien pointed out the irony in a monologue joke:
"China will soon begin casting for its own version of "Saturday Night Live." Apparently it's so much like SNL, even the Chinese version won't have any Asian performers."
Other comedians on Twitter have picked up on it as well:
@maxsilvestri can't wait to see the outrage from bloggers when there are no white people on china's snl

— Jake Weisman (@weismanjake) March 4, 2015
Although two cast members in "SNL's" history are part Asian -- Rob Schneider is part Filipino and Fred Armisen is part Japanese -- there has yet to be any Chinese or Asian-American players. This was highlighted as a problem in 2012, when a sketch about complaints over the iPhone 5 featured several non-Asian cast members doing impressions of Chinese factory workers:
Saturday Night Live Pokes Fun at iPhone 5 Tech Pundits from Ahmad Nazir Afiq on Vimeo.
So, what will a Chinese version of "SNL" look like? In an interview (that wasn't conducted by The Onion), Beijing-based professor Wang Sixin told Bloomberg that "China's Communist Party has been looking for new ways to engage with an audience because past forms of preaching are no longer suitable for today."
Whether or not the cast will be able to satirize Chinese policy and politics the way the U.S. version does remains to be seen, but if "SNL's" next 40 years are anything like its first, we may see a Chinese version of the show before the U.S. sees an Asian cast member.
BEFORE YOU GO
PHOTO GALLERY
Controversial 'SNL' Cast Members