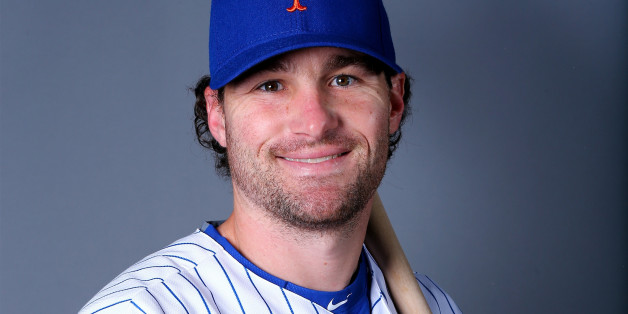 Daniel Murphy of the New York Mets has sparked controversy after saying he would accept a gay teammate even though he disagrees with the "lifestyle."
Murphy, who is the Mets' second baseman, was commenting on Billy Bean, a former major league player who came out as gay after retiring, who visited the team during a spring training session in Florida.
"I disagree with the lifestyle," the player, who is a devout Christian, told the Daily News. "But that doesn't mean I wouldn't love a teammate who is gay. I was glad he was here today and to hear his story."
"I completely understand why someone who believes it is not a choice, that you're born with it, would take issue with my beliefs, that it is a lifestyle," he added. "I feel like acceptance, embracing — that falls short. You understand what I'm saying? I love this person. The same way I love my wife, even though I don't always agree with everything she does, I love her."
He further explained his remarks in a second interview with NJ.com, saying that while he even though he "disagrees with the fact that Billy is a homosexual," that "doesn't mean I can't still invest in him and get to know him."
"I don't think the fact that someone is a homosexual should completely shut the door on investing in them in a relational aspect," he said, adding that "you can still accept them but I do disagree with the lifestyle, 100 percent."
Former Detroit Tigers right fielder Torii Hunter made similar headlines in 2012 after claiming an openly gay teammate would make him "uncomfortable" in an interview with The Los Angeles Times.
"For me, as a Christian…I will be uncomfortable because in all my teachings and all my learning, biblically, it's not right," Hunter, who is currently with the Minnesota Twins, said at the time. "It will be difficult and uncomfortable."
He later apologized for the remarks, saying that his feelings had "been misrepresented."
"If you know me you know that I am not anti-anything and to be portrayed as anti-gay in this article is hurtful and just not true," he noted.
Meanwhile, Detroit Tigers pitcher Justin Verlander felt differently, saying he absolutely wouldn't mind an openly gay teammate in a CNN interview.
"What your sexual orientation is, I don't see how that affects the ultimate goal of our family," he said.

BEFORE YOU GO
PHOTO GALLERY
15 Of The Biggest LGBT Sports Moments