BOSTON -- The trial of the accused Boston Marathon bomber began Wednesday, with prosecutors saying Dzhokhar Tsarnaev wanted to "maim and kill as many people as possible" at the race.
Assistant U.S. Attorney William Weinreb described the homemade bomb filled with nails and ball bearings Tsarnaev allegedly detonated at the finish line of the race on April 15, 2013.
"It was the type of bomb favored by terrorists. … The defendant's goal that day was to maim and kill as many people as possible," Weinreb said. "He had murder in his heart, though you wouldn't know it to look at him." Tsarnaev appeared in court with a goatee, and wearing a blazer and white dress shirt.
Weinreb portrayed Dzhokhar Tsarnaev and his older brother Tamerlan as "partners" who planned and carried out the crimes together. Tamerlan is now deceased.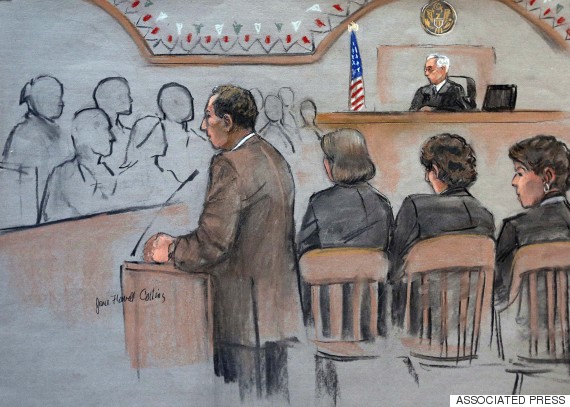 In this courtroom sketch, U.S. Attorney William Weinreb, left, is depicted delivering opening statements in front of U.S. District Judge George O'Toole Jr., right rear, on the first day of the federal death penalty trial of Boston Marathon bombing suspect Dzhokhar Tsarnaev, Wednesday, March 4, 2015, in Boston. Tsarnaev, depicted seated second from right between defense attorneys Judy Clarke, third from right, and Miriam Conrad, right, is charged with conspiring with his brother to place two bombs near the marathon finish line in April 2013, killing three and injuring 260 people.
The defense, led by Judy Clarke, said it would not dispute that Dzokhar set off bombs on Boylston Street or that he got into a gunfight with police in Watertown.
"It was him," Clarke said.
"For the next several weeks, we're going to come face to face with unbearable grief, pain and loss caused by senseless, horribly misguided acts carried out by two brothers," she continued. "We do not and will not at any point attempt to sidestep Dzhokhar's responsibility for his actions."
But Clarke set the stage to argue that her client should be spared from the death penalty by saying that while Tamerlan planned and organized the attacks, Dzhokhar essentially lived the life of a normal teenager who was interested in cars and girls.
"He was drawn into his brother's passion and plan, and that led him to Boylston Street," she said.
The afternoon testimony was dominated by five witnesses, several of them amputees, who described their life-threatening injuries. While these witnesses spoke, the prosecution at times played videos and showed images depicting gruesome injuries.
"My bones were literally lying next to me on the sidewalk," said Rebekah Gregory, whose leg was amputated. "I thought that was the day that I'd die."
Greogry said she was unaware that Tamerlan Tsarnaev was standing near them before the explosion until a prosecutor showed her a photo. Her boyfriend and several of his family members were also seriously hurt in the blast.
Perhaps the most emotional testimony came from Sydney Corcoran, who was a 17-year-old high school senior at the time of the bombing. She was attending the marathon to cheer for her aunt.
Shrapnel from the bomb severed Corcoran's femoral artery. She nearly bled to death, but was saved by quick-acting strangers who applied a makeshift tourniquet.
"I remember feeling like I was going to sleep. It was so cold. I almost felt peaceful … I knew that I was fading fast," said Corcoran, who frequently dabbed her eyes while she spoke. "How can this be real? Everything was so happy just two seconds ago."
Corcoran's mother lost both legs in the attack.
The defense declined to cross-examine Corcoran and other witnesses who'd been wounded.
Before opening statements began Wednesday, U.S. District Court Judge George O'Toole ruled that he would limit the amount of personal history about Dzokhar that jurors would hear in the first phase of the trial.
This could be a disadvantage for the defense, which insists that Dzokhar was under the sway of his older brother when the two allegedly detonated two bombs at the Boston Marathon. O'Toole said, however, that there cannot be a total ban on the defendant's personal history from the first phase of the trial.
Eight women and 10 men were selected for the jury on Tuesday after a protracted process to find 12 impartial jurors and six alternates who were willing to consider imposing the death penalty if the 21-year-old is convicted.
The two brothers are accused of killing three people and wounding 264 near the marathon's finish line with homemade bombs fashioned from pressure cookers. The combined number of casualties from the attack made it one of the largest acts of domestic terrorism in the U.S.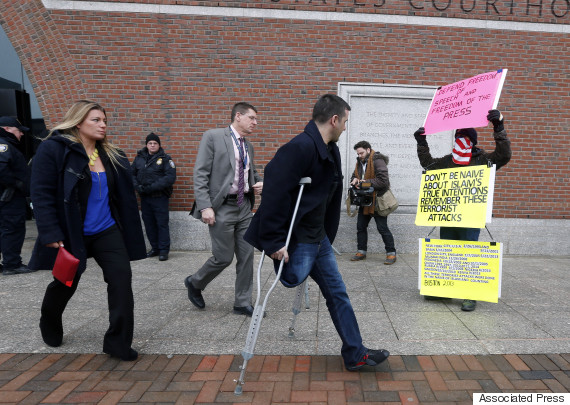 Boston Marathon bombing survivor Marc Fucarile, center, and his wife Jennifer, left, walk past protester Jose Briceno, right, as they leave federal court, Wednesday, March 4, 2015, in Boston, on the first day of the federal death penalty trial of Boston Marathon bombing suspect Dzhokhar Tsarnaev.
Some of those survivors were on hand Wednesday morning, according to The Boston Globe.
Some Marathon bombing victims were escorted inside courthouse before start of Tsarnaev trial. http://t.co/aFPTWrVExA pic.twitter.com/fdmTGE27DO

— The Boston Globe (@BostonGlobe) href="https://twitter.com/BostonGlobe/status/573119132125822976">March 4, 2015
The brothers, ethnic Chechen immigrants, allegedly also killed MIT police officer Sean Collier on April 18, 2013, after the FBI released photographs of the suspected bombers.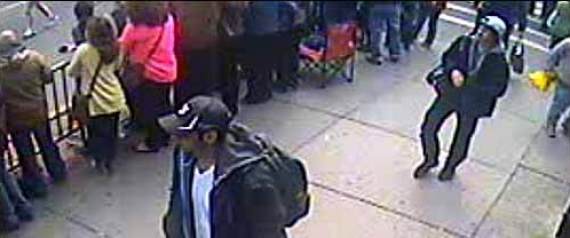 The FBI says this photo shows Tamerlan Tsarnaev, left, and his brother Dzhokhar Tsarnaev, moments before two bombs exploded at 2013 Boston Marathon.

U.S. Attorney Carmen Ortiz's office charged Dzokhar Tsarnaev with 30 alleged crimes in federal court in April 2013. The grand jury indictment from June 2013 includes using a weapon of mass destruction; the use of a firearm resulting in death; and conspiring to use improvised explosive devices against people, property and places of public use.
Seventeen of the charges carry the death penalty. Only three federal prisoners have been executed in more than 50 years, though there are 61 federal inmates on death row, according to the Death Penalty Information Center.
Tsarnaev has pleaded not guilty to all charges.
The trial reportedly could take up to three months. Prosecutors amassed a list of more than 730 potential witnesses and thousands of exhibits, radio station WBUR reported.

The defense has repeatedly asked for a change of venue, believing it's impossible to seat impartial jurors in Boston, but the request been turned down five times. However, the argument could resurface during an appeal if Tsarnaev is convicted.
Most experts have said there's little chance Tsarnaev will be acquitted. If the jury returns with a guilty verdict, the trial moves to the penalty phase, in which life in prison without parole would be a possible punishment in addition to the death penalty.
Like Us On Facebook |

Follow Us On Twitter |

Contact The Author
BEFORE YOU GO