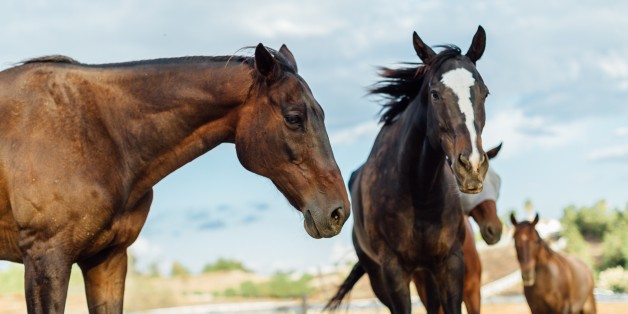 A Southern California horse sanctuary that's losing its lease is hoping to purchase a massively bigger property up the road -- and they're asking for $900,000 to help them do it.
"It sounds like a ridiculous amount," Villa Chardonnay co-founder Louise Gardner told The Huffington Post. "It's Southern California."
It would also mean having a property where even more abused and neglected animals could find refuge without staff having to worry about landlords declaring it's time to pack up and go.
Villa Chardonnay was founded about 11 years ago, starting with its namesake horse.
Gardner and her fellow co-founder Monika Kerber first saw the palomino named Chardonnay listed online. She had a broken foot, and the listing said she'd be facing a grim future if no one else bought her.
"They were selling her for $800, or she was going to the slaughter where she would be worth about the same amount," said Gardner. "We couldn't let that happen."
She and Kerber drove to Northern California through the night to collect Chardonnay, and brought her home to a nearby barn. As she healed, the pair realized that they had more work to do.
"If she was ready to be put down, but still had so much life ahead of her, how many others are like that out there?" Gardner said they wondered.
A lot, it turns out. There are about 200 rescue animals now living on their 10-acre rental property outside Los Angeles. Many are horses who'd previously suffered from abuse and neglect. There's also 50-odd cats, 14 dogs, eight donkeys, three goats, three turkeys and three turtles.
Their ideal new property, just a bit up the road, is 200 acres. It would be owned by Villa Chardonnay, which would mean the group won't be subject to another lease or face having to move again.
Their aim is to grow much of the animals' food there, becoming more self-sufficient. There's enough space for a riding program as well, which would generate income.
The group also intends to take in about 100 more animals in the next five years.
"Villa Chardonnay does not turn down animals due to illness or disease. We support other equine rescues by taking their older horses that cannot be adopted due to age or illness. In doing so we open up a space at another rescue for another horse that can be rehabilitated and ultimately ridden and adopted out," Gardner said.
So far, Gardner says, $137,000 has been donated and pledged toward the purchase of this new farm and the cost of moving. Tax filings for 2013, the last year for which reports are available, show that neither Gardner nor Kerber received any income from Villa Chardonnay. They both have day jobs, and donate about $100,000 between them to Villa Chardonnay per year.
Gardner said that even if the remaining $763,000 doesn't come through, they'll find another place to relocate. There's a "Plan B, Plan C" in place, she said.
"We look at this as a blessing in disguise; this property is already was too small for us," she said. "Our intent with trying to purchase was really just to buy a little more time because we know we need a larger property. We just didn't know we need it by April!"
Wherever they go, Chardonnay the horse will be coming, too.
At 13 years old now, "she is healthy," said Gardner. "And our ongoing inspiration!"
Want to contribute? Donate at Villachardonnay.org or check out their Facebook page.
Get in touch at arin.greenwood@huffingtonpost.com if you have an animal story to share!
BEFORE YOU GO
PHOTO GALLERY
Animals In The News