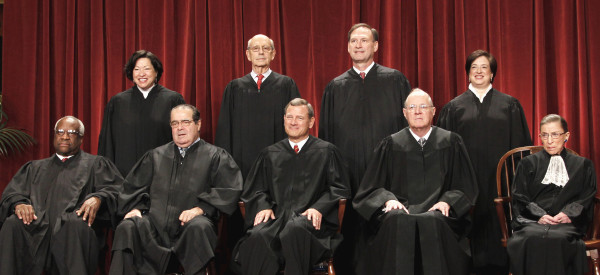 TOP STORIES
To get The Morning Email, HuffPost's daily roundup of the news, in your inbox, sign up here.
OBAMACARE BACK IN THE SUPREME COURT "Obamacare faces its strangest challenge yet when the Supreme Court takes up the law for the third time Wednesday, but the oddity of the lawsuit shouldn't obscure the cataclysm that a loss for President Barack Obama would provoke … If successful, the suit would tarnish Obama's legacy, foment infighting among Republicans, aggravate bitter partisanship between the GOP Congress and the White House, and threaten chaos in the health insurance market. But the worst consequences would fall on the estimated 9.6 million people who would lose their health insurance." Justices John Roberts and Anthony Kennedy are expected to be the swing votes in the case. Check out a map of who would be affected should the Obamacare subsidies be overturned. And here's Jonathan Cohn's excellent explainer on how Obamacare ended up at the high court again. [Jeffrey Young, HuffPost]

NETANYAHU'S SPEECH IMPRESSES, UNLIKELY TO MOVE THE DIAL "Israeli Prime Minister Benjamin Netanyahu won applause, whoops and standing ovations on Capitol Hill on Tuesday, but conversations with lawmakers immediately after Netanyahu's long-awaited address suggest that he didn't win the prize he was really looking for: a decisive shift in the conversation about nuclear diplomacy with Iran." Read the complete text of Netanyahu's speech. President Obama dismissed Netanyahu's remarks, saying it failed to offer "viable alternatives" to nuclear negotiations with Iran. And here's what members of Congress who skipped the speech did instead. [Akbar Ahmed and Ali Watkins, HuffPost]
DHS SHUTDOWN AVERTED "House Republicans approved $39.7 billion in funding for DHS without any measures to block President Barack Obama's executive actions on immigration, which could allow as many as 5 million undocumented immigrants to remain in the country and work for three years." [Elise Foley, HuffPost]
PETRAEUS TAKES PLEA DEAL WITH JUSTICE DEPARTMENT David Petraeus will likely avoid jail time after agreeing to plead guilty to "providing his highly classified journals to a mistress when he was the director of the C.I.A." [NYT]
FERGUSON POLICE DEPARTMENT COULD FOLD OVER DOJ PROBE The legal cost to fight the Department of Justice's allegations of systematic traffic stops could force the Ferguson Police Department to fold. [Ryan Reilly and Mariah Stewart, HuffPost]
ALABAMA SUPREME COURT BLOCKS SAME SEX MARRIAGES The highest court in Alabama ordered the end of same sex marriage licenses in the state after an extensive battle in the state's courts. A federal judge had ruled the state's ban on same-sex marriage unconstitutional in January, but probate court judges had refused to cooperate with the ruling. [Sam Levine, HuffPost]
WITH NBC NEWS EXECUTIVE'S RETURN, A BRIAN WILLIAMS COMEBACK? "Former NBC News president Andrew Lack's return to 30 Rock -- he is currently in talks about a "top job" in the news division -- would catalyze a major shakeup among the executive leadership and would likely signal Brian Williams' return to the network, current and former high-level NBC News staff told the On Media blog on Monday." [Politico]
WHAT'S BREWING
TARGET CUTTING THOUSANDS OF JOBS In cost-cutting efforts meant to save $2 billion. [Reuters]
AMERICA FERRERA TALKS DIVERSITY IN HOLLYWOOD "There's just not enough reflection in it for women, for people of color. There's still a huge amount of stories that have yet to be told, and we need those voices to find those platforms so that they can share those experiences. As an audience member, I take it very personally, I take it extremely personally when I watch," the star added. "I'm a huge lover of television and of film -- I have been my whole life -- and when there's too much of the same thing and not enough to reflect the world that I live in, I take it personally." [HuffPost]
CARRIE UNDERWOOD AND MIKE FISHER HAD A BABY BOY! They named the little fella Isaiah Michael Fisher. [HuffPost]
WHERE TO GO IN THE ZOMBIE APOCALYPSE Get out of the city, stat. [HuffPost]
THE MORE PEOPLE YOU KNOW AT A BAR, THE MORE YOU DRINK Someone spent money to scientifically prove your life experiences at the local watering hole. [HuffPost]
MT. EVEREST HAS A POOP PROBLEM "Human waste left by climbers on Mount Everest has become a problem that is causing pollution and threatening to spread disease on the world's highest peak, the chief of Nepal's mountaineering association said Tuesday." [AP]
MAKE BETTER DECISIONS By pretending you're making them for your best friend or spouse. [HuffPost]
WHAT'S WORKING
A MARINE IS USING BALLET TO SPREAD VETERANS' STORIES "Exit 12 focuses on choreographing works that relay the experiences of veterans and their families, often in ways that language cannot express … The company aims to open people's eyes to the military experience, and to so much more besides: new art; new experiences; other cultures; pain and suffering." [HuffPost]
ON THE BLOG
ARIANNA HUFFINGTON: Q & A WITH CHRISTIAN BENEDICT ABOUT SLEEP'S EFFECT ON SCHOOL PERFORMANCE "Studies have shown that sleep supports a variety of functions that children require to perform well at school. For instance, sleep was demonstrated to promote university students' ability to solve mathematical problems. Sleep is also integral to the consolidation of newly learned declarative (e.g., facts) and procedural (e.g., playing a piano piece) memories. Finally, restful slumber is a prerequisite for your brain to work at full capacity during the day." [HuffPost]
BEFORE YOU GO
~ It's a little too easy to fake your death on Facebook.
~ Ants who live alone have a tenth of the life span of ants who live in a community.
~ Dogs vs. imaginary doors.
~ You can buy a left shark onesie.
~ Hilary Duff opens up to Cosmo about her divorce.
~ These Elie Saab gowns are fit for a princess.
~ When you're the stud in a Taylor Swift music video.
~ When squirrels have a snowball fight...
~ To capture a Mexican drug lord, you've got to follow the chocolate cake.
~ A long read on the phenomenon of the "loser edit."
~ At first we thought this woodpecker photo was cute, then we realized the weasel riding its back was trying to eat it. But at least we got all these memes out of it...
~ A happy ending for South Africa's Madeleine McCann.
~ Bob Dylan talked to AARP Magazine for one of his first interviews in years. Yes, you should feel old at that news.
Send tips/quips/quotes/stories/photos/events/scoops to Lauren Weber at lauren.weber@huffingtonpost.com. Follow us on Twitter @LaurenWeberHP. And like what you're reading? Sign up here to get The Morning Email delivered to you.