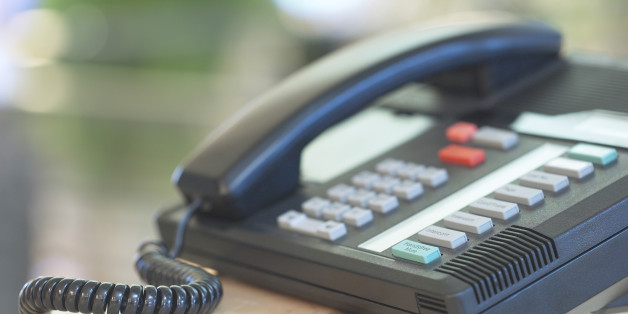 An illegal cruise pitch served up under the guise of an automated poll draws a half-million dollar settlement. Scott Walker and Jeb Bush lead as the presidential nominees for the Republican party. And most see the government helping only banks, big corporations and the wealthy since the recession. This is HuffPollster for Thursday, March 5, 2015.
FTC & STATES ACT AGAINST FRAUDULENT POLITICAL SURVEY ROBOCALLS- Jeff Gelles: "That political survey robocall? Agree to answer the questions, and you just might end up with something beyond insight into what's on politicians' minds. Some consumers instead discovered in that a 'survey' was a thinly veiled pitch for a Bahamas cruise, according to an enforcement action announced today by the Federal Trade Commission. The FTC and 10 states took action against a Florida cruise company and seven affiliates that federal officials said engaged in 'a massive telemarketing campaign resulting in billions of robocalls' in 2011 and 2012. The survey-call ruse was designed because, as savvy consumers know, political surveys are among the exceptions to the federal Do Not Call list. The FTC says the companies made millions of dollars from the scheme, and have agreed to pay $500,000 in penalties in a settlement. The FTC says the scheme, which averaged 12 to 15 million illegal sales calls a day, used the surveys as a cover." [Philadelphia Inquirer]
How it worked - From the FTC complaint: "Consumers who answered the Cruise Call Telemarketers' robocalls heard the following prerecorded message, or a nearly identical version:
Hello, this is John from Political Opinions of America. You've been carefully selected to participate in a short 30 second research survey and for participating you'll receive a free two day cruise for two people to the Bahamas, courtesy of one of our supporters. Gratuities and a small port tax will apply. To begin the survey, please press 1 now. To decline the survey and be removed from our list, press 9. Thank you.
The Cruise Call Telemarketers' prerecorded call then asked consumers several automated political survey questions. After completing the survey questions, consumers heard a recording stating that they were entitled to 'a free cruise to the Bahamas' as a reward for taking the survey. Consumers were then instructed to press 1 if they were interested in receiving the 'free' cruise. The telemarketer would inform consumers that the 'free' cruise would cost $59 per person in port taxes and attempt to sell them pre-boarding hotels, cruise excursions, enhanced accommodations, and other travel packages." [FTC via Philadelphia Inquirer]
Why the calls were illegal - Background from Fox News, as reported in 2012: "[According to Frank Dorman, a spokesman for the FTC], 'Businesses have to get your written permission before they can legally send you pre-recorded messages, even if your number is on the National Do Not Call Registry, and even if they have an established business relationship with you...If you get a robocall from a company that hasn't gotten your written permission first, it's a scam, since no legal business wants to break the law and risk having to pay penalties of up to $16,000 per call.' Meanwhile, FTC officials said to remember that if the purpose of the call is to sell something, its telemarketing and all rules apply. Simply adding a few questions about unrelated topics such as politics or weather does not constitute a bona fide survey. At least two similar 'sham survey' ruses have resulted in enforcement actions against companies for such illegal calls." [Fox News]
MRA Supports Penalty - Marketing Research Association: "Howard Fienberg, MRA's director of government affairs: 'Robust legal enforcement by the FTC helps deter and punish consumer fraud and abuse. We're particularly pleased to see the FTC and state AGs targeting this kind of fraud -- sales under the guise of research (known as sugging) -- which discredits the entire research profession....Every time a respondent encounters unethical mixing or masquerading,' Fienberg continued, 'it threatens the ability of bona fide researchers to reach respondents and to prevent excessive government regulation.'" [MRA]
MOST SEE GOV'T POLICIES BENEFITING BANKS, CORPORATIONS, WEALTHY - HuffPollster: "Americans' battered confidence in the economy has trended upward since the beginning of 2015, but their assessments of their own financial situations have remained largely unchanged. A Pew Research poll released Wednesday highlights one of the reasons for the discrepancy: most people see the government's efforts since the recession as helping big banks and corporations, not poor and middle-class Americans...few think government policies are having much of a positive effect for anyone who's not wealthy -- a view that's changed little over the past five years. In the most recent survey, 72 percent say government economic policies since the recession have done a fair amount or a great deal to help large banks and financial institutions; just 26 percent say policies have helped the middle class." [HuffPost]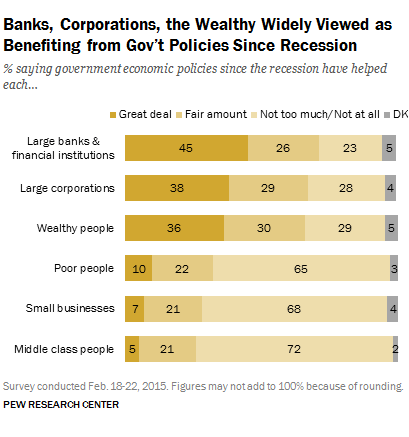 Views on aid to the poor divide parties - Pew Research: "Opinions on the impact of government assistance to the poor are even more partisan than views on the fairness of the economic system and hard work and achievement. Overall, the public is split with 44% saying government aid to the poor "does more harm than good by making people too dependent on government assistance," while about as many (49%) say it does "more good than harm because people can't get out of poverty until their basic needs are met." Republicans, by 71% to 24%, say government aid to the poor does more harm than good. Democrats take the opposite view and by a nearly identical margin (74% to 21%), say aid to the poor does more good than harm." [Pew Research]
It divides within the parties, too - More from Pew: "Among Democrats, those with family incomes of $75,000 or more are more likely than those with low incomes (less than $30,000) to say the economic system is unfair, that hard work is no guarantee of success and that government aid to the poor does more good than harm….Among Republicans, by far the biggest differences between income groups are over aid to the poor: 80% of Republicans and Republican leaners with incomes of $75,000 or more say government aid to the poor does more harm than good, as do 71% of those with incomes of $30,000-$74,999. But among Republicans with incomes of less than $30,000, 45% see government assistance to the poor in negative terms, while 48% say it does more good than harm. Among Republicans, by far the biggest differences between income groups are over aid to the poor: 80% of Republicans and Republican leaners with incomes of $75,000 or more say government aid to the poor does more harm than good, as do 71% of those with incomes of $30,000-$74,999. But among Republicans with incomes of less than $30,000, 45% see government assistance to the poor in negative terms, while 48% say it does more good than harm."
WALKER, BUSH LEAD GOP FIELD - Quinnipiac University: "Wisconsin Gov. Scott Walker, with 18 percent, and former Florida Gov. Jeb Bush with 16 percent, top the list of possible 2016 presidential nominees among Republican or Republican leaning voters nationwide, according to a Quinnipiac University national poll released today. New Jersey Gov. Christopher Christie and former Arkansas Gov. Mike Huckabee are at 8 percent each, the independent Quinnipiac University Poll finds. Physician Ben Carson has 7 percent, with 6 percent each for U.S. Sen. Rand Paul of Kentucky and U.S. Sen. Ted Cruz of Texas and 5 percent for U.S. Sen. Marco Rubio of Florida. No other Republican contender tops 2 percent. Another 17 percent are undecided....Former Secretary of State Hillary Clinton is the 2016 presidential choice of 56 percent of Democratic or Democratic leaning voters nationwide, with 14 percent for U.S. Sen. Elizabeth Warren of Massachusetts, 10 percent for Vice President Joseph Biden and 4 percent for U.S. Sen. Bernie Sanders of Vermont. Another 14 percent are undecided." [Quinnipiac]
MAJORITY OF AMERICANS SAY U.S. NOT AGGRESSIVE ENOUGH WITH IRAN -Dana Blanton: "Americans fear disaster if Iran gets nuclear weapons -- and support military force to stop it… A 57-percent majority feels the U.S. has not been aggressive enough in trying to get Iran to stop building a nuclear weapons program... There's a huge gap between Democrats and Republicans on how worrisome an Iran with nukes would be. By a 10 percentage-point margin, Democrats are more likely to say it's a problem that could be managed (51 percent) over a disaster (41 percent). Republicans, by a 42-point margin, say a nuclear Iran would be a disaster (70-28 percent)." [Fox]
Well, if you put it that way... - Fox found 84 percent of Americans, including 80 percent of Democrats, rejected a "deal" with Iran when characterized as follows: "Do you think it's a good idea or a bad idea to allow Iran to get nuclear weapons 10 years from now in return for it agreeing that it won't obtain nuclear weapons before then?"
[Fox, h/t @sfcpoll here and here]
MORE AMERICANS THAN EVER THINK MARIJUANA SHOULD BE LEGALIZED - Matt Ferner: "More than 40 years ago, a social science research group started asking Americans if they support the legalization of marijuana. For the first time, they do, according to new survey data first reported by The Washington Post. Since 1973, General Social Survey has been asking Americans, 'Do you think the use of marijuana should be made legal or not?' Back then, only 19 percent of Americans favored marijuana legalization. But in 2014, nearly 52 percent said they support legalization, with 42 percent opposed and 7 percent undecided. Last year's findings are a jump of about 9 percentage points from 2012, the last time the group asked the question….Recent results from other survey groups reflect the GSS's findings that Americans largely support marijuana legalization. Gallup found in 2014 that 51 percent of Americans favor legalization, down from 58 percent in 2013. Last year, Pew Research Center also found that a slim majority of Americans -- 52 percent -- support legalization." [HuffPost]
HUFFPOLLSTER VIA EMAIL! - You can receive this daily update every weekday morning via email! Just click here, enter your email address, and click "sign up." That's all there is to it (and you can unsubscribe anytime).
THURSDAY'S 'OUTLIERS' - Links to the best of news at the intersection of polling, politics and political data:
-Although most Americans see progress, just 54 percent think some or none of the goals of the civil rights movement have been achieved. [CBS News]
-Andrew Kohut looks back fifty years at public opinion civil rights and Selma. [Pew]
-Newly insured Americans want Obamacare kept in place. [YouGov]
-In North Carolina, Walker leads Bush (24 to 17 percent) ahead of GOP field. [PPP(D)]
-Jon Clifton and Julie Ray estimate that nearly 2 billion women worldwide are struggling or suffering. [Gallup]
-National data shows the racial disparities in Ferguson's traffic stops aren't unusual. [538]
-Brendan Nyhan explains why he expects few to care much about the Hillary Clinton email furor. [NYT]
-Geoffrey Skelly finds that despite increasing polarization, the correlation between presidential and Senate results set no records in 2012. [Sabato]
-Local television is the single most visible presence in the local news space [Pew]
-More than half of Americans, age 12 or older, listen to online radio at least once a month, 44 percent listen at least once a week. [Edison Research]