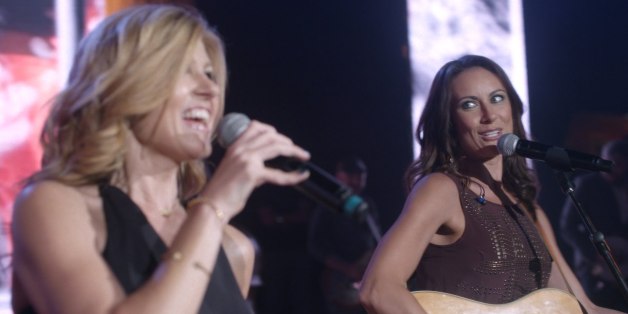 Domestic violence has been an undercurrent on "Nashville" ever since Sadie Stone's (Laura Benanti) abusive husband was introduced to her plot line. In light of Sadie's success on Rayna's (Connie Britton) label, he re-entered her life and demanded profit from the music in the form of a lawsuit over creative rights. During Wednesday night's episode, "That's the Way Love Goes," Sadie sat down with Robin Roberts, portraying herself on "Good Morning America," and used a question about her legal issues as a way to address his abuse head on.
"Nashville" has become a sort of feminist melodrama this season, though usually in the hands of its leading lady, Connie Britton. As Amy McCarthy observed last week in a piece for Salon, this speech from Sadie isn't the first aspect of women's rights show runner Callie Khouri has dealt with head on.
"In the current season of 'Nashville,'" McCarthy wrote. "Rayna has called off a wedding to a man she didn't love, run a record label and fiercely protected her children from a predatory record executive." It's also worth nothing that when Juliette Barnes (Hayden Panettiere) got pregnant earlier in the series, she considered abortion and made an appointment for the procedure before deciding to keep her baby."
With Sadie, we have a progressive look at the way domestic abuse can affect even someone as wealthy and influential as an emerging country star. She hesitates to bring the anguish of her backstory into one of her first major press appearances while being prepped for the interview. But she changes her mind when she watches the news the night before her segment and sees yet another case of a woman killed by an abusive husband.
"He doesn't deserve that money. He doesn't deserve to be rewarded for what he did," Sadie says when Roberts asks about her legal issues. "I was the victim of domestic violence, Robin. For years, I stayed silent about it like so many women. I felt trapped, afraid and controlled by a violent, damaged and awful man. And I am not going to let him get away with it."
Need help? In the U.S., call 1-800-799-SAFE (7233) for the National Domestic Violence Hotline.
BEFORE YOU GO
PHOTO GALLERY
The Multiple Facets Of Modern Feminism